If there are problems with how this message is displayed, click here to view it in a browser.

Investment Indicators - 14 January 2019
Read Investment Indicators for CPD purposes
Click here to register.
 
 
 
 
 
Only those who will risk going too far can possibly find out how far one can go – T S Elliot
Distributed to 55 180 subscribers.

To advertise with us
click here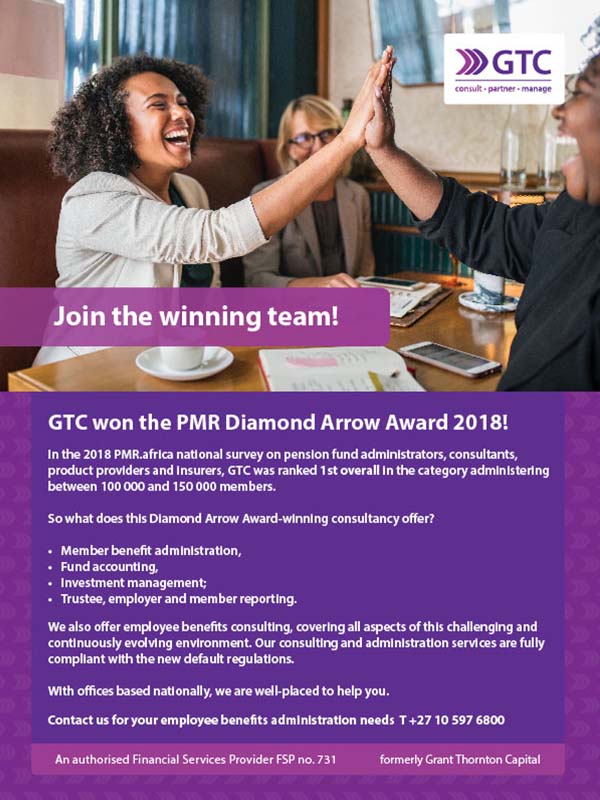 Rates Review

 1. Secured Investment Rates
Please note that (G) indicates a Guaranteed and (L) a Linked product. In order to understand the difference between guaranteed and linked rates, kindly click here for an explanation.
| | | | |
| --- | --- | --- | --- |
| | | | |
| |   |   |   |
|   | Company | This Week | Last Week |
| 1 | 1Life (L) | 6.970% | 6.890% |
| 2 | Absa (L) | 6.931% | 6.848% |
| 3 | Clientéle Life (L) | 6.770% | 6.720% |
| |   |   |   |
| |   |   |   |
| |   |   |   |
|   | Company | This Week | Last Week |
| 1 | 1Life (L) | 7.020% | 6.940% |
| 2 | Assupol (G) | 6.980% | 6.890% |
| 3 | Absa (L) | 6.931% | 6.848% |
| |   |   |   |
 2. Money Market Funds
Please bear in mind that our figures, though based on the actual quotations that you also use, are for information purposes only, and can never replace the official quotation from the product house. In terms of the guarantees, you are requested to clarify the exact extent of such guarantees with the product house prior to advising clients.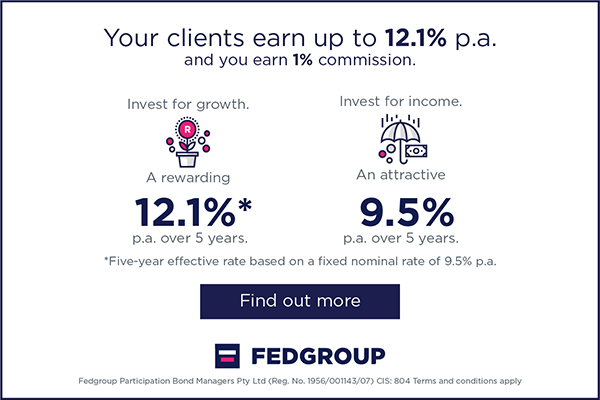 From the Crow's Nest

Did Reserve Bank cause Sharemax implosion? – Interesting high court judgment

by Alan Holton
Reserve Bank 'caused' R5m loss by investor, KZN high court finds - The Star 14 December 2018

This rather sensational headline greeted readers of the Star newspaper on December 14, 2018. But does this reflect the real findings of the KZN High Court?

A careful reading of this very important judgement is highly recommended to anyone who is still involved with Sharemax disputes as it does not provide any easy remedy.

The plaintiffs in the matter were the trustees of the Symons Family Trust. They wanted the Court to award them damages against the defendant, Mr Peter Griffin of Asset-Sure, their former financial adviser and investment broker. The basis of the claim was that on the advice of Peter Griffin, the trust had invested a total amount of R5 million in Sharemax and, like so many others, had lost the whole of its investment when the scheme collapsed.

At paragraph 54 of the judgement the learned judge emphasised the importance of the cause of the loss. He said: "I think it is important to consider what caused the scheme to collapse and the plaintiffs to lose their money, as there has to be a causal link between a breach by the defendant of its contractual obligations and the plaintiffs' loss."

The trustees alleged that Peter Griffin, as the financial advisor, had breached his contractual obligations by:
 
| | |
| --- | --- |
| · | advising them to invest in Sharemax; |
| · | by advising them that the returns were guaranteed when this was not the case; |
| · | by failing to properly investigate Sharemax and its business dealings or to properly understand Sharemax's prospectus and proposed business model; |
| · | by failing to exercise an independent judgment regarding the propriety of the Sharemax business and the contents of its prospectus; and |
| · | by failing to exercise the requisite level of skill and diligence that it had represented to the plaintiffs that it possessed. |
The facts the Court accepted were that Mr Symons, acting on behalf of the Trust, invested an amount of R2 million in Sharemax on 24 June 2009. He made a further investment of R1 million on 12 November 2009. He received regular interest payments on the two investments, and on 14 July 2010 invested a further amount of R2 million. He received no interest payments in respect of the third investment, and the monthly payments in respect of the first two investments also stopped.

When Peter Griffin made enquiries with Sharemax as to what was going on, he was told that the Reserve Bank had raised a problem but that they were dealing with it. It later transpired that the Reserve Bank had intervened as it regarded the funding model as the unlawful taking of deposits from the public, and directed Sharemax to change its funding model. Sharemax was not able to do so and, as a result, it was unable to raise further money and the scheme collapsed.

After considering the expert testimony of witnesses for both the Symons Family Trust and Peter Griffin, the Court found no basis to support any of the plaintiff's allegations that Peter Griffin had breached his contractual obligations and was the cause of the loss.

The Court noted that when the scheme collapsed, Mr Symons did not blame Peter Griffin for having recommended a high-risk investment, and by July 2012 he was still using him as his broker. The following quote at paragraph [52] of the judgement is significant:
| | |
| --- | --- |
|   | The plaintiffs appear to me to have instituted the action in the hope that the defendant's professional indemnity insurer would compensate them without the matter having to go to court. |
The Court accepted the view expressed by an expert witness that the cause of the loss was actually the intervention by the Reserve Bank in the affairs of Sharemax. Arguably, this is not entirely correct. The intervention by the Reserve Bank was done as part of its mandate. The cause of the loss was that the entire Sharemax scheme was an unlawful structure – not the undoing of that structure by the Reserve Bank.

The essence of this decision is to emphasise that when a party claims that a loss has been suffered as a result of the actions or non-actions of a financial services provider, there must be a direct causal link between the loss and such actions or non-actions of the advisor. The observation of the Court that the intervention by the Reserve Bank can be considered to be the cause of the loss in this instance must be regarded as obiter dictum; that is, it is a mere expression of an opinion upon points of law which is not necessary for the decision of the case. At most, it is valued as a reasoned statement which may well influence another court in future decisions, but it is not binding on such other courts. (Jajbhay v Cassim 1940 TPD 182 at 185)

Click here to read the actual judgment.

Alan Holton is an independent compliance officer who consults to Moonstone Compliance on a regular basis.

Your Practice Made Perfect

FSCA Directive 8 - Prohibition on the acceptance of gratification
The recently published FSCA Second Quarter Bulletin 2018/2019 provides feedback on the FSCA's regulatory update session at the recent Institute of Retirement Fund Association Conference.

The directive is based on the general principle that a board member, principal officer, employee of a retirement fund, auditor, valuator, administrator, employee of an administrator, or service provider to a retirement fund should not be involved in any conduct constituting corruption or corrupt activities. Any such involvement will have a bearing on such persons' fitness and propriety to hold office and/or to provide a service. The conditions in the directive were prescribed in order to aid in the combatting and prevention of corruption and corrupt activities.

According to Olano Makhubela, Divisional Executive for Retirement Funds at FSCA, the aim of the directive is to prescribe conditions to combat and prevent potential corrupt activities. He also noted that gifts could be seen as attempted bribes. "Such excessive influence and conduct could impair trustees' ability to objectively assess service providers and the true value they offer to retirement funds," he says.

Specific types of gratification that are not permitted are:
 
| | |
| --- | --- |
| · | Any gratification, which, objectively viewed, creates a conflict of interest with their fiduciary duty towards the fund; |
| · | Token gift/s that exceed/s the annual limit set by the board in terms of the fund's gift policy, which annual limit shall not be more than R500 per annum in aggregate from any one service provider; |
| · | Any gratification relating to local or international due diligence including, but not limited to, subsistence, travel or accommodation; |
| · | Any gratification relating to local or international entertainment or sporting events including, but not limited to, subsistence, travel or accommodation; or |
| · | Conferencing costs or board of fund expenses. |
Click here to read the FSCA Guidance Note on Directive 8.
Fintech policies and regulatory frameworks – National Treasury programme update
"Financial Technology (FinTech) has become an increasingly popular phenomenon, with people familiarising themselves with crypto-currencies such as Bitcoin, SAFcoin and many others. The main issue with all these currencies is that they operate in a relatively unregulated environment; thus government is unable to either track or protect consumers from potential fraud that may be associated with these platforms."

Thus reads the opening paragraph of an interesting article by Caroline da Silva - Divisional Executive: Regulatory Policy at the FSCA, published in the Authority's latest Bulletin.

"…the financial risks involved when it comes to cryptocurrencies and tokens and the fact that they are not regulated and there are no legal requirements or standardised documents for the issuer to adhere to, made it necessary for a regulatory framework to be developed."

"The SARB later announced the establishment of the FinTech programme, designed to assess the emergence and regulatory implications of FinTech. FinTech is simply the process of infusing technology into financial services, which will potentially yield benefits, including improving financial inclusion. The SARB has recently decided to establish a broader FinTech programme, with dedicated full-time staff members. Although it is at an early stage, this programme will be required to strategically review the emergence of FinTech and assess the related user cases."

"The newly established Inter governmental FinTech Working Group, which comprises the National Treasury (NT), the Financial Sector Conduct Authority (FSCA) and the Financial Intelligence Centre (FIC), introduced its inaugural market outreach workshop. The Working Group was formed to develop a common understanding among regulators and policymakers of FinTech developments and relevant policy and regulatory implications for the South African financial sector and economy. It also seeks to develop and co-ordinate an approach to FinTech policy making in the country."

Click here to read the full article which expands on the outcomes of a recent workshop which brought regulators, policymakers and industry players together to develop a 'harmonised' approach to FinTech- driven innovation and consider appropriate policies and regulatory frameworks
.

Softfin Financial Planning Software
Experience taught us that a low-cost offer should be treated with suspicion and a no-cost one with even greater circumspection. There are exceptions, though.

Softbyte Computers announced last week that Moonstone subscribers can now access SoftFin financial planning software at no cost for a whole year.

"With no ties to any financial institution or organisation, SoftFin gives consultants exactly what they want. Menu options include access to multi-media videos on tax and investment planning. SoftFin also offers simple, compliant, Needs Analyses with a full database for storing everything. Download and install SoftFin right now with no obligation. The worst thing that could happen is that one of SoftFin's useful calculators saves you time or makes you money. There are no up-front costs and no annual license fee for the first year. You do not even have to register."

Click here to download and install SoftFin.

Regulatory Examinations

REMINDER - The impact of FAIS Notice on regulatory exams
Regulatory changes have a huge impact on the content of the Regulatory Exams. The latest FSCA FAIS Notice that comes into effect on 1 February 2019 is no exception.

Candidates need to take careful note of the following:

Candidate 1:

"I am writing my RE1 or RE5 exam on or before 31 January 2019".

The Preparation Guide, Version 14 (Released on 1 December 2018) is valid for examinations written up to 31 January 2019.

Candidate 2:

"I am writing my RE1 or RE5 exam on or after 1 February 2019".

The RE 1 and RE 5 Preparation Guide (inclusive of FSCA FAIS NOTICE 86 of 2018) is applicable for Examinations written as from 1 February 2019 onwards as it includes the revised supervision requirements.

In the last newsletter we also shared a series of seven articles on how best to prepare for the regulatory exams. This will further guide you through your exam preparation process.

Click here to download all 7 articles.

Click here to download The Preparation Guide, Version 14 (Released on 1 December 2018) if you are writing before 1 February 2019.

Click here to download RE 1 and RE 5 Preparation Guide (inclusive of FSCA FAIS NOTICE 86 of 2018 if you are writing after 1 February 2019.

Our registration call centre is available weekdays during business hours (08h00 – 16h00). Contact 021 883 8000 / 888 9796 or e-mail faisexam@moonstoneinfo.co.za.
Schedule for 2019

Please note: Registration cut-off is 11 working days before date of exam.

Careers Platform

In Lighter Wyn

Tel: +27 21 883 8000   |   Fax: +27 21 883 8005
info@moonstoneinfo.com
www.moonstone.co.za

P.O. Box 12662, Die Boord, Stellenbosch, 7613, Republic of South Africa
Disclaimer: Services and products advertised by external product suppliers in this newsletter are paid for by the respective suppliers. Moonstone does not endorse any opinions, conclusions, data, products, services or other information contained in this e-mail which is unrelated to the official business of Moonstone and furthermore accepts no liability in respect of the unauthorised use of its e-mail facility or the sending of e-mail communications for other than strictly business purposes.

The complete disclaimer can be accessed here.
©2015 Moonstone. All rights reserved.