MARKETING DURING CRISIS – INSIGHTS FROM STAR TRIBUNE
As we were putting this newsletter together, it occurred to me how many new behaviors have become routine.  Constant hand sanitizing. Staying six feet apart.  Hurrying back into my house after realizing I forgot my mask…

We go out less – both socially, and as consumers. We were curious about how this new normal would impact the holidays and holiday shopping. To explore that, we recently conducted a survey asking our readers about their shopping behaviors and holiday plans during the pandemic.

In this edition of Marketing During a Time of Crisis , we will look at the changes in consumer shopping trends as we move deeper into the pandemic, and what retailers need to keep in mind as we enter into the holiday season. Spoiler alert: Get prepared for even more online shopping.

– Paul Kasbohm, Chief Revenue Officer

TO SPEND OR NOT TO SPEND

As we move through the pandemic, 33% of our readers have struggled financially due to layoffs, furloughs, and pay cuts – but 67% have not.

Spending habits have shifted. Our readers were asked how their spending habits have changed compared to before the pandemic, 65% have cut back. Of them, 44% are spending a bit less while 21% are spending a lot less.

Although many readers are opting to save throughout the pandemic, the holidays look to be an exception. We asked our readers how much they expect to spend on holiday festivities this year compared to last year and found that:
62% are spending about the same or bit more

26% are spending a little bit less
12% are spending much less
SHOPPING: IN-STORE, CURBSIDE OR ONLINE DELIVERY?
Let us get right to the point: the growth of online shopping will continue. We surveyed our readers in June and September if their shopping habits had changed during the pandemic. Our June and September numbers were nearly the same.

Of all respondents, 75% are not visiting the physical locations of retailers as frequently as they had prior the pandemic, while 54% have increased their online shopping. 

Expect those habits to continue into the holiday shopping season. Seventy-one percent (71%) of readers said they are less likely to visit retail locations this holiday season. They are much more likely to shop online or use curbside pickup.
28% of our readers said they did at least half of their holiday shopping online last year
54% of our readers said they expect to do at least half of their holiday shopping online this year
36% said they are more likely to use curbside pickup this year
With more customers opting to purchase holiday gifts online, it is no surprise that they are worried about receiving their packages on time. In fact, 50% of our surveyed readers are at least somewhat concerned about it.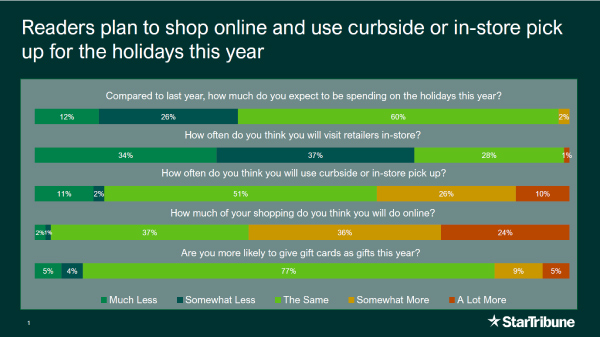 Now is the time to make sure your website is equipped to handle the influx of online orders and ensure delivery and pickup options are clear to customers. It is also not a bad idea to make delivery options part of your holiday advertising message. 
Consumers are also increasingly going to the web to inform their purchase decisions during the pandemic. According to a recent
Harris Poll
, 30% of consumers are looking to articles about products more often, while 35% of consumers are relying on online reviews more often.
HOLIDAY GATHERINGS
ARE GOING DIGITAL
Don't expect traditional holiday gatherings to be the norm this year: 64% of our readers said they would be attending a lot fewer holiday events; 53% of respondents said they would be entertaining much less than normal.

That could mean trouble for everything from catering and groceries to holiday gifts and more. The good news? Our readers are open to taking their festivities to the digital world.

Almost half (45%) of our surveyed readers said they are least somewhat more likely to make their gatherings virtual. This year, it is all about embracing getting cozy and staying home.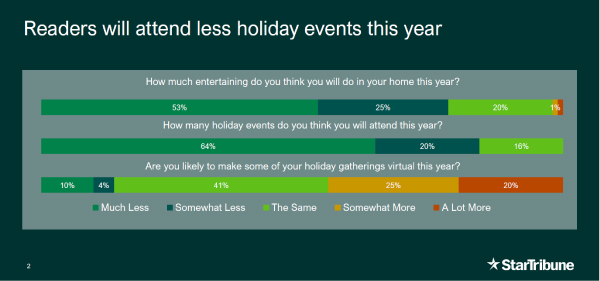 ENSURE A SAFE IN-STORE SHOPPING EXPERIENCE
Our readers who do plan to do their shopping in person are taking even more precautions to keep them safe during the pandemic.

But they also expect the same care from the retailers they patronize. Almost all our readers expect employees to wear masks, and 85% expect stores to have a commitment to social distancing.
Enforce mask policies and social distancing for all customers and employees.
Focus on digital advertising and consider offering online sales.
Offer and promote delivery and curbside options.
Make sure your website is equipped for an influx of online orders. Make sure your delivery process is clear and assure customers packages will come as expected.  
Consider adding gift wrapping as part of your holiday delivery offerings.
Scale back holiday packages to fit single households.
Make gift cards available in a virtual format.
EXCLUSIVE WEBINAR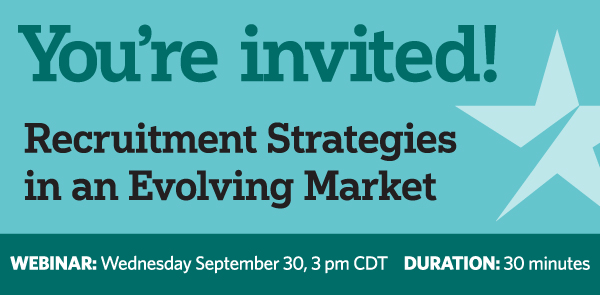 On Wednesday, September 30th , at 3PM, join us for a 30-minute webinar to hear from the experts on recruiting strategies amidst a pandemic. Our speakers will discuss what impact the pandemic has had on recruiting efforts and offer key actions you can take today to re-engage your talent pipeline.
Not only are our readers shopping online, but they are looking for deals. Our September survey found 61% of our readers are shopping sales compared to 55% in June.
SPECIAL OFFER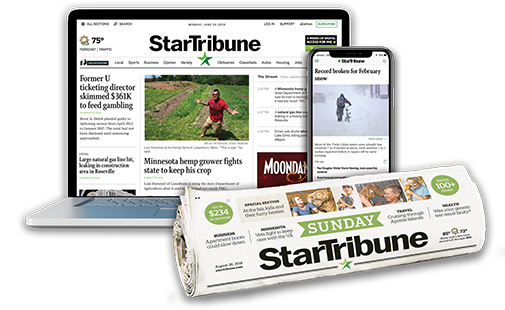 With the upper Midwest's largest newsroom, we have more than 200+ journalists gathering the facts, telling the stories and reporting what's important to you. All day. Every day. Support local journalism, subscribe today.
In Case You Missed The Previous Emails