We Can Help With Increased Internet Needs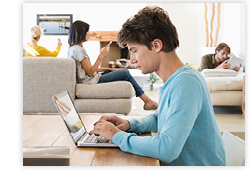 Due to working and learning from home — as well as additional streaming for entertainment and relaxation — your household may need more internet bandwidth than you did prior to the COVID-19 situation.

Please contact us to sign up for an internet speed upgrade with Marquette-Adams Telephone, which can be in most cases without a visit to your home.

Call us at 608-586-4111 for more information.

A Special Thank You

For the past few months, the communities we serve have faced a number of unprecedented challenges and uncertainties.

Though we most certainly still have a long way to go, we at Marquette-Adams feel it necessary to express our sincerest gratitude to our valued customers, families, friends and neighbors for their unwavering strength and commitment to us and to one another.

We as a cooperative will continue to do all we can to support our communities because we know that when we work together, there is nothing we cannot overcome. So, from all of us, we thank you.