MARKETING DURING CRISIS – INSIGHTS FROM STAR TRIBUNE
"Resolve." That is the feeling that I keep trying to find. For months we've been working through a global pandemic. Then, we witnessed the tragic death of George Floyd. Suddenly, the terrible burden borne by our black communities was laid bare for all to see. We then witnessed the pain that our state – our community – is experiencing.

With broken hearts and opened eyes, we want to find the resolve to not just fix our home, but to create it anew. Our city must be rebuilt so that all the quality of life that we cherish is experienced by all who choose to live here.

We will find that resolve. As business leaders, we will keep doing what we have been doing for the past several weeks: Keep moving forward, working each day to support the businesses that are so vital to our community. But as business leaders, it is our duty to help Minnesota grapple with our problems of racial inequity.

As part of our commitment to local business, we will keep moving forward, too. We will continue to share insights from what we learn as we interact with businesses operating in unprecedented times.

– Paul Kasbohm, Chief Revenue Officer
STRONG LEADERS TAKE CARE OF THEIR TEAMS – AND THEMSELVES
As leaders, we know that for our business to operate at its best, our people need to be at their best. With all that our community has been through, it is difficult for anyone to perform as they normally would. To be effective leaders, we must ensure that our people have the support and space to process what they're experiencing.
To do that, you need to assure them that you understand and accept that they may be struggling with negative feelings, and that you support their need to work through them.
This Star Tribune article
discusses the science behind these feelings and why it is so important to accept them.
It is also important to provide them the resources they need to process what they are feeling. If your company has an Employee Assistance Program, it is a good time to remind your teams that it is available.
The Society for Human Resource Management offers advice
on how to support employees during a time of crisis. One of their suggestions is to make sure that your team knows that you want them to have the time and space to process what they are feeling. This is especially true when so many people are working at home, as remote workers can feel like they need to be available all the time.
As a leader, part of the job is taking care of yourself. Your teams need you to be your best. During our May 4 Webinar, "
Reopening from COVID-19
," Kenny Larson, CEO of Slumberland made this point. "You need to make sure to take care of yourself," he said. "As leaders, if you're not in healthy spot, it will be difficult for you to lead in a difficult time."
MARKETING IN A TIME OF CRISIS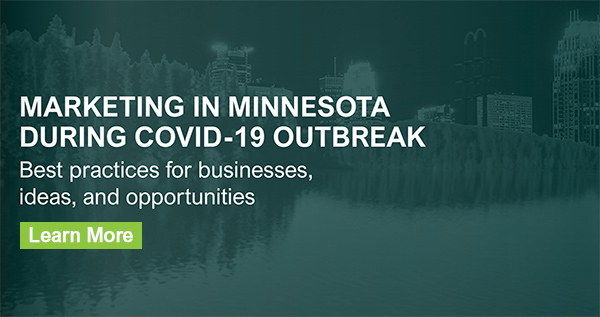 In our first newsletter, we noted that research has shown that it is vital for businesses to advertise in times of crisis. When we offered it, we would have never imagined that our state would plunge into a second crisis just weeks later.
What was true then is true now: You need to keep your business top-of-mind with your consumers. But, you may want to consider your messaging. We recommend that Minnesota businesses use similar approaches to messaging as they did during the COVID-19 stay-at-home order.
Be factual in your presentation. Let your customers know if you are open and or they need to interact with your company differently. If you are having a sale or special offer, you should still promote it. But a straightforward, factual tone might be better received by your customers.
Want to read more? We've archived all of our
"Marketing in a Time of Crisis"
webinars, research, and newsletters.
TAKE OUR SURVEY:

HOW ARE YOU REOPENING?
One of the best ways to learn is to get insight from other Minnesota businesses. To facilitate that, we'd appreciate if you'd take our "Operating During a Pandemic" Survey.
It asks about how your business is adapting to the current environment. Do you have people working from home? For how long? What safety protocols has your business adopted? We will share results in a future newsletter.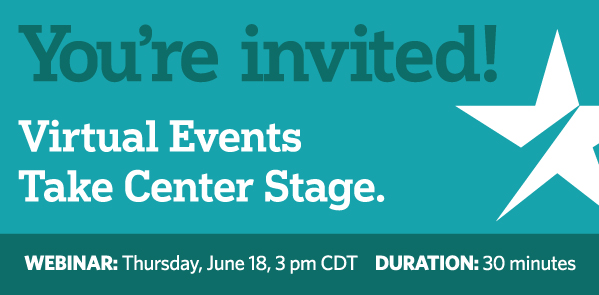 Recently, we ran a survey asking our readers about virtual events. 72% of readers said they were willing to attend a virtual event – and many of them are willing to pay to attend.


On Thursday, June 18,
join us at 3 PM CDT for a webinar
, Virtual Events Take Center Stage. Over 30 minutes, we'll offer what we know about virtual events – what are the types of events that people want to attend, how long they will stay, and what they are willing to pay.
You will also hear from the Science Museum Of Minnesota and The Film Society of Minneapolis – St. Paul about their virtual efforts to engage their constituents and customers. They'll share key learnings from their recent virtual efforts.
GAVEL GIVEBACK: A CASH-FREE WAY TO INCREASE YOUR ADVERTING BUDGET

For the past 10 weeks, we have been talking about how important it is to keep advertising during a crisis. At the same time, we understand that pandemic has strained marketing budgets.
That is why we are offering
Gavel Giveback
, a program that helps you extend your advertising budget and generate visibility for your business. It works like this. You sell your products or services in our online marketplace. When your goods or services sell, we'll give you Star Tribune advertising credits.
Star Tribune is promoting the event with over $100k in advertising. Not only are your products and services likely to sell, but your business will get extra visibility! Talk with your Star Tribune representative today for further details.
As local business leaders, part of our resolve must be to improve our community. There is no way to meaningfully improve our community without confronting our problems with racial inequity.
You can't solve a problem without understanding it. And while the scope of our problems with race is vast – certainly beyond the purview of an email newsletter – we want to share some statistics that illustrate the depth of our problem.
INCOME: The typical white family in Minnesota earns $83,000 per year. A typical black family earns $37,000.
HOUSING: 76% of white families in Minnesota own their own home. 25% of black families do.
POVERTY: 5.9% of white people living in the Twin Cities live in poverty. 25.4% of black people do. Nationally, the black poverty rate is 22%.
As a lifelong subscriber to both print and digital daily STRIB, I am so grateful for your unparalleled coverage and factual reporting. I cannot imagine how difficult and surreal this must be in these whacked–out times that have come upon us.

Keep it up, and know you make a WORLD of difference to so many Minnesotans and beyond.

With Gratitude,
Catherine
In Case You Missed The Previous Emails