Tentative Plan to Reopen Our Office Lobby on June 1st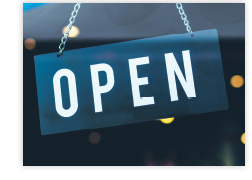 We temporarily closed our office lobby to the public for several weeks this spring, but due to recent changes related to COVID-19 restrictions, we've opened it back up again. We look forward to seeing you in person during our normal business hours of Monday - Friday, 8:00 am to 5:00 pm. You can pay your bill, sign up for new service, get troubleshooting assistance, pick up devices, and more.

The health and safety of our employees and customers remains a top priority during these challenging times. For this reason, we've established the following policies:
Our office lobby will be cleaned and disinfected multiple times each day.
No more than 10 people may be in the office lobby at one time.
Social distancing will be maintained, keeping a minimum of six feet between people.
Hand sanitizer will be available for use during your visit.
Thank you for not entering the lobby if you have COVID symptoms.
KMTelecom is proud to provide our community with internet and other essential services to keep you connected during the pandemic. Please call us at 507.634.2511 if you have questions or need more information.

Thanks for your cooperation. We'll get through this together!