MARKETING DURING CRISIS – INSIGHTS FROM STAR TRIBUNE
If I were making my holiday wish list, the gift at the top of the list would be…a free pass to 2021. (But after the way 2020 turned out, please make sure to include a gift receipt with that one.) Now, you might be saying, "it's not even Labor Day. Isn't it a little early to be drafting a wish list?"

Most years, that would be true. Not this year. As has been said way too many times during the pandemic, this year will be different. That same statement will also apply to the holiday season.

In this edition of Marketing During a Time of Crisis, we will explore the trends we see developing for the 2020 holiday shopping season. Expect to see a lot more digital shopping – and a lot of it to be done earlier than normal.

– Paul Kasbohm, Chief Revenue Officer

2020 HOLIDAY
SHOPPING OVERVIEW
BLACK FRIDAY WILL START ON…BLACK FRIDAY?
Partly because they need to spend extra time executing safety protocols, and partly because they recognize their employees have been on the frontline of the pandemic, many major retailers are choosing not to open their doors on Thanksgiving Day. Walmart, Target, Kohl's, and Dick's Sporting Goods have all announced that they will remain closed this year.

In a statement, Walmart's U.S. President and CEO, John Furner explained, "We know this has been a trying year, and our associates have stepped up. We hope they will enjoy a special Thanksgiving Day at home with their loved ones. We are certainly thankful to our people for all of their efforts."
THE YEAR OF THE HOME
In our
last newsletter
, we explored some of the many activities that are now being done virtually from home. Expect that to also apply to Holiday Shopping.

Over the past two years, the increase of online holiday shopping has slowed. In 2016 and 2017, digital holiday shopping grew at a pace of 16.4% and 16.3% respectively. In 2018 and 2019, it grew at 10.8% and 13.2%.
Expect the pandemic to catalyze that growth. According to
e-marketer
, almost half of US adults are more interested in doing their holiday shopping online this year than they were last year. Just 10% were less interested. Further, across every age group, most US adults said they will do
more than half
of their holiday shopping online this year.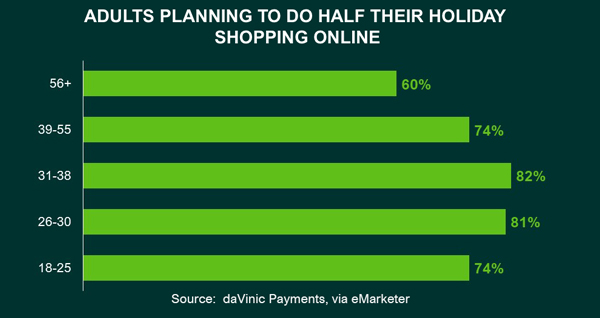 TOO MUCH DIGITAL SHOPPING?
During the pandemic, the sudden increase in online shopping has strained digital retail's ability to stock and ship products. According to
Digital Commerce 360
, 47% of online shoppers struggled with a lack of inventory and shipping delays.  
The holidays are likely to exacerbate this situation.
SalesForce
is projecting that – in the weeks following Thanksgiving and Boxing Day – that global shipping capacity could be exceeded by 5 percent. While that might not sound like a large percentage, it would affect the delivery of 700 million gifts worldwide.
PRIME REASONS TO SHOP EARLIER
This is because the pandemic will force consumers to do their holiday shopping earlier than normal.   We have observed two trends that are driving it.

First, as we have noted, consumers have been stung by shortages and shipping delays when shopping online. Since the holidays are higher–stakes shopping (nobody wants to sit down for the holiday celebration missing a gift), we expect that consumers will start their shopping earlier. Second, because of the Pandemic, Amazon is moving "Prime Day" from its typical July date to late October. 
It is hard to overstate the impact that will have on holiday shopping. According to
Statista
, Prime Day generated $7.9 billion in global sales in 2019. Amazon states that it has become bigger than Black Friday and Cyber Monday
combined.
SalesForce
predicts that Prime Day's proximity to the holidays could siphon 10% of cyberweek's sales.
A DIGITAL OPPORTUNITY FOR
BRICK AND MORTAR STORES
Buying an item online and picking it up in a store was already becoming popular. According to
Adobe
, it increased by 35 percent last year. It is likely that the pandemic will catalyze this trend – both because of consumer concerns about shipping and consumer concerns about safety.
SalesForce
predicts that in–store pickup (including inside, curbside, and drive through) will increase a staggering 90 percent this year. 
MAKE YOUR LIST, CHECK IT TWICE
If you have not started planning for a very different holiday season, now is the time to do it. Here are some recommendations:
Make sure consumers know how to interact with you – update your Web site with your safety protocols, delivery options, and pickup options.  Feature them in your advertising.

If you are offering pick–up services, prepare for an increase in volume.

Consider starting your holiday promotions and advertising – especially digital advertising – early to draw early shopping activity.

If you run seasonal search campaigns during the holidays, start them now.  Besides enabling to capture early holiday shoppers, it takes time for search campaigns to calibrate.

If you have an inventory of hard–to–find items, consider a search–retargeting campaign.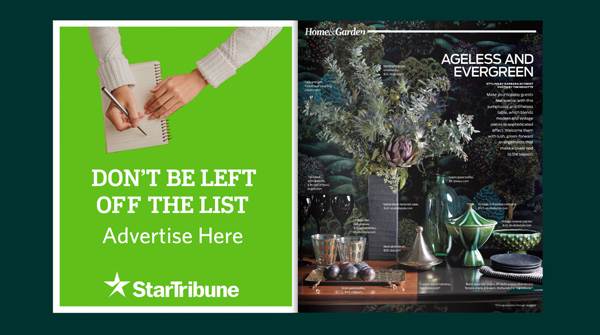 STAR TRIBUNE MAGAZINE:
HOLIDAY SEASON
The theme for our November magazine is "Home for the Holidays." It will be full of gift ideas, including gifts from these categories:
Family Game Night

– puzzles, games, card games, video/streaming games mentioned

Snacking in

– food items for staying home, focusing on smaller offerings vs. big meals

Get Cozy

– pillows, throws, home décor, pajamas, slippers, hoodies 

In-house Spa

– candles, soaps, scents, face masks, other beauty products

Under the Tree

– range of gift items, our miscellaneous category for the things we find that don't fit elsewhere
It is the perfect place to advertise your holiday offerings – especially unique gift ideas. Space reservations are due October 19.
We measure the Thanksgiving newspaper in pounds. The 2019 edition weighed in at 3.25 lbs.
SPECIAL OFFER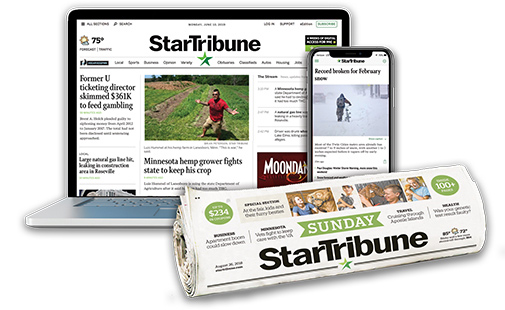 With the upper Midwest's largest newsroom, we have more than 200+ journalists gathering the facts, telling the stories and reporting what's important to you. All day. Every day. Support local journalism, subscribe today.
We are recent outstate subscribers (Winona) of the Sunday edition.  We are grateful that we came on board prior to the Covid era and thus have access to current, quality journalism.  My 13-year-old son and I are daily newspaper readers, and it was at his readiness and insistence that we subscribed to a newspaper that brought us more comprehensive coverage from outside of our area.  Thank you for the quality journalism!
–  Colleen
In Case You Missed The Previous Emails