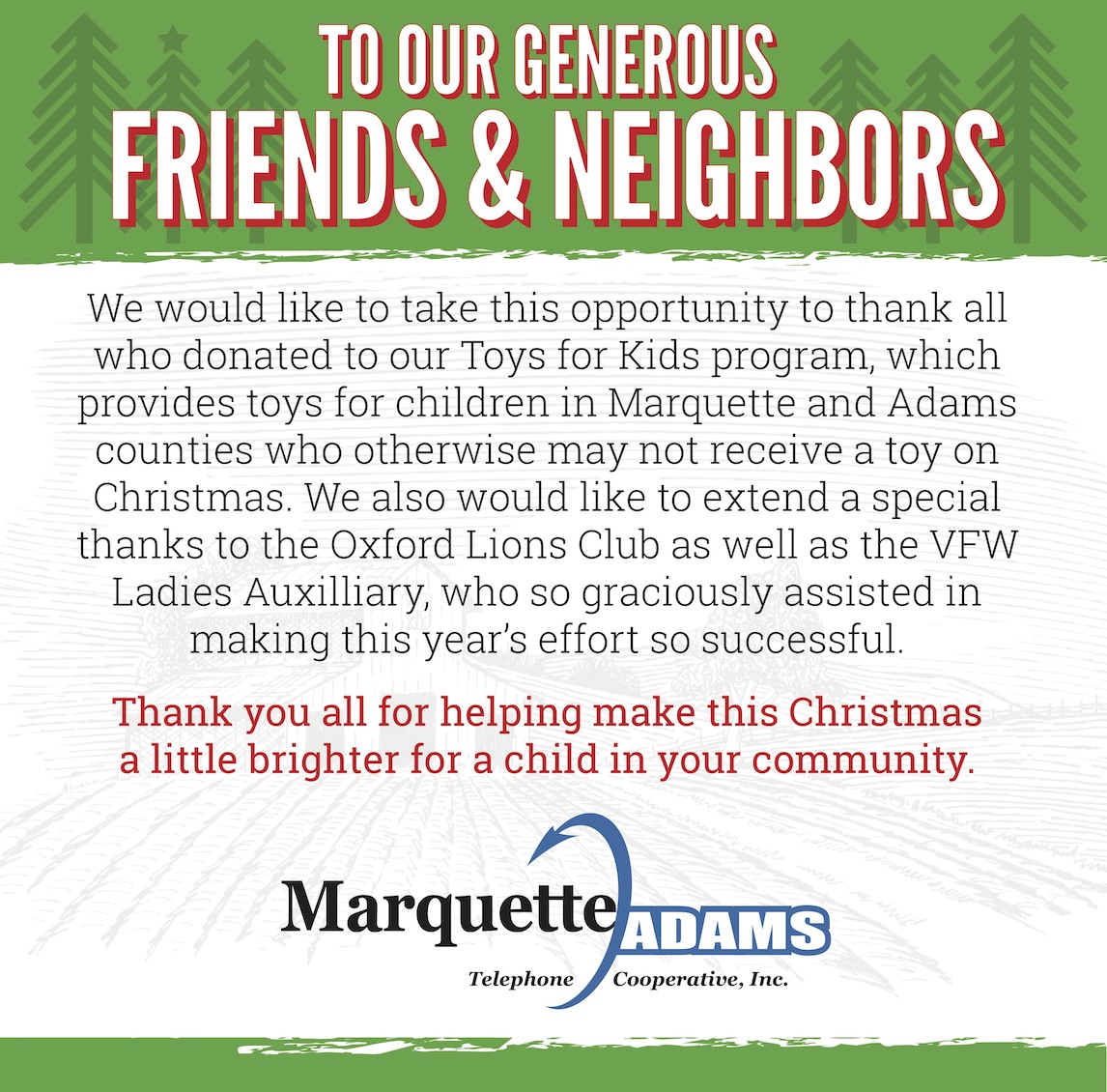 Cooperative Q&A – Capital Credit Allocations

What does it mean to be a member of a cooperative?

Cooperatives were created by a group of people called members to reach a common goal. In the case of Marquette-Adams, our cooperative was formed in 1951 when local residents came together to provide reliable telephone services to homes and farms throughout our rural communities. Without these founding members, Marquette-Adams Telephone Cooperative would not exist.

What makes a co-op different from other phone companies?

Marquette-Adams Telephone Cooperative is a member-owned organization. What this means is that our Board of Directors is comprised of local Marquette-Adams customers who have been elected by our cooperative members.

What are the perks of cooperative membership?

Each year, our board members allocate the co-op margins back to our members, which are distributed in the form of Capital Credit checks.



November Capital Credit Allocations:


On November 18, 2021, Marquette-Adams dispatched a distribution of allocated patronage to our members, representing the second partial distribution of the year 2003. This allotment of capital credits was approved by our Board of Directors following a careful review of the Cooperative's financial position. In the ever-changing technological landscape in which telecommunications companies exist, Marquette-Adams continues to carve its own path by successfully achieving significant growth and expansion, while at the same time maintaining a healthy bottom line. Continuing to return capital credits to membership during periods of expansion and network upgrades is truly a testimony to the strength and stability of our Cooperative and its members.

Note: If you had active service with Marquette-Adams Telephone Cooperative in 2003 and did not receive a patronage check by the end of November, please contact Lori Lynn Podoll at (608)586-7032 to inquire about the status of your allocation.