If there are problems with how this message is displayed, click here to view it in a browser.

Investment Indicators - 21 January 2019
Read Investment Indicators for CPD purposes
Click here to register.
 
 
 
 
 
Life's most persistent and urgent question is,
'What are you doing for others?'
- Martin Luther King, Jr.
Distributed to 55 256 subscribers.

To advertise with us
click here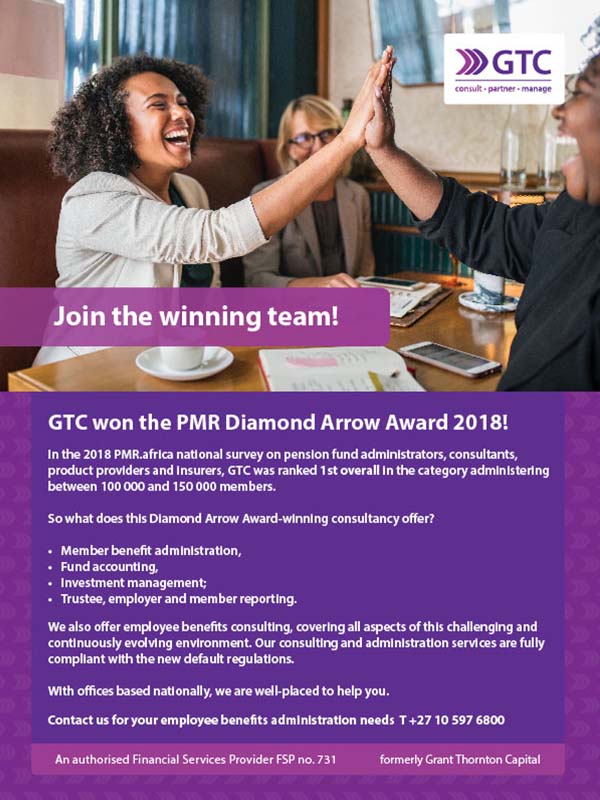 Rates Review

 1. Secured Investment Rates
Please note that (G) indicates a Guaranteed and (L) a Linked product. In order to understand the difference between guaranteed and linked rates, kindly click here for an explanation.
| | | | |
| --- | --- | --- | --- |
| | | | |
| |   |   |   |
|   | Company | This Week | Last Week |
| 1 | 1Life (L) | 7.020% | 6.970% |
| 2 | Absa (L) | 6.986% | 6.931% |
| 3 | Clientéle Life (L) | 6.840% | 6.770% |
| |   |   |   |
| |   |   |   |
| |   |   |   |
|   | Company | This Week | Last Week |
| 1 | 1Life (L) | 7.070% | 7.020% |
| 2 | Assupol (G) | 7.050% | 6.980% |
| 3 | Absa (L) | 6.986% | 6.931% |
| |   |   |   |
 2. Money Market Funds
Please bear in mind that our figures, though based on the actual quotations that you also use, are for information purposes only, and can never replace the official quotation from the product house. In terms of the guarantees, you are requested to clarify the exact extent of such guarantees with the product house prior to advising clients.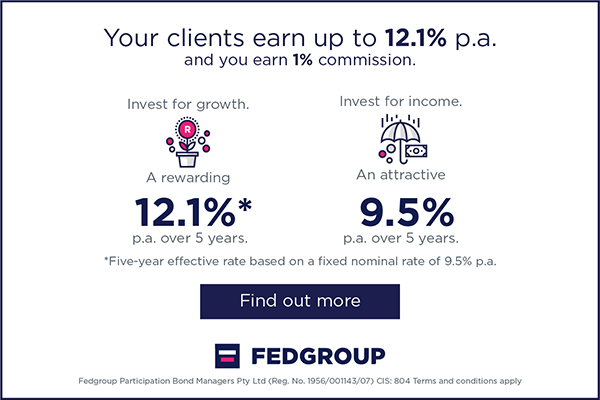 From the Crow's Nest

Can the Tribunal's order override a FSCA decision – A recent Tribunal case sheds some light
A recent Financial Services Tribunal decision showcases the Tribunal's powers in terms of section 234 of the FSRA.

"Section 234(1)(a) of the FSRA 4 circumscribes the powers of the Tribunal with respect to the decisions of the Authority. The Tribunal can either set aside the decision and remit the matter back to the Authority for further consideration or dismiss the application. There is no room for the Tribunal to substitute the Authority's decision for its own.

The Authority's response to the Tribunal's order remitting the matter back for reconsideration may result in the Authority reversing its initial decision. Where that occurs the Authority's subsequent decision must not be imputed to the Tribunal as its power to reverse the decision. The Tribunal's order and the Authority's decision must always be seen as separate processes albeit their sequence ex facie may suggest the contrary."

Background

On 19 September 2018 the FSCA, acting in terms of section 9 of FAIS Act, withdrew the licence of Victor Masango authorising him to act as a financial services provider. On 4 October 2018, Masango filed an application for reconsideration of the decision to the Financial Services Tribunal and sought his reinstatement as an authorised financial services provider.

The facts

Masango's licence to act as an FSP was issued on 3 September 2007. According to his licence he was entitled to provide financial advisory and intermediary services in respect of Long-term insurance: Category A,B, C as well as in various other categories of Short-term Insurance including Health service benefits provided by medical aid schemes.

Section 19 of the FAIS Act states that financial statements must be submitted by all Authorised Financial Service Providers to the registrar, not later than four months after the end of the provider's financial year end.

However, The FSCA submitted that Masango failed to comply with this requirement in respect of two consecutive financial periods; namely 2015/16 and 2016/17 financial years which were due at the latest on 30 June 2016 and 30 June 2017 respectively.

The FSCA further submitted that he did not maintain a suitable guarantee or professional indemnity cover prescribed in terms of section 13 of the FAIS Act read with the General Code of Conduct for Authorised FSPs and Board Notice 123 of 2009.

As a result of the above the FSCA withdrew Masango's licence.

He therefore requested the Tribunal to reinstate his licence.

Was the FSCA's decision to withdraw the licence justified?
 
| | |
| --- | --- |
| · | Section 234 of the FSRA grants the FSCA exclusive rights to decide whether or not to reinstate the licence. As such the Tribunal has no mandate to reinstate Masango's licence. |
| · | In terms of the FAIS Act Masango was also required to submit a compliance report by not later than 28 February of each year. Besides numerous communications to Masango as well as extensions granted, no reply was received from Masango. |
| · | As a result the Registrar eventually withdrew the licence on 19 September 2018. |
The applicant's statement
 
In Masango's statement he refers to personal circumstances that led to contraventions which form part of the basis of the licence withdrawal. It also seems if Masango consciously decided not to comply with statutory requirements because he had not paid his licence fees.

The outcome

Overall, evidence showed that there was nothing preventing Masango from contacting the FSCA over a period of several months to explain his failure to comply with his statutory obligations.

In view of the above the FSCA's decision to withdraw the licence was therefore not only correct but also well justified in the circumstances.

Click here to download the Financial Services Tribunal case.

Editor's note: Past experience has shown that the Authority is often more than lenient in accommodating FSPs when they fail to comply with certain requirements. As noted above, numerous communications as well as exemptions were granted, yet the applicant failed to respond, only doing so when he approached the Tribunal. Had he contacted the FSCA in time, the problems could have been addressed a lot earlier.

Your Practice Made Perfect
Registrar of Pension Funds Annual Report – Rather late than never?
The Registrar of Pension Funds 59th Annual Report for the 2017 calendar year was published on 18 December 2018. Besides the industry statistical overview, performance of funds and financial statements, the report covers proposed regulatory changes, litigation matters, unclaimed benefits and the outcomes of on-site visits.

Amendments to the Pension Funds Act

The report highlights the submissions that have been made to National Treasury for amendments to the Pension Funds Act.

As a result of several enquiries on the application of the Default Regulations by retirement funds, the FSCA recently released a guidance notice. Click here to read our recent article on the application of the default regulations by retirement funds.

BusinessTech also recently summarised the new regulations and referred to the changes as effectively introducing 'three key pillars' to the Act.
 
| | |
| --- | --- |
| · | The default investment portfolio; |
| · | Default preservation and portability; |
| · | An annuity strategy. |
Click here to read the full article which also contains a link to actual annual report.

Proposed tax changes - What South Africans may expect
In a recent BusinessTech article, Jerry Botha, managing partner of Tax Consulting SA outlined five possible tax changes that South Africans should know about.

National Health Insurance and medical aid credits

There are promised announcements around National Health Insurance especially the funding thereof in the Budget 2019/20.

Travel reimbursement rates

According to Botha the reimbursement and tax claim limits will require proper adjustment to keep track with the reality of petrol price increases and the higher-than-normal costs associated with business-use of vehicles.

Recession and low remuneration increases

As a result of a lot of restructuring and retrenchment exercises, employees should expect lower increases.

New financial products

Botha mentioned that there are a number of new financial products and services – including at least three new zero or low-cost banking options planned for 2019.

Expatriate tax exemption – R1m only from 1 March 2020

The change is already in law and will increase the cost for South African employers which expand internationally when using South African employees as expatriates.

Click here to read the article.

Softfin Financial Planning Software
Experience taught us that a low-cost offer should be treated with suspicion and a no-cost one with even greater circumspection. There are exceptions, though.

Softbyte Computers announced last week that Moonstone subscribers can now access SoftFin financial planning software at no cost for a whole year.

"With no ties to any financial institution or organisation, SoftFin gives consultants exactly what they want. Menu options include access to multi-media videos on tax and investment planning. SoftFin also offers simple, compliant, Needs Analyses with a full database for storing everything. Download and install SoftFin right now with no obligation. The worst thing that could happen is that one of SoftFin's useful calculators saves you time or makes you money. There are no up-front costs and no annual license fee for the first year. You do not even have to register."

Click here to download and install SoftFin.

Regulatory Examinations

RE Tips - Importance of the Preparation Guide
It is important to distinguish between the two most common REs, as registration for the wrong one can have costly implications. Papers are printed in accordance with what candidates have registered for. We are unable to make changes, due to very strict confidentiality regulations. If you have registered for the wrong exam, you will have to re-register and pay again.

The Level 1 RE 1 is for key individuals.

The Level 1 RE 5 is for representatives.

Begin at the beginning

Make sure that you first read and understand the information contained in the FSCA's Preparation Guide. Candidates who do so have a significantly better chance of passing, as they know what to expect when they walk into the exam centre.

The Prep guide consists of two sections:

Page 2 to 15 is a neat summary of what you can expect, including information about the format of the exam, reference material, the different types of questions, how to study, what to expect when writing the exam as well as frequently asked questions.

Pages 16 to 43 contain very important information regarding the actual "syllabus" of the regulatory exams. This section is divided in two:

Pages 16 to 35 contain the 16 Tasks that key individuals will be tested on while

Pages 36 to 43 contain those relating to representatives
If you are a representative, you only need to concern yourself with the last ones, while key individuals wishing to write the RE 1 only need to use the first set of tasks.

The Tasks

Each task is broken down into various Qualifying Criteria which explains in more detail what you need to know and do under that specific task, and where to find the information required in the relevant legislation.

For example, Task 1 under the RE 5 looks like this:

Task 1: Demonstrate understanding of the FAIS Act as a regulatory framework
 
Qualifying Criteria

Motivations

1

Describe the FAIS Act and subordinate legislation

GCOC — Definition of Direct Marketing
FAIS Act - Sec 1 Definitions
FAIS Act - Sec 14
FAIS Act - Preamble

2

Provide an overview of the financial services and different types of financial products a Representative can deal with.

FAIS Act - Sec 1 Definition of Financial Product
FAIS Act - Sec 1 Definition of Intermediary Services
FAIS Act - Sec 1 Definition of Advice

3

Apply knowledge of the financial products within the financial services environment.

FAIS Act - Sec 1 Definition of Financial Product
FAIS Act - Sec 7(3)
Long-term Insurance Act - Sec 1 Definition of Long Term Policy

4

Describe the role and function of a Compliance Officer.

FAIS Act - Sec 17
FAIS Act - Sec 17(1)
FAIS Act - Sec 17(1)(c)
FAIS Act - Sec 17(4)
FAIS Act - Sec 18
FAIS Act - Sec 18(d)
FAIS Regulations - Reg 5
FAIS Regulations - Reg 5(1)
FAIS Regulations - Reg 5(3)
GCOC - Sec 3(1)

The Qualifying Criteria describes WHAT you need to know, while the column on the right tells you WHERE to find the information.

We very strongly recommend that you download and read through the Preparation Guide before attempting to study for the exams. Page 8, for instance, provides a 6 step process to prepare effectively, using the Guide.

In the next article will discuss the actual exam paper in more detail.

TAKE NOTE: Regulatory changes have a huge impact on the content of the Regulatory Exams. The latest FSCA FAIS Notice that comes into effect on 1 February 2019 is no exception.

The RE1 and RE5 Preparation Guide (inclusive of FSCA FAIS NOTICE 86 of 2018) is applicable for Examinations written as from 1 February 2019 onwards as it includes the revised supervision requirements

Click here to download The Preparation Guide, Version 14 (Released on 1 December 2018) if you are writing before 1 February 2019.

Click here to download RE 1 and RE 5 Preparation Guide (inclusive of FSCA FAIS NOTICE 86 of 2018 if you are writing after 1 February 2019.

Our registration call centre is available weekdays during business hours (08h00 – 16h00). Contact 021 883 8000 / 888 9796 or e-mail faisexam@moonstoneinfo.co.za.
Schedule for 2019

Please note: Registration cut-off is 11 working days before date of exam.
Careers Platform

Featured Positions
IFAnet Independent Broker Consultant: IFAnet Johannesburg, Pretoria - We are looking for a candidate with RFP2 equivalent, or 3 year's appropriate experience and a successful track record in the "Broker Services" sector of the Life Insurance Industry .  Read More

Wealth Manager: International Wealth & Prosperity, Oaklands, Johannesburg - We are an offshore financial advisory firm seeking a paraplanner / wealth manager who resides in Johannesburg and has a passion for the financial markets.  Read More
In Lighter Wyn

Tel: +27 21 883 8000   |   Fax: +27 21 883 8005
info@moonstoneinfo.com
www.moonstone.co.za

P.O. Box 12662, Die Boord, Stellenbosch, 7613, Republic of South Africa
Disclaimer: Services and products advertised by external product suppliers in this newsletter are paid for by the respective suppliers. Moonstone does not endorse any opinions, conclusions, data, products, services or other information contained in this e-mail which is unrelated to the official business of Moonstone and furthermore accepts no liability in respect of the unauthorised use of its e-mail facility or the sending of e-mail communications for other than strictly business purposes.

The complete disclaimer can be accessed here.
©2015 Moonstone. All rights reserved.