Western Iowa Networks Donates to Kellan's Kingdom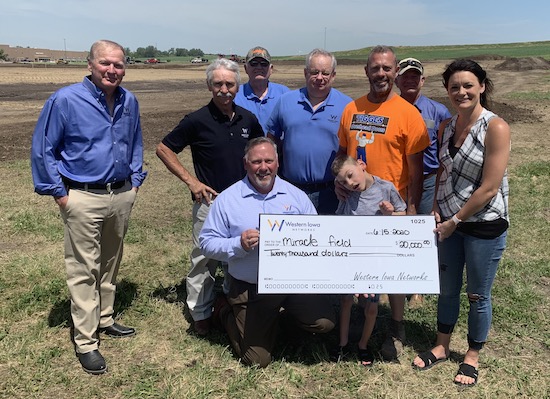 The Western Iowa Networks (WIN) board of directors recently presented a donation to Kellan's Kingdom in the amount of $20,000 for the Miracle Field that is planned to be constructed in Carroll, IA. The Miracle Field is still in the planning stages but will be located in Northeast Park in Carroll. The Miracle Field will be a hard-surface baseball field that will allow people with disabilities to play baseball as part of the Miracle League. Miracle Leagues are currently active throughout the US and Canada, including Des Moines and Sioux City as well as one planned for Ames.

One of the goals of this project is to invite people with disabilities from other communities across Iowa to utilize this facility as well as people locally. "People with disabilities play such an important role in our society. There is so much we can learn from the determination that many display overcoming things that many of us take for granted," said WIN CEO Jeff Roiland. "We are proud and honored to play a part in providing this experience for not only folks in the Carroll area but the surrounding areas as well," Roiland added.

Pat and Alie Tigges started Kellan's Kingdom, a 501(c)(3) organization, in 2017 as a way to raise funds for an all-inclusive playground in Carroll inspired by their son Kellan who attends Adams Elementary in Carroll and is wheelchair bound. That playground was completed in August of 2019, also in Northeast Park. "Pat and myself would like to thank WIN for the very generous donation. Having the support of WIN will change the lives of individuals with disabilities through this donation. To have a local company make this large of a donation to the Miracle Field and show this much support truly shows how great our community is," said Alie Tigges. Pending any delays the group hopes to break ground on the project this fall.



Tips For Those New To Working From Home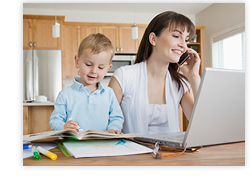 More and more people are now working from home to help slow the spread of COVID-19. If this work arrangement is new to you, you'll find these tips helpful in terms of productivity and focus:

Stick to your workday routine as much as possible. Work roughly the same hours you did before and continue to get dressed in real clothes. Resist the temptation to work in your pajamas!


Set up a designated workspace. Work from a desk or table in an area away from other family members so you have the quiet you need to stay on task. Also sit in a supportive chair to help prevent back pain.


Stay connected to coworkers. Use applications such as Zoom or FaceTime to help maintain morale during this period of isolation.
If you need to make changes to your home's internet service to accommodate working from home, call us at 712-775-2946, Carrol; 712-673-2311, Breda; and 712-393-4500, Denison. We are offering special discounts.