Happy National Squirrel Appreciation Day
No, we're not kidding. National Squirrel Appreciation Day is a real thing and it is celebrated every January 21st. While many of you may enjoy these cute, fuzzy woodland creatures, we in the telecommunications industry look at them more as a frustrating foe.

Like most rodents, squirrels chew on things to sharpen and control the length of their teeth. Unfortunately, they often choose electrical and fiber-optic cables. They like to chew off the outer insulation of the wires and even chew on the hard wires themselves, which results in a service outage for our customers. In fact, according to Tony Bennett, ImOn Senior Manager of Network Operations, our Internet service was briefly impacted 15 times in 2019 due to squirrel chew damage! The good news is our team has become very good at identifying and repairing squirrel chews quickly and minimizing any downtime the customers in the affected area experience.

So if you choose to celebrate our furry friends this National Squirrel Appreciation Day, please make sure to shower them with a ton of hard nuts so they won't need to chew on our fiber!
January 28 Is Data Privacy Day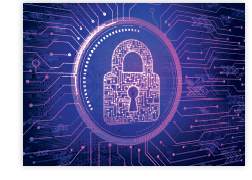 Given the frequency and magnitude of identity theft, it's vitally important to do what you can to protect your personal information. January 28 is designated as Data Privacy Day, which serves as an excellent reminder to stay vigilant.

The National Cyber Security Alliance offers these tips to help manage your privacy: Secure your devices: Use strong passwords, passcodes, or touch ID features to lock your devices. These security measures can help protect your information if your devices are lost or stolen and keep prying eyes out.

Think before you app: Information about you — such as the games you like to play, your contacts list, where you shop, and your location — has value, just like money. Be thoughtful about who gets that information and how it's collected through apps. Stay up to date: Make sure your security software, web browser, and operating system are updated regularly, which is the best defense against viruses, malware, and other online threats.

Learn more at staysafeonline.org. Click on "STAY SAFE ONLINE" and get tips on Online Safety Basics, Managing Your Privacy, and more.et gravida cum sociis natoque penatibus et. ARTICLE ENDS