If there are problems with how this message is displayed, click here to view it in a browser.

Moonstone Monitor -  1 November 2018
Read Moonstone Monitor for CPD purposes
Click here to register.
 
 
 
 
 


The only way to make sense out of change is to plunge into it,
move with it, and join the dance - Alan Watts
Distributed to 51,761 subscribers.

To advertise with us
click here
From the Crow's Nest

South African Short-term Insurance – what are the latest trends, drivers and challenges?
A question that more than one research house asked and surveyed in the last few months.

In today's rapidly changing environment, identifying trends in your industry, market and customers can give you a competitive edge. Research findings and reports give you access to data and information that assist you to make informed decisions.

Insight Survey, Accenture and PwC presented survey reports that all indicated, in some way or another, that digital technology is radically changing the behaviour and expectations of consumers and it is also a major driver for growth within the Short-term insurance industry.

Let's look at this similarity and other findings:

1. Low profitability, increased premiums and digitalisation

Insight Survey's SA Short-term Insurance Industry Landscape Report 2018 describes the market drivers and restraints as well as the relevant global and local market trends to present an objective insight into the South African Short-term Insurance industry environment, market dynamics, and its future.

Globally the Short-term Insurance markets, including South Africa, remain in a phase of below-average profitability. Although the South African Short-term insurance market holds 44% of the African market, it has shown weak growth in 2017, mainly due to political uncertainty and slow economic growth.

The report also shows that serious devastation caused by major natural disasters in 2017 further contributed to lower profitability of the South African Short-term Insurance market players. However, there seems to be cautious optimism for the situation to improve in the near future.

Despite the low growth in 2017, insurance premium volumes increased by 17.8% between 2016 and 2017, and the potential exists for Short-term Insurance providers to significantly increase their gross premiums by 2020. Market players surveyed in South Africa and other African markets are anticipating reasonable growth in both the life insurance- and Short-term Insurance markets over the next three years.

The major trends and drivers currently set to drive growth within the local market are centralised around digitalisation. Such trends include the use of drones in the commercial and non-commercial sector, collaborative digitisation between tech companies and insurance companies and AI-powered Insurance.

However, the market is also expected to face major challenges over the next few years as indicated below. As a result, growth will ultimately be dependent on market players' flexibility to adapt to the changing market environment, and it will be imperative for local players to take economic, social transformation and the risks associated with climate change into consideration going forward. Furthermore, regulatory developments are also set to profoundly impact the local market and the potential costs associated with abiding by these regulations is expected to have a negative impact on the market.

2. Technology and data most important trend

The PwC Africa Insurance Survey also strived to remind insurers of the key trends that are changing insurance markets, both globally and across Africa.

In this survey, technological advances also moved to the front of insurers' minds. The survey found that technology and data are now considered the most important global trend disrupting the industry, but they are also increasingly being used by the industry to accelerate growth.

Despite the slowed down economic and insurance sector growth, Africa's insurance market remains one of the least penetrated in the world and the opportunities for growth are huge. Africa's CEO's who were surveyed expressed a willingness and readiness to continue to grow in the changing environment.

3. Preference for digital solutions

To further complement the findings, the Accenture survey posed the question: is the Short-term insurance market ready for digital disruption? The Accenture survey tested customer sentiments and perceptions, their behaviour and preferences in terms of communication with insurance providers, and their responses to digital offerings and insurance value propositions.

The survey results showed a clear preference for digital insurance solutions, and readiness for digital engagement. However, insurance providers will need to do more than just make digital an additional channel of distribution. Digital needs to be embedded into systems and processes.

An important conclusion from all these surveys is that the industry will have to re-imagine business services and solutions around the customer, especially in the light of increased focus by the regulatory authorities on the fair treatment of customers.

The Short-term insurance industry's successes will be measured in how these challenges and opportunities, that the digital disruption presents, are confronted.

Are you ready and aligning your actions yet?

In our Technological Speaking article we will further unpack some of the key Accenture insights.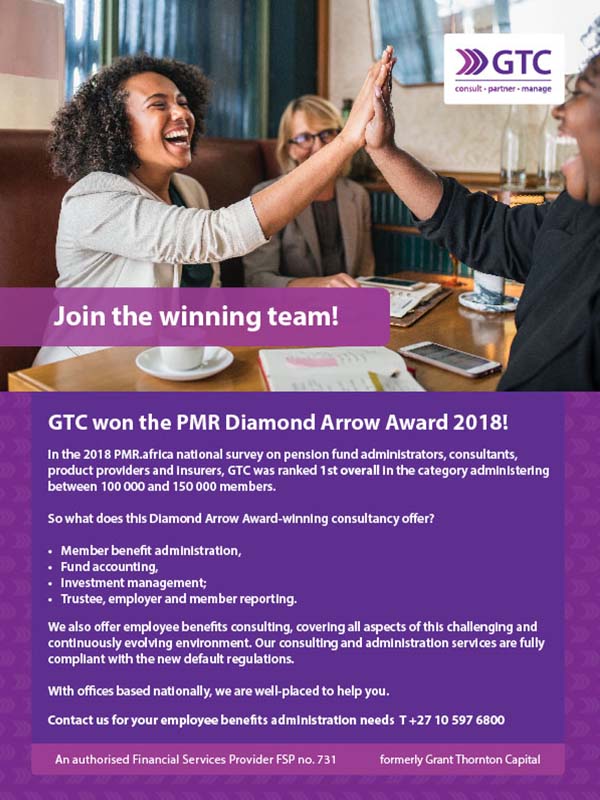 Your Practice Made Perfect

Charging fees for "other" Short-term Insurance services
The charging of fees in the Short-term space, and particularly the so-called "administration fee", has always been a bone of contention in the industry. Many elected to simply follow the ostrich approach and charge clients for doing something for which they are already compensated via commission, but this may not be the wisest move, going forward.

Rule 12.4.1 of the Policyholder Protection Rules (PPR), which comes into effect on 15 December 2018, is very specific in what is required before a client can be charged such a fee:

An insurer may not facilitate the deduction or charging of any fee payable by a policyholder to an intermediary or any other person, unless the insurer has satisfied itself that the amount and purpose of the fee have been explicitly agreed to by the policyholder in writing, and that it appears from such agreement that the fee -
relates to an actual service provided to a policyholder;

relates to a service other than rendering services as an intermediary; and

does not result in the intermediary or other person being remunerated for any service that is also remunerated by the insurer.
Please note that this now places the onus on the insurer as well to see that the rules are obeyed.

In particular they must ensure that "…the amount and purpose of the fee have been explicitly agreed to by the policyholder in writing."

In my view, "administration" is not an actual service, and forms part of rendering services as an intermediary for which commission is paid.

Take these pearls of wisdom from Joan Baez as a musical guideline:

You who are so good with words, and at keeping things vague

If you're offering me diamonds and rust, I've already paid.

Remember, you and your insurer have to resolve this matter by 15 December.

Client Confidentiality when transferring business
A recent Moneyweb article highlighted the importance of treating client information with great circumspection.

A product house included personal client information in court documentation in an urgent application. The article pointed out that these documents are available to the public, and could have been used for the wrong purposes.

Fortunately, this did not happen, and the product provider could arrange for the documents to be sealed. We pointed out that, apart from the General Code of Conduct requirement that client information may only be shared with prior written consent of the client, there are also POPI Act provisions.

FSCA FAIS Notice 75 of 2018, published on 30 October, sheds more light on this matter.

Background

In September 2017, PSG Konsult acquired a part of the Absa Insurance and Financial Advisers' (Aifa) unit, the commercial and industrial Short-term insurance brokerage. In February 2018, it purchased the remaining stake.

This was not just a mere transfer of business. The two parties applied successfully to the FSCA for an exemption to ensure compliance with a number of legal requirements, including section 3(3) of the General Code of Conduct as well as the POPI Act.

Extent of exemption and conditions

Both parties are subject to a number of conditions, many relating to replacement conditions, which this in fact is.

This exemption is an excellent guide for those contemplating taking over someone else's book, or selling theirs.

Click here to download a copy.


Technologically Speaking



Moonstone Information Refinery
 
Accenture survey – be digital and re-energise customer relationships
One of the major findings of the Accenture Short-term insurance survey was the identification of five strategic imperatives that will help insurers meet changing customer demands and leverage new opportunities. These will also help create a foundation for participation in a fully digitalised business environment.
 
1.

Be accessible

The survey found that customers:
 
●

Do not find their insurers easy or convenient to deal with

 
●

Are gradually shifting to digital channels

 
●

Do not use social media to interact with insurers

 
The survey results show that customers want to interact with multiple channels, with the human element still playing a big role in the interactions with older and middle-aged customers.
 

2.

Be trusted

Trust and transparency are major concerns for insurance customers and should be given strong focus.
 
●

Banks and retailers are perceived as more trustworthy than insurers

 
●

Customers need reassurance that their data is secure and protected

 
●

More than half of customers can be incentivised to share personal data

 
The survey showed that customers broadly understand that insurers need more personal data to provide personalised services. 65% of the surveyed customers said that they will share their personal information if they feel that it is secure and they can control what, when and how it is used.
 

3.

Be responsive

The survey results indicated that two thirds of customers are satisfied with their insurers. However, the survey found that a high propensity will switch insurers despite high level of satisfaction.
 

4.

Be relevant

To stay relevant, insurers will have to understand the needs of its customers. The majority of customers surveyed are actively using apps and devices that use location data and online activities to provide them with relevant services.
 

5.

Be smart

Although there is high awareness of digital offerings such as telematics, the usage is still very low. Smart solutions can present insurers with significant advantages, but will require building strong partnerships and securing the trust of customers.
Click here to download the Accenture survey results.

Regulatory Examinations

Fit and Proper Regulatory Exam Requirements
Fact: The competence requirements relating to regulatory examinations determine that all FSPs, key individuals and representatives should write and pass the relevant regulatory exams.

Question: I am a KI and a representative. Which exam should I write?

To provide some clarity, let's recap Board Notice 194 of 2017 that contains the necessary information on who should write which exams.

Who are exempted from writing the REs?
(i)
a Category I FSP, its key individuals and representatives that are authorised, approved or appointed only to render financial services or manage or oversee financial services in respect of the financial products: Long-term Insurance subcategory A and/or Friendly Society Benefits; and
(ii)
a representative of a Category I FSP that is appointed only to —
 
(aa)
perform the execution of sales in respect of a Tier 1 financial product, provided that the requirements in section 22(b)(ii) are complied with; and/or
 
(bb)
render financial services in respect of a Tier 2 financial product.

Regulatory examination requirements

| | |
| --- | --- |
| (1) | A Category I FSP, its key individuals and representatives must successfully pass the applicable regulatory examination listed in Column A of Table A. |
| (2) |  A Category II FSP, its key individuals and representatives must successfully pass the applicable regulatory examination listed in Column B of Table A. |
| (3) | A Category IIA FSP, its key individuals and representatives must successfully pass applicable the regulatory examination listed in Column C of Table A. |
| (4) | A Category III FSP, its key individuals and representatives must successfully pass the applicable regulatory examination listed in Column D of Table A. |
| (5) | A Category IV FSP, its key individuals and representatives must successfully pass the applicable regulatory examination listed in Column E of Table A. |
| (6) | An FSP, a key individual and a representative must successfully pass the applicable regulatory examinations before that person's authorisation, approval or appointment. |
TABLE A
 
Column A
(Cat I)
Column B
(Cat II)
Column C
(Cat IIA)
Column D
(Cat III)
Column E
(Cat IV)
FSP
RE 1
RE 1; and
RE 3
RE 1; and
RE 3
RE 1; and
RE 4
RE 1
Key
Individual
RE 1
RE 1; and
RE 3
RE 1; and
RE 3
RE 1; and
RE 4
RE 1
Represen-
tative
RE 5
RE 5
RE 5
RE 5
RE 5
Previously, a sole proprietor was obliged to write both the RE 1 and RE 5 (for representatives). Such individuals now only have to successfully write the KI RE 1.

A KI, who also performs the functions of a representative, have to pass both the RE 1 and RE 5.
The Moonstone website, www.moonstone.co.za contains a wealth of regulatory examination information, including tips on writing the exams. Please feel free to browse there to your heart's content.

Our registration call centre is available weekdays during business hours (08h00 – 16h00). Contact 021 883 8000 / 888 9796 or e-mail faisexam@moonstoneinfo.co.za.
Schedule for 2019

Please note: Registration cut-off is 11 working days before date of exam.
Careers Platform

In Lighter Wyn

Tel: +27 21 883 8000   |   Fax: +27 21 883 8005
info@moonstoneinfo.com
www.moonstone.co.za

P.O. Box 12662, Die Boord, Stellenbosch, 7613, Republic of South Africa
Disclaimer: Services and products advertised by external product suppliers in this newsletter are paid for by the respective suppliers. Moonstone does not endorse any opinions, conclusions, data, products, services or other information contained in this e-mail which is unrelated to the official business of Moonstone and furthermore accepts no liability in respect of the unauthorised use of its e-mail facility or the sending of e-mail communications for other than strictly business purposes.

The complete disclaimer can be accessed here.
©2015 Moonstone. All rights reserved.