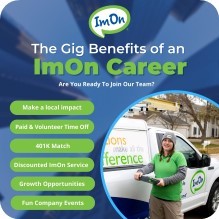 We're Hiring!

Come be a part of the ImOn team! We're growing and have several career opportunities available in our Cedar Rapids, Iowa City, and Dubuque offices in the following areas: customer care, construction, sales, marketing, service technicians, engineering, IT, and more. ImOn offers competitive salaries with generous benefits, career growth opportunities, and a fun work environment. Plus, you get an extra discount on your ImOn services! Click here to see all available positions and the benefits of joining the ImOn team.

Helpful Winter Weather Websites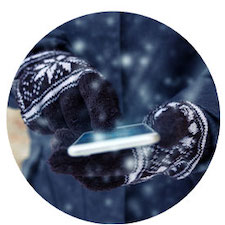 While the weather remains fairly quiet so far this winter, we all know that it can turn at any moment. Who knows what Old Man Winter will have in store for us this year?! Whether it is snow, ice, or dangerous temperatures, it is important to stay informed of winter weather conditions, especially if you are planning to travel. Here are a few useful winter weather websites to help you stay informed all winter long.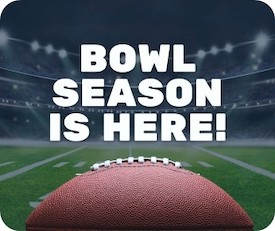 Bowl Game Schedule

The 2022-23 college bowl season kicks off December 16th with the Bahamas Bowl and continues through January 2nd with the Rose Bowl. This year the Iowa Hawkeyes will take on the Kentucky Wildcats in the Music City Bowl in Nashville on December 31st. That game will kick off at 11:00am on ABC, ImOn channels 9 and 809. Click here for a complete list of bowl games and times.

Holiday Movies and TV Shows — Where to Watch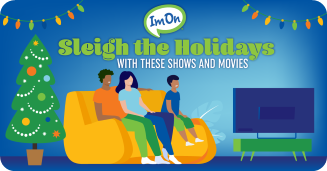 The holiday season is upon us and one of the sure-fire ways to get into the spirit of the season is to grab the family and enjoy a classic holiday movie or show. But, when it comes to holiday films and TV specials, there is a plethora of titles to choose from. No matter if you're into the claymation classics, heartwarming black and white films, action movies that take place around Christmas (we see you Die Hard fans), or family holiday comedies, we have compiled a list of where you can watch them all.



HBO Max Holiday Wonderland: HBO Max is getting in on the holiday cheer. You can watch classic movies like Elf, The Polar Express, and How the Grinch Stole Christmas, while also enjoying new HBO exclusive holiday movies like A Christmas Story Christmas and Santa Camp. An HBO Max subscription is required.



Disney+ Happy Holidays Collection: Disney+ is offering a collection of family holiday shows. Enjoy your favorite Disney holiday movies such as Mickey's Once Upon a Christmas, A Christmas Carol, and Home Alone. You will also enjoy Disney+ exclusives like The Santa Clauses, Noelle, and Best in Snow. A Disney+ subscription is required.



Netflix Holiday Movies: Netflix is back with another bag of holiday shows. Enjoy new Netflix Original movies and shows like Falling for Christmas, A Boy Called Christmas, The Noel Diary, Nailed It! Holiday!, and The Christmas Chronicles. You will also find a wide variety of holiday films for the whole family, including romantic comedies, animated specials, holiday dramas, and more. A Netflix subscription is required.



It's a Wonderful Lifetime: Lifetime Channel has a complete lineup of its own original holiday movies. Check out originals like Reba McEntire's Christmas in Tune, Hometown Christmas, and The Holiday Fix Up. New movies premiere every weekend and you can watch live on ImOn Channels 23 & 823, or stream on the Lifetime app. Click here for a schedule of their new movie premieres.


ION Your New Holiday Tradition: ION is kicking off the holiday season with special holiday shows every Sunday in December through Christmas Day. Check out brand new movies like The Search for Secret Santa, A Prince and Pauper Christmas, The Case of the Christmas Diamond, and Dognapped: Hound for the Holidays on ImOn channels 3 and 815.


Freeform's 25 Days of Christmas: Freeform's 25 Days of Christmas kicks off December 1 with dozens of holiday movies to keep you in a festive mood all season long! Enjoy a mix of new hits and classic holiday movies on ImOn channels 26 & 826. Click here for a full schedule.



Tis the season for Hallmark's Countdown to Christmas! Every year, Hallmark counts down to Christmas with the release of new festive movies to enjoy all season long. This year they are releasing 31 brand-new holiday movies. You can catch these new holiday movies every Friday, Saturday, and Sunday on the Hallmark Channel, ImOn Channels 58 and 854, now through Christmas.



TBS and TNT Winter Break: The TNT and TBS networks are celebrating winter break early with holiday programming all season long. Watch classic holiday movies and holiday episodes of some of your favorite shows all month long. You can watch on ImOn Channels 57, 61, 857, and 861, or stream on the TBS and TNT apps.



GAC Family's Great American Christmas: GAC Family, ImOn Channel 119, brings family-friendly holiday programming all month long. Enjoy new original movies premiering every Saturday and Sunday along with fan-favorite holiday romcoms.



TCM Holiday Classics: Turner Classic Movies will air older holiday films during their annual Holiday Movie Marathon on December 18-24.

Upgrade your Holidays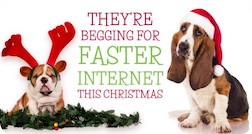 It can be doggone frustrating dealing with slow Internet, especially during the busy holiday season. Make sure you have enough Internet speed to entertain all your holiday guests and to power all the new devices Santa is leaving under the tree! You can easily upgrade your Internet speed to the next level for just $10 more a month by calling ImOn Customer Care at 319-298-6484. Everyone in your house will thank you!

Tech the Halls!

'Tis the season to start your holiday shopping and trying to find that perfect gift for everyone on your list.

No matter who you are shopping for, here are a few fun and useful tech ideas that anyone would be happy to see under the tree.

Echo Dot (5th Gen): The Echo Dot from Amazon is a voice-controlled smart speaker that uses an AI assistant, Alexa, to perform tasks such as playing music, setting alarms, controlling smart devices around your home, answering questions, setting a reminder, and more.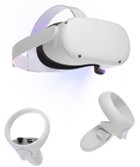 Meta Quest 2 VR Headset: Explore new worlds and find yourself completely immersed in games with this high-tech VR Headset from Meta. While it is mainly used for entertainment as a game console, it can also be used to watch live events, movies, fitness, and even work.



Nintendo Switch: With the newest Nintendo gaming system, take your games anywhere with this portable Nintendo Switch. Cast your games onto the TV, flip the stand to share the screen to play with friends, or take the handheld Switch on the go.



Apple AirTag or Tile Tracker: Apple AirTags and Tile Trackers are an easy way to keep track of your stuff. Place an AirTag or Tile on an item you'd like to keep track of and use their app to locate and track your valuables no matter how far away they are. These are great to use on your luggage, child's phone and devices, wallets/purses, and anything else that gets misplaced often.



LARQ Self-Cleaning Water Bottle: More and more people are turning to reusable water bottles to help reduce the amount of plastic in our landfills. But it can be hard to get the inside of your water bottle clean which opens the door for bacteria, mold, and odors to appear. The LARQ Self-Cleaning Water Bottle uses UV-C light to neutralize up to 99.9% of harmful bacteria and viruses inside your water bottle and in your water. Looking for a less expensive option? Check out UV Brite.



Blink Video Doorbell: This wireless smart doorbell allows you to answer your door from anywhere using your smartphone and features a high-definition camera, motion sensor, microphone, and speaker. You can view real-time video from the camera, receive notifications when motion is detected or the doorbell is rung, and communicate with visitors at the door all from your phone.