If there are problems with how this message is displayed, click here to view it in a browser.

Moonstone Monitor -  15 November 2018
Read Moonstone Monitor for CPD purposes
Click here to register.
 
 
 
 
 


Two roads diverged in a wood, and I took the one less travelled by, and that has made all the difference - Robert Frost
Distributed to 51,761 subscribers.

To advertise with us
click here
From the Crow's Nest

Legalisation of usage of dagga - Currently more industry questions than answers
Lots of questions are being asked as a result of a recent Constitutional Court ruling that effectively legalised personal possession and usage of dagga.

How will South Africa's new marijuana laws change driving in the country?

How will the traffic police enforce driving laws?

What will the penalties be?
No matter what you call it …cannabis, marijuana, dagga, giggelgras, aaptwak, holy grass or weed …it will have an impact on all of us, even if we do not use it ourselves.

Let's break down the facts and look at how the legalisation of dagga has impacted other countries. What can we learn from their statistics?

USA accident stats

According to new studies, there has been an increase of up to 6 percent in the number of highway crashes in four of the states where the recreational use of marijuana had been legalised.

Although the new reports do not prove that there's a direct link to the use of marijuana among motorists, it does raise red flags, especially since there is no easy way to test drivers to be sure if they are, in fact, under the influence of the drug.

The studies further looked at police reports as well as insurance claims. It found that crashes rose between 5.2 percent and 6 percent in states where recreational marijuana is legal compared to neighbouring states where such use remained illegal. The biggest challenge is for regulators, law enforcement agencies, and medical authorities to determine when a driver might be operating under the influence of marijuana.

The studies do, however, mention that the role of marijuana in these accidents isn't clear, as drivers who test positive for drugs are often found with alcohol in their blood system as well.

Have the insurance rates of marijuana users increased elsewhere?

Not yet. Although no insurer has said what they plan to do, it was noted that in states where marijuana use has been legalised, there had been no increase in car insurance rates. However, what does impact insurance rates is driving convictions. If you are found guilty of driving under the influence it will result in your car insurance premiums increasing.

A recent news article indicated that Canadian drivers are likely to see more roadside tests conducted by the police, and that some insurers will start to ask whether drivers smoke cannabis when they apply for insurance products.

What will the impact be in South Africa?

Rhys Evans, director at ALCO-Safe, suppliers of drug and alcohol testing equipment says that there are a number of concerns and questions around regulation and control that still need to be addressed – particularly when it comes to road safety.

Regardless of the actual procedure, Evans also advised that it is critical for relevant governing bodies to be proactive in formulating regulations, limits and testing requirements well ahead of legalisation.

"It is likely that legalisation of marijuana will only increase the number of active users driving a vehicle while under the influence. Until regulations are in place, however, it will be extremely difficult if not impossible to prove actual intoxication and there will be little to stop these drivers from taking to our roads," he said.

What will the impact of marijuana be on the insurance industry?

Consumers are asking: "Will my insurance premium increase?"

Insurers are asking: "Should we reword policies?"

With regards to the impact on insurance, Ernest North, co-founder at AI-based car insurance business Naked, recently shared with WomenOnWheels readers that South African car insurance companies will need to relook the wording of their policies. Most clauses state that drivers will not be covered if they are under the influence of alcohol or drugs at the time of an accident. The question is, however: how this will be determined?

"Blood tests can reveal recent usage, but there is no definitive way to show that a person has had a level of exposure that would affect his or her judgement at the time of an accident," North said. Driving under the effects of marijuana is therefore difficult to prove in relation to driving under the influence of alcohol where a breathalyser or blood test can be used.

Another factor is that it's not just today's smoke that can be picked up in your system as weed is detectable in urine for the following amounts of time after last use:

Occasional users (up to three times a week): 3 days

Moderate users (four times a week): 5 to 7 days

Chronic users (daily): 10 to 15 days

Chronic heavy users (multiple times a day): more than 30 days
(Source: www.healthline.com)


Other questions include:

Do clients declare upfront that they are dagga smokers, and how will this impact on their premiums?

Could failure to declare this upfront lead to repudiation of claims?

Will using dagga oil for medical purposes be dealt differently to smoking for leisure?
There is an old joke which goes: Why drink and drive when you can smoke and fly? This has suddenly taken on a much grimmer meaning.

Click here to read the WOW article.

Click here to read the Businesstech article.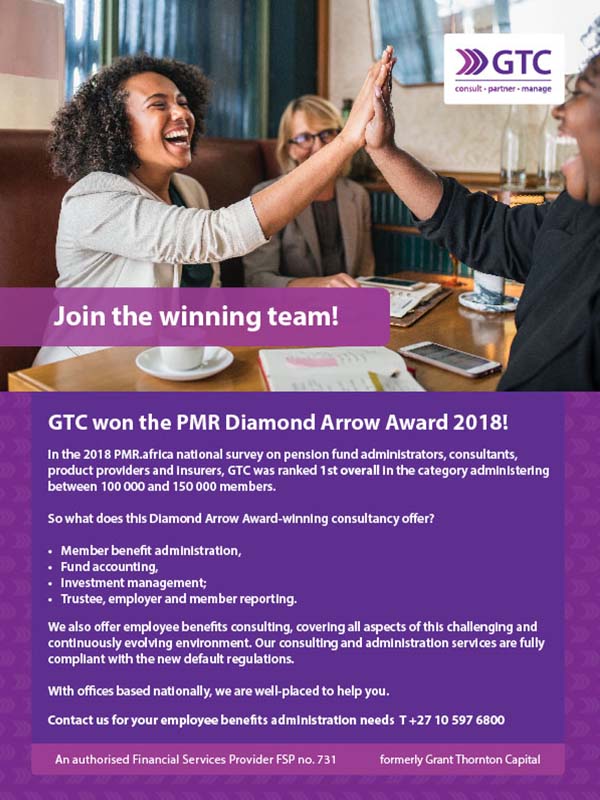 Your Practice Made Perfect

Non-compliance with FICA – Failure to implement proper processes leads to fine
The Prudential Authority (PA) has imposed administrative sanctions on the Johannesburg branch of HSBC Bank for non-compliance with aspects of the Financial Intelligence Centre Act.

In a statement, the SA Reserve Bank said that the administrative sanctions were imposed because certain weaknesses were identified in HSBC's processes which inhibited HSBC from proactively detecting potential money laundering and the financing of terrorism. They emphasised that the administrative sanctions were not imposed because HSBC was found to have facilitated transactions involving money laundering or the financing of terrorism.

The bank was fined R15m and ordered to take remedial action.

These guys are not fooling around. Make sure you know what you are required to do and, if not sure, get expert advice. It could be far less costly than being found wanting.

Click here to read the SA Reserve Bank statement.

Click here to read the FIN24 article.

Medical Schemes Amendment Bill – How it might impact premiums
Under the heading, Bill ups medical scheme costs for over-34s, Legalbrief Today recently reported as follows:

"Medical scheme premiums may increase by more than 15% for those over 34 years of age if the government pushes through with the Medical Schemes Amendment Bill, actuaries warn. According to Rapport, Insight Actuaries raises this in its representations to the Department of Health. Public comments on the Bill closed recently. Health Minister Aaron Motsoaledi announced the Bill in June, saying it intended to bring 'immediate relief' for the public while NHI plans were under way."

Insight says the Bill would have the opposite effect for the majority of members as the Bill caps premiums for children at 20% of adult premiums and at 40% for 'young adults' aged 18 to 34. Based on Insight's calculations, it estimates that the adult rate would have to be raised by at least 15% to put schemes in the same position.

Discovery Health also filed sceptical submissions, the report notes. Discovery's Jonathan Broomberg says the Minister announced a scrapping of co-payments, but that this is not contained in the Bill. Instead, the Bill just abolishes co-payments on the so-called 'comprehensive service benefits' which is apparently a renaming of the current 'prescribed minimum benefits'. The position on co-payments would therefore remain the same, Broomberg says."

There is a decline in young people joining medical aid schemes. The authorities want to reverse this trend, but loading the premiums of older people whose income and earning capacity decrease after retirement is surely not the way to do it?

Click here to read the article as published on the MyBroadband website
.

KI Workshop – Enhance your knowledge and earn CPD hours
Did you know?

The KI workshops are accredited by the Compliance Institute of Southern Africa and thus qualify for 7 CPD hours as required by the FSCA.

This fact is just another reason to book your seat to attend one of the Moonstone KI Workshops.

This workshop is intended for:

Venues & Dates for 2018/19
 
| | |
| --- | --- |
| Johannesburg | 21 November 2018 |
| Cape Town | 27 November 2018 |
| Durban | 4 December 2018 |
| Johannesburg | 22 January 2019 |
| Cape Town | 29 January 2019 |
| Durban | 31 January 2019 |
Capacity: Limited seats per venue for greater effectiveness. Please do not delay registering.

For more information, and to register, please click here.
.


Technologically Speaking



Moonstone Information Refinery
 
How to Use Digital Content to Build Trust
| | |
| --- | --- |
| In a recent article Terry Rowland shares that digital content is often a underutilised resource by advisers who aim to use communications to build trust in their relationship with clients and prospective clients. | |

She shares the following tips:
 
●

Show that you're listening to your clients

 

o

Listening allows you to be proactive about answering questions that many of your clients won't ask. In this way you can create an awareness of your clients' potential pain points.

●

Use content that serves your clients and prospects

 

o

The goal of your digital content should be to serve people, not to impress them, ultimately building trust.

●

Personalize your content

 

o

Your clients chose you as their adviser and want to hear your insights.

●

Be clear

 

o

Use simple language. Be clear and use illustrations, examples, and stories

●

Be intentional and strategic about delivering digital content

 

o

Develop a realistic plan and thoughtful strategy for publishing your content, then investing the time and energy to see it through.
Click here to read her article on the IRIS website.

Regulatory Examinations

RE Tips Chapter 4: Dissecting the different tasks
The Level 1 RE 5 for representatives consists of eight tasks. What is important for candidates studying for the exam is to know whether any of the tasks are more important than others. While every task is equally important in terms of your understanding of what you are legally required to do, the graph below can help you work a little more cleverly.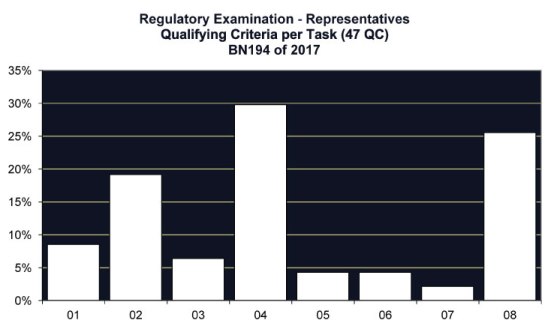 What is apparent is that tasks 4 (30%), 8 (26%) and 2 (19%) make up 75% of the information you need to know to be able to pass the regulatory exam for representatives.

It therefore stands to reason that at least an equal amount of your study time should be focused on these tasks.

The same reasoning applies in respect of the Level RE 1 for Key Individuals (KIs).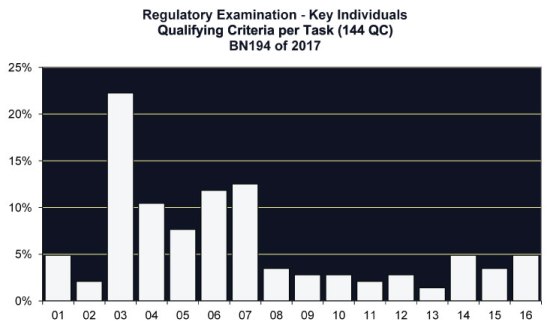 Close on 65% of the questions are likely to come from tasks 3 to 7, with an additional 15% from tasks 1, 14 and 16. No prizes for guessing which tasks you should really be focussing on.

Do not neglect the others. A right answer in any of these may just make the difference between passing or not.

Remember, as a professional financial adviser, you want to know what you are required to do to operate within the law. That is really what these exams are all about.


The Moonstone website, www.moonstone.co.za contains a wealth of regulatory examination information, including tips on writing the exams. Please feel free to browse there to your heart's content.

Our registration call centre is available weekdays during business hours (08h00 – 16h00). Contact 021 883 8000 / 888 9796 or e-mail faisexam@moonstoneinfo.co.za.
Schedules for 2018/2019

Please note: Registration cut-off is 11 working days before date of exam.
Careers Platform

Featured Positions
Insurance Sales Team Manager: mrpmoney, Durban - We are looking for a self-motivated, passionate Insurance Sales Team Manager to join our fast-paced team.  Read More

Short Term Insurance Representative: JFA Short Term Brokers, Milnerton - The candidate will be responsible for all  client services tasks (primarily personal lines but not limited to this) in a short term insurance practice.  Read More

Wealth Account Manager: Old Mutual, Durban - If you have an applicable tertiary qualification and a proven track record at a top end Investment Practice, we would like to hear from you.  Read More
In Lighter Wyn

Tel: +27 21 883 8000   |   Fax: +27 21 883 8005
info@moonstoneinfo.com
www.moonstone.co.za

P.O. Box 12662, Die Boord, Stellenbosch, 7613, Republic of South Africa
Disclaimer: Services and products advertised by external product suppliers in this newsletter are paid for by the respective suppliers. Moonstone does not endorse any opinions, conclusions, data, products, services or other information contained in this e-mail which is unrelated to the official business of Moonstone and furthermore accepts no liability in respect of the unauthorised use of its e-mail facility or the sending of e-mail communications for other than strictly business purposes.

The complete disclaimer can be accessed here.
©2015 Moonstone. All rights reserved.