MARKETING DURING CRISIS - INSIGHTS FROM STAR TRIBUNE
Last week, we celebrated the Fourth of July. Like so many things this year, it was different, but it still provided us with an opportunity to reflect on the birth of our nation.

On July 4th, 244 years ago, our country declared its independence with a simple, yet powerful statement, "We hold these truths to be self-evident, that all men are created equal, and are endowed by their creator with certain inalienable rights." It set a perfect standard for an imperfect society - one that each generation struggles to bring us closer to achieving.

In the first amendment, our founders codified that, "Congress shall make no law abridging the freedom of speech, or of press." In a time of pandemic and social unrest, having a free press is more important than ever.

I have never been prouder to work at Star Tribune. Despite difficult economic times, our newsroom has not wavered in their pursuit of our mission to cover "more of what matters, all day, every day." They've covered what needs to be covered. While many newspapers have cut back on the content, our newsroom has found innovative ways to deliver more.

In this week's newsletter, we'll offer some insight we've gathered about marketing in a time of crisis. But, we'll also share some of the honors that our newsroom has recently won.

- Paul Kasbohm, Chief Revenue Officer
MY HOME IS MY CASTLE…

AND OFFICE… AND GYM… AND…
Because of the pandemic, we have all been spending a lot more time at home. In our most recent reader survey, we explored how this is impacting homelife in Minnesota - how many Minnesotans are working from home, and is spending more time at home encouraging Minnesotans to make home improvements?

Working from home
Minnesota's "Stay Safe Order" requires that if it is possible for you to do your job from home, you must work at home. According to our survey, that is what is happening: 47% of respondents are currently working at home. Before the pandemic, 36% worked from home.

Those working from home expect to be doing so for a while. When we asked readers who were working remotely because of the pandemic when they expected to return:
20% expect to return to the office before September 
19% expect to return this fall
16% do not expect to return until December or later
35% do not expect to return at all
Making improvements to their homes
With so many people spending so much time at home, it is not surprising that many are considering home improvements. Forty-nine percent (49%) of respondents will update their home to some degree.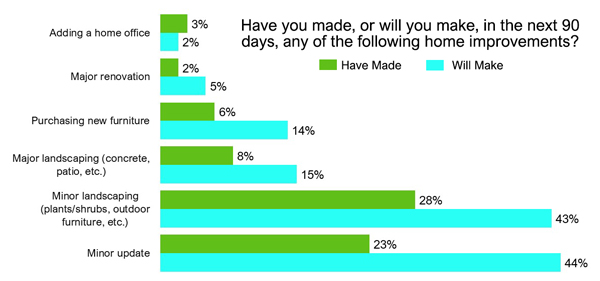 MINNESOTANS WILL TRAVEL

CLOSE TO HOME

- BUT NEED TO BE ASSURED

OF THEIR SAFETY
Minnesotans are hesitant to travel during a pandemic. In our recent reader panel survey, 78% of respondents said they were less likely to travel in the next 90 days than they would have been before the pandemic.
Ready to travel
A subset of respondents - about 19% - recently booked travel for the next 90 days. When asked what influenced them to book, 47% cited the lifting of Minnesota's stay-at-home order. It was the most chosen factor. Forty percent (40%) cited safety precautions at the destination.
Will consider travel - if they know it is safe
A second, larger cohort is more concerned about safety. Only 33% said that the lifting of the stay-at-home order made them more likely to travel. Instead, they cited the destinations safety precautions (57%), low case numbers at their destination (47%), and that nearby attractions were open and safe (44%).
Staying close to home
Most respondents suggested that, for the next 90 days, they would be more likely to travel close to home. Fifty-five percent (55%) said they were considering travel in Minnesota, and 24% said they would visit a neighboring state.
How to communicate with potential travelers
How does a travel destination tell potential customers that they are safe to visit? On last week's Evolving Tourism Trends Webinar, Christine Fruechte, CEO for Colle McVoy, offered some advice. "Stay true to who you are. Recreate responsibility… help people understand how you're going to help provide that experience." Read the full results of our travel survey.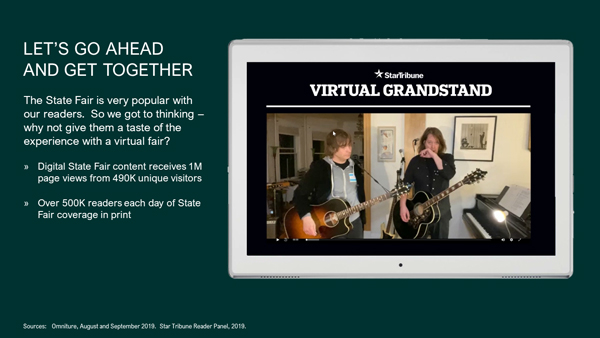 Each fall, over 2-million Minnesotans make their pilgrimage to the Minnesota State Fair. But due to the pandemic, this year, the State Fair's gates will remain closed. 

Our research tells us that Minnesotans will attend virtual events. We got to thinking, why not offer our readers a virtual State Fair - "a Great Minnesota Click Together?"

Join us for our special series, Scenes from the Fair , in which we'll recreate some of our readers' favorite State Fair experiences. It will include everything from food, to crafts, to Grandstand events. It is sure to be hit with our readers and presents an excellent sponsorship opportunity.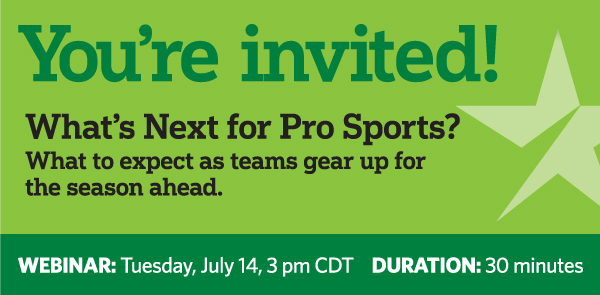 Join Star Tribune and the Minnesota Vikings for a virtual discussion on when and how pro sports are likely to come back, from one of the NFL's top executives. You'll hear from Steve LaCroix of the Minnesota Vikings on the team's plans for the coming season, fans' expectations, and how their marketing will adapt.
MORE OF WHAT

MATTERS TO MINNESOTA
At the beginning of this newsletter, we noted that our newsroom has recently been honored for their journalism. Among their awards are:
Star Tribune Magazine: Gold Medal, Overall Excellence, from the Minnesota Media Publishing Association
Photography: Photo staff portfolio, First Place, National Headliners Award
Taste: Rick Nelson, First Place, National Headliners Award, Special or Feature Column
Sports: Won the Associated Press Sports Editors' "Triple Crown" by being named Top 10 in the nation for daily and Sunday print sports section and sports website
With the upper Midwest's largest newsroom, we have more than 200+ journalists gathering the facts, telling the stories and reporting what's important to you. All day. Every day. Support local journalism, subscribe today.
According to a July Harris poll, 68% of Americans agree "I am more likely to buy from companies/brands that contribute to organizations/causes that combat racism."
"Thank you to everyone there who is continuing to keep us informed. Thank you for investigating and serving us, the people. We will get through this and having all the news makes a tremendous influence on us."

- Pat, Burnsville
In Case You Missed The Previous Emails