Over the last decade, the Internet has really changed the way we live, socialize, and stay informed. Nowadays, there are two ways you can access the Internet. The first is by using an Ethernet cable to connect your device directly to your modem. This wired connection offers reliable performance with faster speeds and more security. However, being tethered to one spot is not always convenient. That's why most people use a router to connect to the Internet wirelessly.

Wi-Fi routers use radio waves to transfer data from your device to the Internet and vice versa. Today, most routers transmit data using two different radio frequencies or "bands" – 2.4 GHz and 5 GHz. Depending on which one of these frequencies your devices connect to can impact your Internet experience.

So how are these two frequencies different and which one should you use?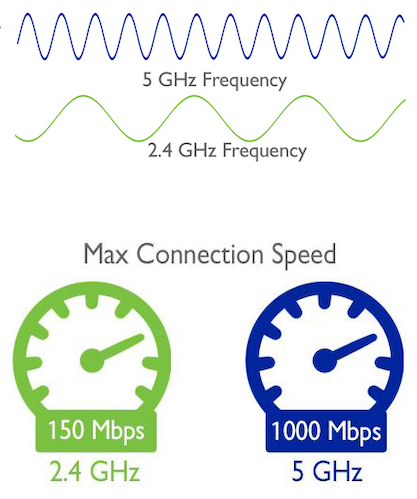 If you could see these two different radio waves in the air, they would look something like this. As you can see, the 5 GHz frequency has shorter waves (more ups and downs in the same area) than the 2.4 GHz frequency. This higher "energy" allows the 5 GHz frequency to carry more data and accommodate faster Internet speeds. On average, the max speed when connecting to the 2.4 GHz frequency is around 150 Mbps, while a connection on the 5.0 GHz frequency can handle speeds up to 1 Gig (1000 Mbps).

While the 5 GHz frequency can handle higher speeds, it does come with downfalls. A 5 GHz connection has a harder time transmitting through walls and floors, meaning it can't reach as far. According to Lifewire.com, the general rule is that a Wi-Fi signal using 2.4 GHz frequency can reach up to 150ft indoors, while a signal using the 5 GHz frequency can only reach about 50ft. Keep these numbers in mind when deciding what devices to connect to which frequency.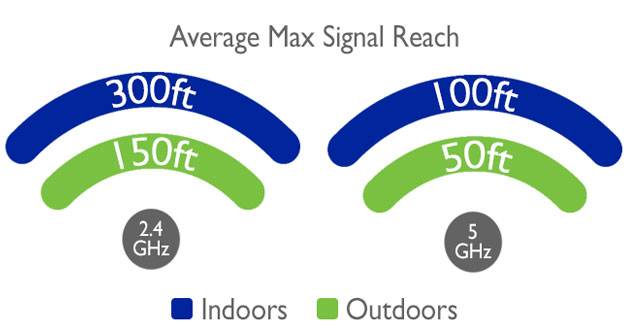 It's better to connect your cell phones and tablets to the 2.4 GHz frequency since it can reach farther, and you tend to use these devices throughout your home. For more stationary devices, like smart TVs and video game consoles, consider connecting them to the 5 GHz frequency so you can take advantage of the higher speeds the 5 GHz connection offers.

The last thing to consider when looking at these two different Wi-Fi frequencies is Wi-Fi congestion. Many other household devices use the same 2.4 GHz radio frequency as your router, including microwaves, baby monitors, cordless phones, cell phones, garage door openers, and your neighbor's router.

When multiple devices attempt to use the same radio frequency, it causes overcrowding and interference. You may experience unexpected drops in your Wi-Fi signal, slow speeds, and poor signal strength. Fewer household items can currently use the 5 GHz frequency, so it is less congested and offers a more consistent signal strength.

We hope you found this Tech Talk topic informative and useful. If you have a tech topic you would like to learn more about, just email your ideas, or questions, to TechTalks@ImOn.net and you may see them featured in an upcoming edition of Tech Talks.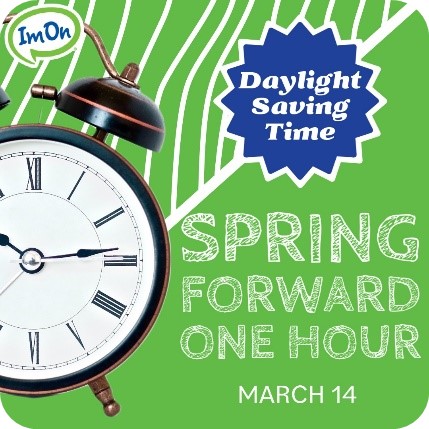 Daylight Saving Time Reminder

Remember to spring forward! Daylight Saving Time begins at 2 a.m. on Sunday, March 14th. At this time, our clocks will roll forward, and we'll lose an hour of time (sigh). Even though it's only an hour, it can be hard to adjust to waking up earlier. The good news is it also means warmer, longer days are headed our way! While you change the clocks around your house, firefighters say it is also a good time to check the batteries in all of your smoke and carbon monoxide detectors.

Sun Outages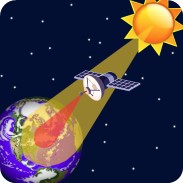 ImOn cable TV customers may experience some degree of television interference through March 10th due to sun outages. These brief outages occur when the sun passes directly behind the satellites that transmit cable signals for any TV provider, not just ImOn. When the sun is directly aligned with a transmitting satellite, the sun's solar radiation disrupts the satellite's signal and causes a brief signal outage. During a sun outage, cable TV customers may briefly experience a pixelated picture, picture freezes, or audio distortions. Sun outages usually occur between 9am and 6pm and can last anywhere between 2 and 15 minutes. Fortunately, sun outages do not impact Internet or phone services.

Meet the ImOn Team

At ImOn Communications, we believe that the people behind our company are just as important as the company itself. Our team is full of great people working hard to deliver the reliable service you deserve. So we wanted to introduce you to some of the friendly and local faces behind ImOn.