World Emoji Day — July 17th

Emojis have been around since the 1990s, however their popularity has increased over the years thanks in part to smartphones and texting. Now, emoji merchandise is sold around the world, there is an official emoji dictionary, and there is even an emoji movie. So naturally, they would have their own special day. July 17th has become known as World Emoji Day. This date was picked because it is the date depicted on the actual calendar emoji.

While some may think they are silly, emojis can help express the sentiment behind your message that may otherwise be lost. But, did you know that emojis are not just limited to your smartphones? We found that you can access a variety of emojis and symbols right on your computers by using a special keyboard command.

So, on July 17th, join us in celebrating World Emoji Day by sharing some of your favorite emojis. 🎉😎❤👍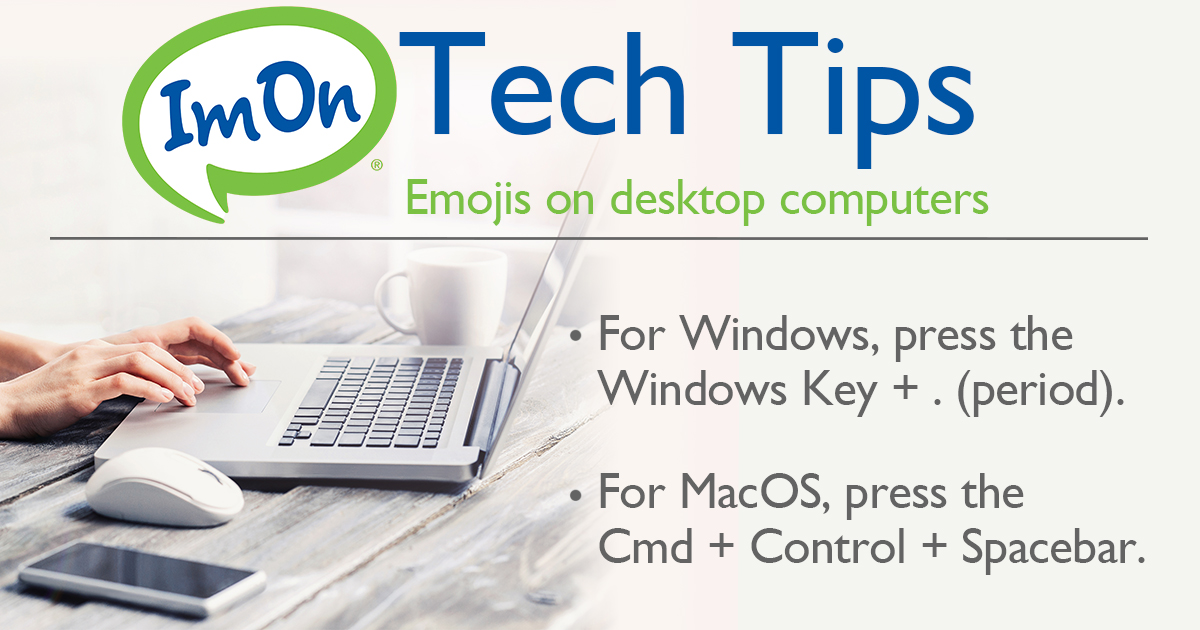 Keeping Your Devices Safe This Summer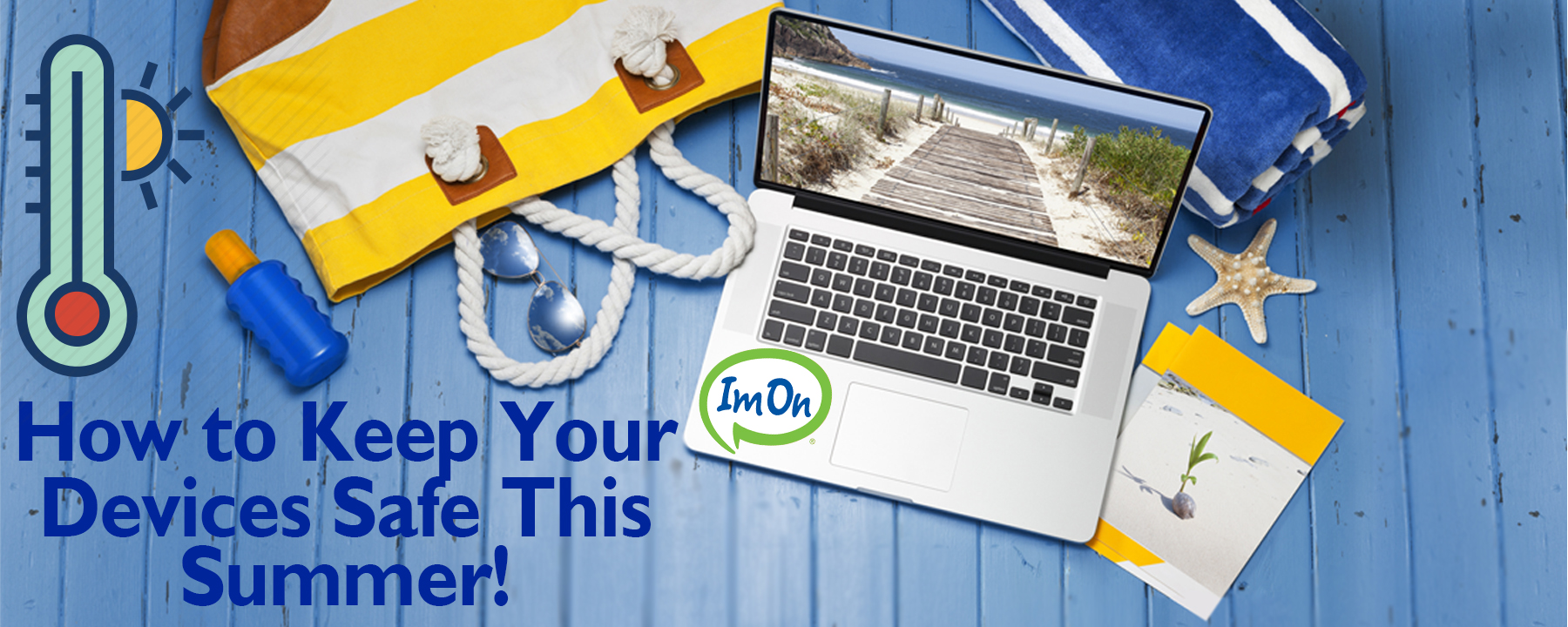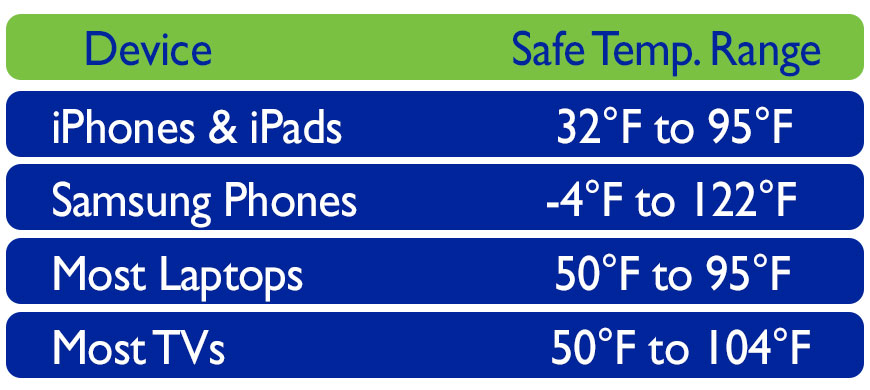 The hot and humid days of summer are here! While that may mean eating a lot of ice cream, relaxing in the pool, and cooling off in the air conditioning for you, it could spell danger for your electronic devices. Most devices have been designed to work within safe temperature ranges. If they are exposed or used in temperatures outside of this safe range, you could experience problems such as data loss or your device slowing down. CLICK HERE for ways to help keep your devices safe from the summer heat.

Summertime thunderstorms can also put your devices at risk. According to the National Severe Storms Laboratory, the United States experiences 22 million lightning strikes each year, and each lightning bolt can carry millions of volts of electricity that could damage or destroy your electronic devices. CLICK HERE for ways to protect your devices from lightning.

How to Avoid Computer Vision Syndrome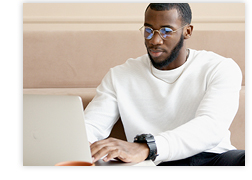 Many of us spend several hours a day staring at a screen, whether it is a computer, smartphone, tablet, or TV. However, this continuous and prolonged use of technology can lead to Computer Vision Syndrome, which may include eye strain, headaches, fatigue, burning or tired eyes, loss of focus, blurred vision, double vision, or head/neck pain. Here are a few recommendations from the American Optometric Association (AOA) to help reduce digital eye strain on your eyes.
Keep the computer screen about an arm's length away (20-30 inches) from your eyes and at 15 to 20 degrees below your eye level. (about 4 to 5 inches as measured from the center of the screen).
Avoid glare. Turn your desk or computer to help prevent glare on the screen.
Reduce the amount of light in the room to match the brightness of your computer screen.
Blink frequently. Blinking produces tears and helps to keep the front surface of your eye moist and refreshed.
Throughout the day, give your eyes a break by looking away from your screen. Try the 20-20-20 rule: Every 20 minutes, look at something 20 feet away, for at least 20 seconds.

Limit Screen Time This Summer with ImOn's WholeHome Wi-Fi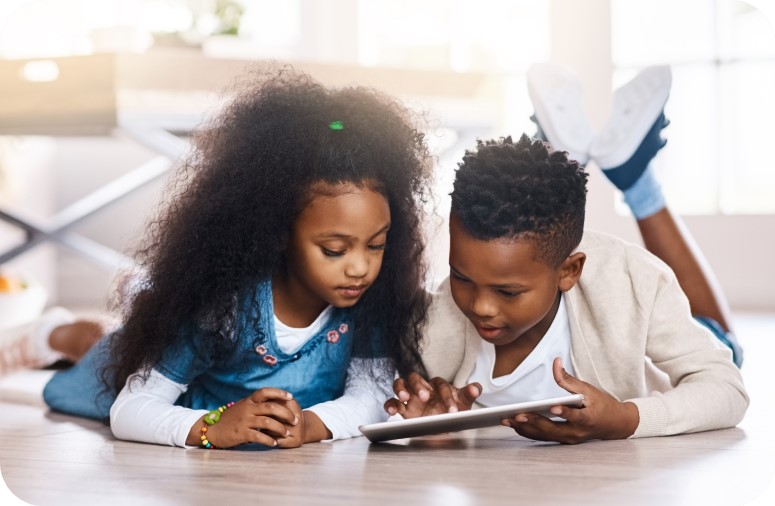 With many parents heading back to the office for work, it can leave some children home unsupervised over the Summer months. Which means they can have unlimited use of the Internet, video games, and social media. While these things can help your kids stay connected with their friends when away from school, excessive screen time, inappropriate online content, and social media addictions are a worry for many parents.

But parents don't have to worry anymore. With ImOn's WholeHome Wi-Fi, parents can manage their childrens online activities to help ensure healthy amounts of screen time and safe Internet browsing all day long. You can set parental controls on what websites your kids can visit, set limits on the amount of time they can use the Internet, and shut Internet access off during bedtime to your child's devices.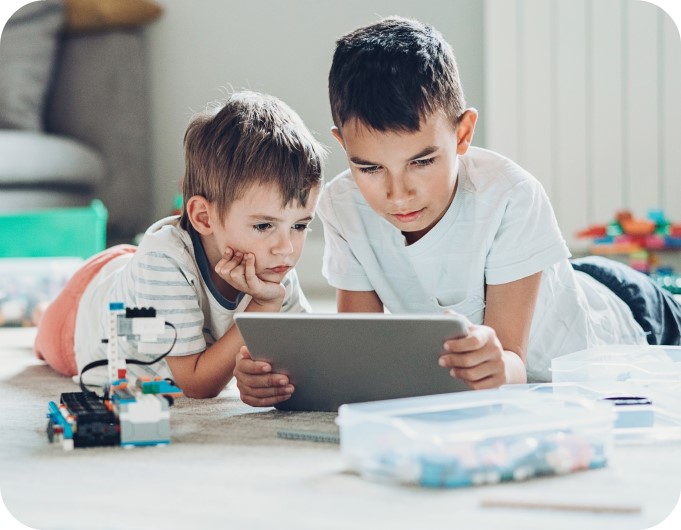 Plus, ImOn's WholeHome Wi-Fi boosts your Wi-Fi signal ensuring great coverage throughout your entire home. And it only costs $6 per month. To learn more about ImOn's WholeHome Wi-Fi, visit www.MyImOn.com/WholeHomeWifi or call ImOn Customer Care today at 319-298-6484.

Avatar Fun

Have you tried the latest viral photo app showing up on social media, the Voila App? Voilá is a photo manipulation app for iOS and Android that takes a photo of your face and turns your photo into a cartoon character, Renaissance painting, or caricature. If that's not your taste, then maybe try some of these other popular sites that can transform you into an iconic comic strip character, a South Park resident, a work of art, and more!

ImOn Insider Blog

Did you know that ImOn has a blog? The ImOn Insider Blog is a great resource to get tips, news, and ideas on how to stay connected in this ever-changing world. You will find actionable, relevant content that you can use to help get the most out of your ImOn services. Here are just a few of the things we have posted recently... Make sure to bookmark our blog, or subscribe to ImOn Insider to receive email notifications about future blog posts.

Meet the ImOn Team

At ImOn Communications, we believe that the people behind our company are just as important as the company itself. Our team is full of great people working hard to deliver the reliable service you deserve. So we wanted to introduce you to some of the friendly and local faces behind ImOn.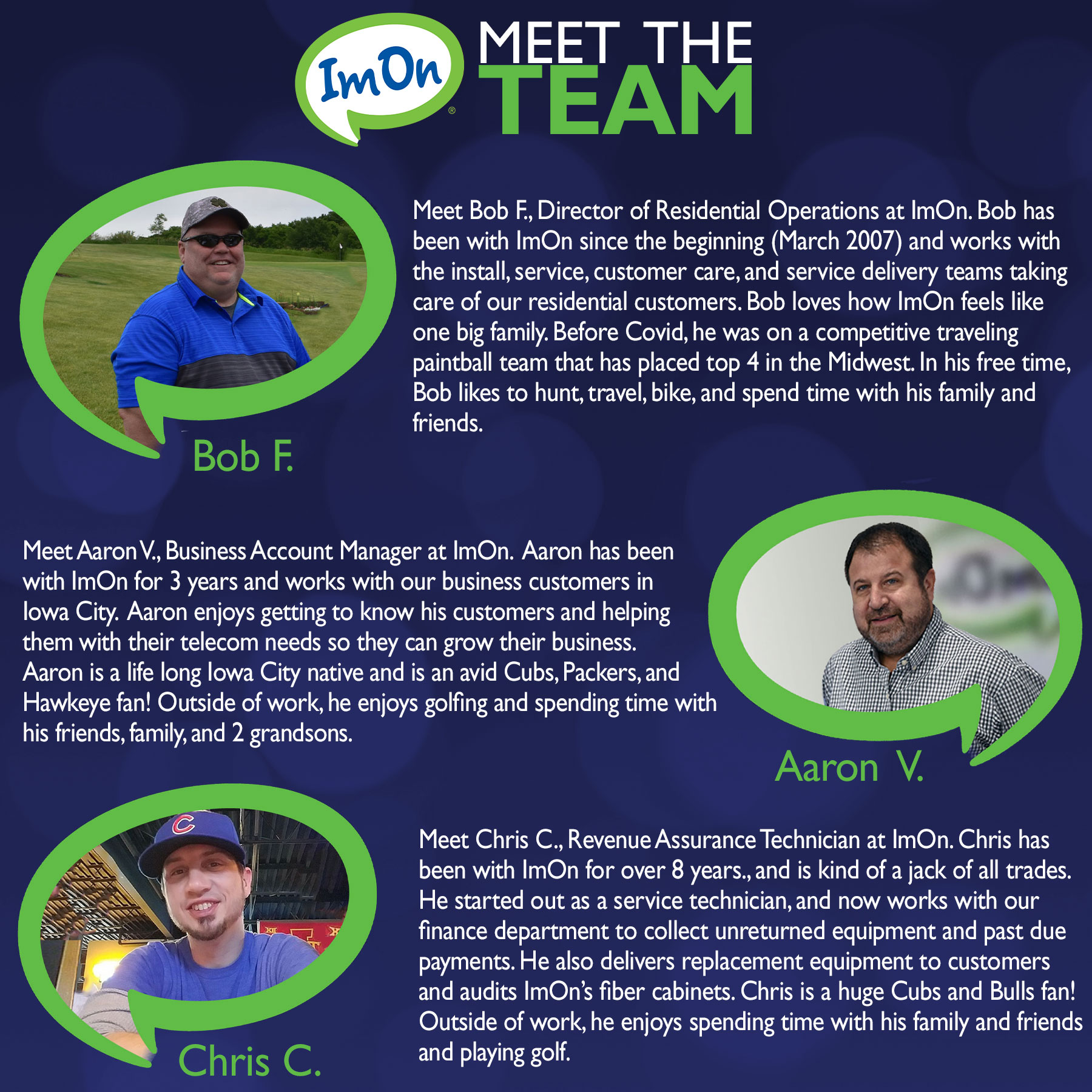 Join the ImOn Team!

Come be a part of the ImOn team! We're growing and have several career opportunities available in the following areas: marketing, customer care, construction, sales, installation, engineering, management, and more. Click here to see all of our available positions and the benefits of joining the ImOn team.







Tech Talks — Get Your Stream On!

The popularity of streaming services has really skyrocketed over the past few years. And it seems like new streaming options are popping up each month with every major network and media company launching a new streaming service. According to a new Ampere Analysis report the average US household now subscribes to four different streaming services (even though it seems like my household has a lot more!). And all of these streaming subscriptions add up. A new J.D. Power survey shows that on average we are paying $47/month for all our streaming subscriptions combined. That is more than double the amount people were paying in 2018. With all of these streaming options, which ones are best for you?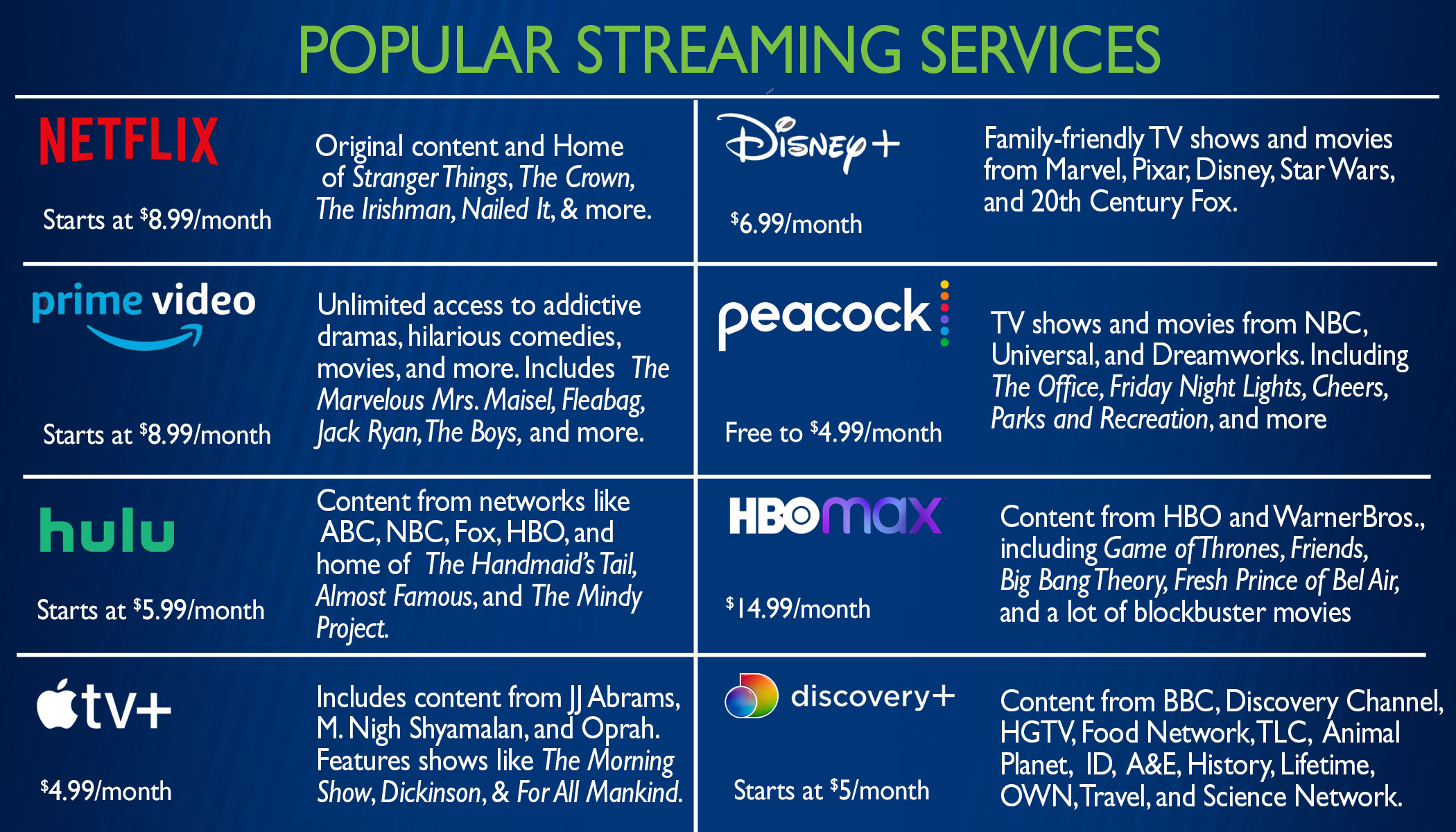 Currently, Netflix, Amazon Prime, and Hulu remain as the top 3 streaming platforms, offering viewers their original programming and hit shows. When considering which service to subscribe to, you should consider the content they offer, live TV and sports options they have, price, and added features.

Now that you have chosen the platforms you want to watch, how can you guarantee a good streaming experience? First, it's helpful to understand what type of Internet bandwidth is recommended to have a reliable streaming experience. While each streaming platform has its own bandwidth requirements, most recommend at least 5Mbps for SD & HD content, 25Mbps for 4K/ultra HD, and 10Mbps for Live TV. With this in mind, here are a few tips to help ensure a high-quality streaming experience.
Turn off competing devices
When several people and devices are using a single Internet connection at the same time, the Internet bandwidth is shared among them. This means the more people and devices you have the less bandwidth each one gets, resulting in slower Internet speed for everyone. So, other devices and people using your Internet could be using up bandwidth that is needed to stream your shows. It is important to remember that even if a device isn't physically being used, it could still be using some of your Internet bandwidth. For example, Amazon Alexa devices are always connected and using the Internet, whether you are using it or not. It is recommended that you unplug devices or turn them to airplane mode to help free up bandwidth.


Use an Ethernet Cable Instead of Wi-Fi
Using a wired Internet connection always offers a more reliable connection with faster speeds and more security than using a Wi-Fi connection. That's because a Wi-Fi connection can be impacted by several different things in your home. For a full list of the things that can negatively impact your Wi-Fi signal, click here. If you cannot use a wired connection, just know that using a Wi-Fi connection will automatically cut your Internet speed by almost half.


Move Your Devices closer to your Router
If you can't use a wired Internet connection, then consider moving your devices closer to your Wi-Fi router, or vice versa. One of the limitations of using a Wi-Fi signal is how far it can reach. That's because the signal strength and bandwidth decrease as you get further away from your router. This can lead to spotty coverage and slower speeds in certain areas of your home. The closer your device is to the router, the better the performance you should have.


Change Your Wi-Fi frequency
Wi-Fi routers use radio waves to transfer data from your device to the Internet and vice versa. Today, most routers transmit data using two different radio frequencies or "bands" - 2.4 GHz and 5 GHz. On average, the max speed when connecting to the 2.4 GHz frequency is around 150 Mbps, while a connection on the 5.0 GHz frequency can handle speed up to 1 Gig (1000 Mbps). However, the 5 GHz connection has a harder time transmitting through walls and floors, meaning it can't reach as far. Depending on which one of these frequencies your devices connect to can impact your Internet and streaming experience. To learn more about these two Wi-Fi frequencies, click here.


Restart Your Modem, Router, and Streaming Service
While we know this can be frustrating to hear over and over, there is a reason why this is often our first suggestion. Most modems and routers are constantly running day and night. This can cause them to get overloaded or overheated, which causes their performance to decline. It is recommended that you reboot your modem and router at least once a month. This ensures they get the latest network and security updates, along with clearing out the memory and resetting tasks that may have gotten stalled and are slowing down your Internet connection.


Choose a Lower Streaming Resolution
As we mentioned above, each streaming platform has its own bandwidth recommendations. It takes less bandwidth/speed to watch an SD version of a show than it does an HD version. While the picture size and quality may be slightly lower than an HD version, it will help eliminate buffering and give you a more reliable streaming experience.
The good news is that no matter which streaming platforms you sign up for, or how many devices your household is using to stream your favorite programs, ImOn Internet has got you covered! ImOn offers speeds up to 1 Gig (1000Mb) and has special upgrade offers available should you need to increase your Internet speed.

We hope you found this Tech Talk topic informative and useful. If you have a tech topic you would like to learn more about, just email your ideas, or questions, to TechTalks@ImOn.net and you may see them featured in an upcoming edition of Tech Talks.