MARKETING DURING CRISIS — INSIGHTS FROM STAR TRIBUNE
"Cautious optimism." As I talked to fellow business leaders last week — the week before the stay-at-home order was lifted — that is the feeling I had. For weeks, we have been preparing for the time when we might reopen our businesses. For many businesses, that moment has finally arrived.

But even as we open our doors, we know that the times ahead will remain uncertain. As we are committed to helping businesses thrive in Minnesota, we are committed to helping your business through this uncertainty.

As part of that commitment, we share insights from what we learn as we interact with businesses that have reopened, are preparing to reopen, or are preparing to be closed for a longer time.

–Paul Kasbohm, Chief Revenue Officer
"NORMALS" MAY COME AND GO, BUT CONSUMERS WILL ALWAYS WANT A GOOD DEAL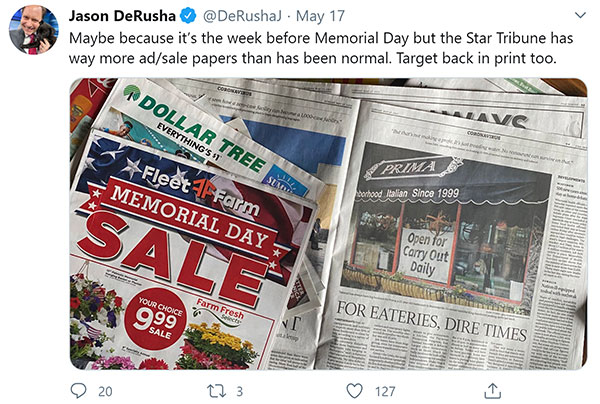 A few weeks ago, we ran a survey that asked our readers what they would want retailers to advertise when the stay-at-home order was lifted. The most popular response – by 82% of readers – was that they would want to see deals and special offers advertised.

It is not surprising, then, to see readers reacting positively as more ads returned to Star Tribune. When WCCO anchor, Jason DeRusha tweeted that "The Star Tribune has way more ad/sale papers than has been normal. Target back in print too," many of his followers posted their approval.
"I noticed yesterday's paper seemed a bit more substantial than it has. Thrilled to see ads return this morning." @MammaG64
"Ohhhhhh Fleet Farm!!" @cardboardchuck
"My husband totally commented on the Target Ad coming back, too! A sign of slowly returning to the new normal?" @TaraMay25
IF THEY CAN'T COME TO YOUR EVENT, TAKE YOUR EVENT TO THEM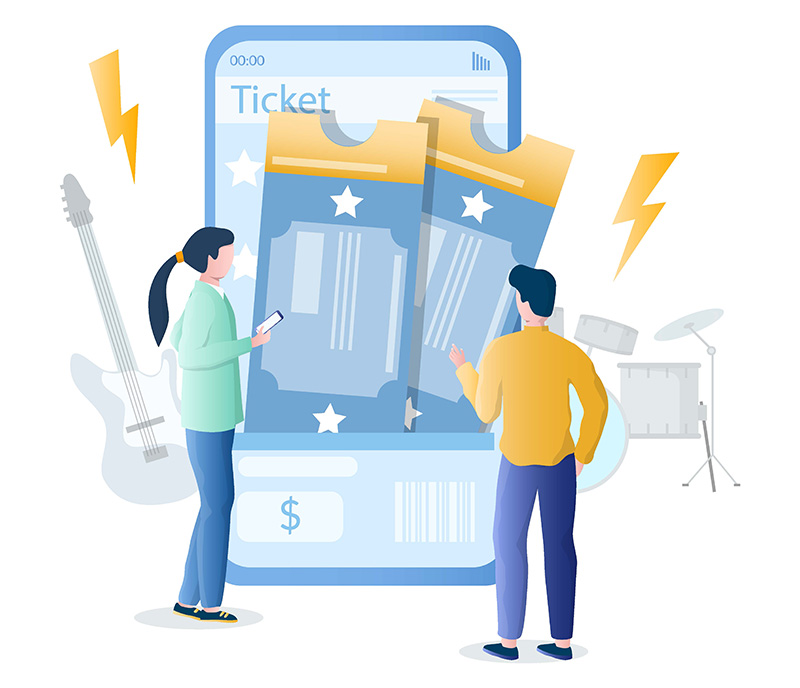 As we noted in last week's newsletter, the business climate will continue to be exceptionally challenging for events and attractions. We also noted that hosting virtual events are a great way to keep an event or attraction-based business top-of-mind.

It turns out, virtual events are also an untapped source of revenue.

We recently ran a survey of our readers asking about virtual events. Not only are they willing to attend virtual events, they are willing to pay for them.
36% of readers said they have attended a virtual event.
72% said they are willing to attend a virtual event.
32% of readers said they would pay for a virtual event; 42% said they would make a donation when attending virtual event.
There's a 36 point difference between the percentage of consumers who have attended an event and those who would attend an event. This suggests that you should promote virtual events.
WEBINAR: Virtual Events Take Center Stage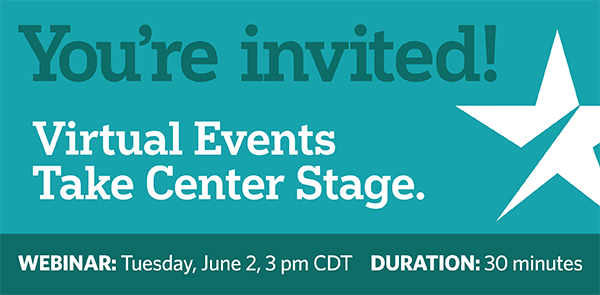 On Tuesday, June 2,
join us at 3 PM CDT for a webinar
- Virtual Events Take Center Stage. As we continue to adapt to COVID-19 and social distancing, virtual events are emerging as a replacement to in-person events. Join us and we'll share insights on consumer's willingness to attend virtual events, and if they are willing to pay.
Plus, you'll hear from the Science Museum Of Minnesota and The Film Society of Minneapolis - St. Paul about their virtual efforts to engage their constituents and customers. They'll share key learnings from their recent virtual efforts.
IT'S CALLED A NEW NORMAL BECAUSE IT'S NOT… NORMAL
If your business has been closed, or if your employees have been working from home, returning to work could be a jarring experience. In many cases, the workplace to which they are returning may have changed. A lot.
Fast Company recently published an article that describes
just how much a workplace may have changed
. Though your business's new normal may not be as dramatic as the article describes, your business will benefit if your employees are prepared for the new environment. You need to have a plan. And you need to communicate that plan to your teams.
Even if you expect your employees to remain at home until fall, you want to start planning for their return now. If you're looking for resources about how to reopen, Madrona has published a
back to work tool kit
.
HOW ARE YOU REOPENING?
For the past few months, we have been in uncharted territory. What's more is that we're going to be in uncertain times for months to come. How should your business operate as the stay-at-home order passes?

One of the best ways to learn is to get insight from other Minnesota businesses. To facilitate that, we'd appreciate if you'd take a few minutes to complete our "Operating During a Pandemic" Survey.

It asks about how your business is adapting to the current business environment. Do you have people working from home? For how long? What safety protocols has your business adopted? We'll share results in next week's newsletter.
CELEBRATING MINNESOTA'S TOP WORKPLACES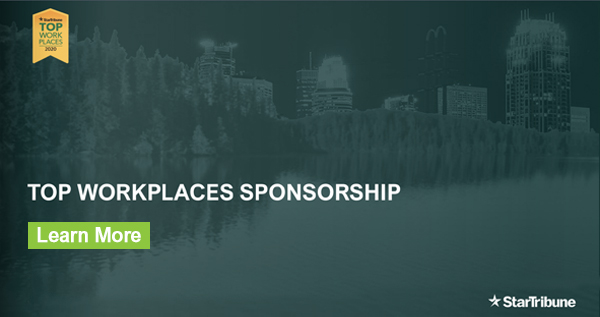 On Sunday, June 29, Star Tribune will publish
"Top Workplaces,"
our annual workplace recognition section. It features companies whose employees have rated them as a great place to work.
Advertising adjacent to companies whose employees have rated them as a great place to work is a great way to build your brand – and attract top talent. Consider:
Last year's section had 1.1 million readers.
68% of those readers it positively influenced perceptions of a company
1/3 of them said Top Workplaces influenced a job search
Record Engagement: April 2020 was StarTribune.com's second-highest traffic month on record. The only month that had more traffic? March 2020.
"It was great to feel the heft of this morning's Star Tribune. I hope the return of advertising dollars continues. Also, I have appreciated and enjoyed the news coverage provided by your paper during COVID 19. Keep up the good work."

– Tom
In Case You Missed The Previous Emails