ImOn's WholeHome Wi-Fi

Have you ever experienced the frustration of a dropped Wi-Fi connection or endless buffering? Take the guesswork out of your home's Wi-Fi and let ImOn manage it for you.

ImOn's WholeHome Wi-Fi will bring a blazing-fast, reliable Internet connection to every nook and cranny of your home — from the bedroom to the basement, and everywhere in between. You will get a fast, fully managed, secure, and frustration-free managed Wi-Fi service that is optimized for your home, for just $6 a month. Call ImOn Customer Care today and ask about upgrading your home to ImOn's WholeHome Wi-Fi!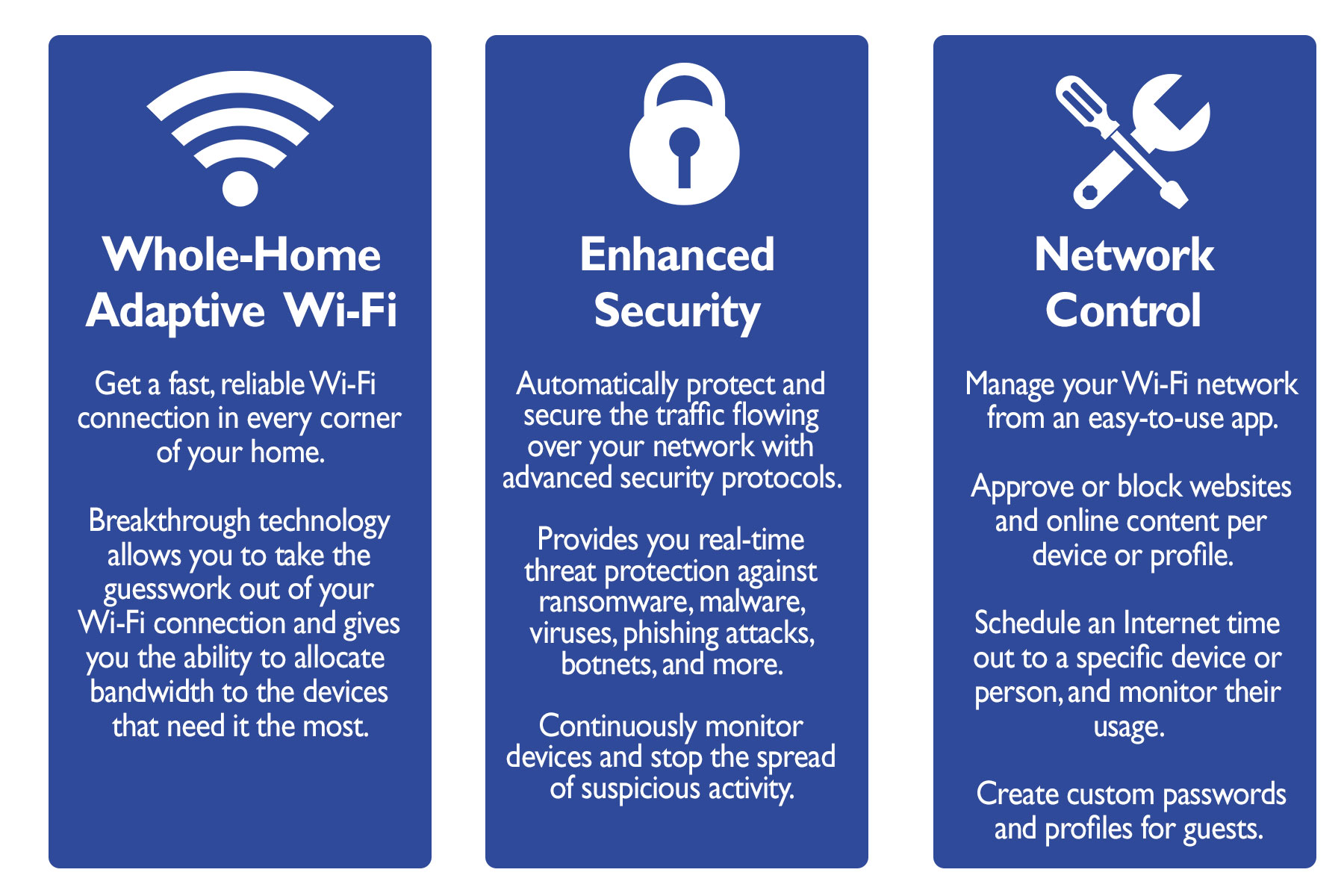 Happy Labor Day from ImOn Communications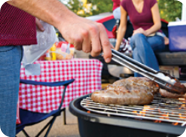 Originally, Labor Day was organized to celebrate various labor associations' strengths and their contributions to the U.S. economy. Now it's primarily thought of as a day of rest for workers and the unofficial end of summer.

In observance of Labor Day, the ImOn Communications offices will be closed from Saturday, September 4th, through Monday, September 6th, so that our employees may enjoy the holiday weekend with their families. As always, 24-hour technical support and emergency service will still be available by calling 319-298-6484. However, billing and account questions cannot be addressed during that time. We thank you for your patience and understanding and we hope you have a safe and enjoyable Labor Day.

New ImOn Customer Webinar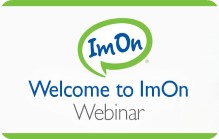 Are you new to ImOn? If so, join us Wednesday, September 1st, for a virtual "Welcome to ImOn" webinar for new customers. We understand that switching Internet, cable TV, and phone providers can be overwhelming and confusing, so we want to make sure you have all the information you need to get the most out of your ImOn experience.

In the webinar, ImOn employees will guide you through how to read your ImOn bill and payment options, introduce you to ImOn customer perks and benefits, and share ways on how to contact ImOn Customer Care. ImOn service technicians will also be on hand to answer any technical questions you may have.

While this webinar is geared towards new ImOn customers, all customers are welcome to join. To register to attend, visit https://zoom.us/webinar/register/WN_Mr-XYb1YRWaPvbXgfby-lg.

Tech Tips — Dark Mode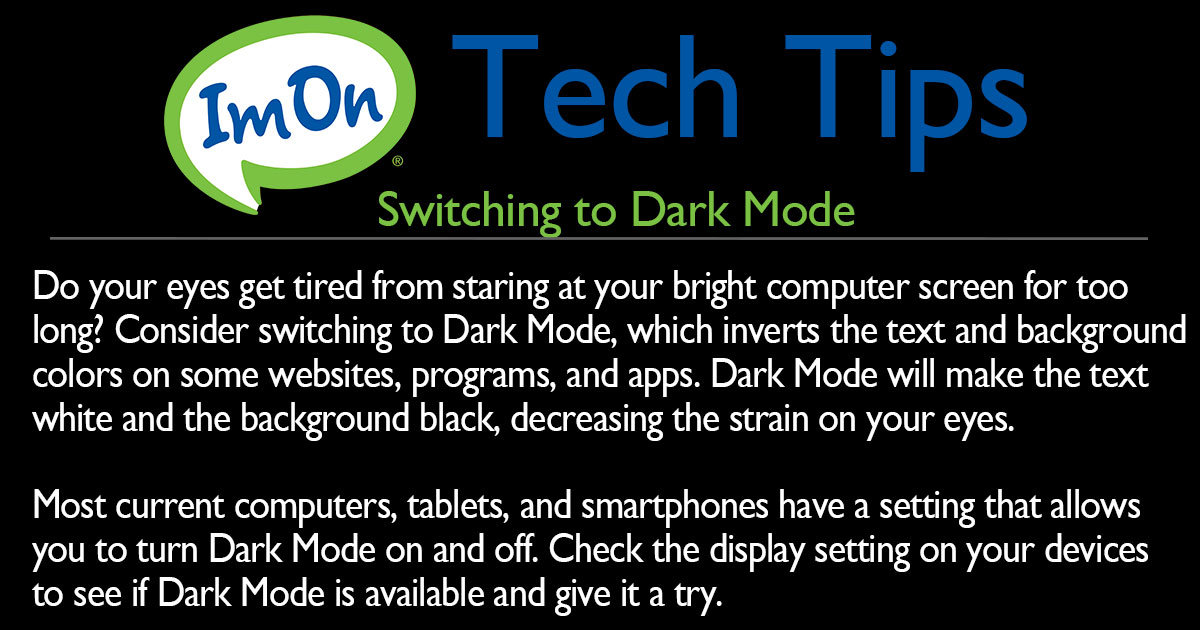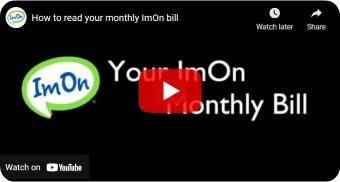 How to Read Your ImOn Bill

It is ImOn's goal to provide you with a single, easy-to-read monthly invoice for your ImOn services. It is important to us that you are able to read and fully understand your ImOn bill. To help with this, ImOn has created a video and website that breaks downs each section of your bill and explains each element and what they mean.

Meet the ImOn Team

At ImOn Communications, we believe that the people behind our company are just as important as the company itself. Our team is full of great people working hard to deliver the reliable service you deserve. So we wanted to introduce you to some of the friendly and local faces behind ImOn.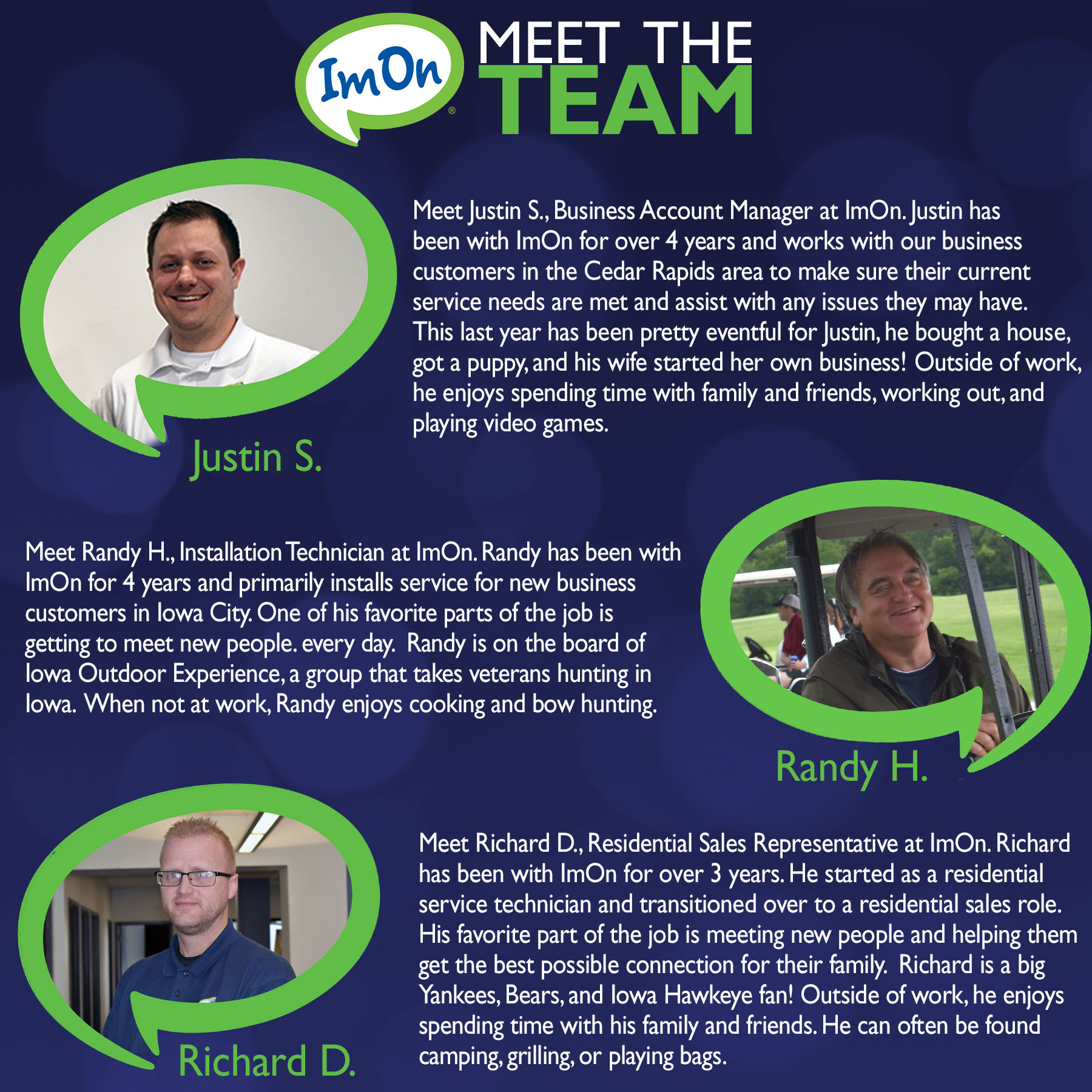 Join the ImOn Team!



Come be a part of the ImOn team! We're growing and have several career opportunities available in the following areas: marketing, customer care, construction, sales, install technicians, engineering, management, and more. ImOn offers competitive salaries with generous benefits, career growth opportunities, and a fun work environment. Click here to see all of our available positions and the benefits of joining the ImOn team.


Shopping With a Cause!

ImOn is all about giving back to the communities we serve. But did you know that you can donate to local nonprofits too simply by shopping? Programs like AmazonSmile and eBay for Charity can automatically donate to your favorite charities when you shop.

AmazonSmile is a separate website run by Amazon that donates a percentage of your purchases to eligible groups at no cost to you. Just visit smile.amazon.com and search for the nonprofit of your choice. When we searched "Cedar Rapids," over 628 local nonprofits were listed for you to choose from. Once you have selected the nonprofit you would like to donate to, you just shop for products as usual. You will find the same products, prices, and reliability you expect from Amazon, but it supports local charities at the same time!

Many local nonprofits also create Amazon Wish Lists of products, supplies, and donations that they need. When you purchase an item off an organization's wish list, it will automatically be shipped directly to them, which is easy and convenient! Make sure to check with your favorite nonprofits to see if they have an Amazon wish list available.

eBay for Charity also enables its members to connect with and support their favorite charities when they buy or sell on eBay. Sellers can donate up to 100 percent of the proceeds to a charity of their choice, while buyers can add a donation to their purchase during checkout. Or, if you have a hard-to-shop-for person in your family, check out eBay's Gifts that Give Back program where you can make a symbolic charitable donation in someone's name.

And the giving isn't just limited to shopping online! If you shop at Hy-Vee, make sure to save your receipts and turn them into your local elementary school. For every $200 in receipts the school collects, they earn $1 from Hy-Vee. And don't forget about the Box Tops for Education! Gone are the days of clipping the Box Tops emblem on the bottom of your boxes. Now you can just use their app to scan your receipt. The app will find the participating products that you purchased and instantly add cash to your school's earnings online.


Apps and Technology for Back-to-School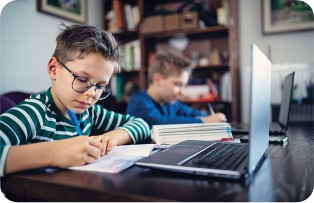 Back-to-school time is almost here — stores are taking away their pool noodles and replacing them with backpacks and notebooks. The picnics and days at the pool will soon be replaced with sack lunches and homework filled evenings. It seems like the summer can fly by, and back-to-school time can sneak up on both parents and students. With school starting in just a few weeks, it is time to start preparing now. ImOn has gathered some helpful apps and tech ideas to help make the transition back to school smooth for both parents and students.

Back-to-School Shopping
There always seems like there is shopping to do before the kids head back to school. Between the school supplies, backpacks, shoes, and clothes, it can really add up. Here are a few resources to find some quick deals on back to school essentials.
Helpful Back to School Apps for Parents and Students
Tech Ideas for Back-to-School
Anker Portable Charger
Don't let an uncharged phone or tablet stop an assignment from getting turned in on time. Make sure to stay plugged in and charged up with this sleek portable charger. Available for under $25.
Headphones
Headphones are great for watching videos online, listening to music while studying, or hearing teachers during video calls without disrupting other people. Looking for quality headphones on a budget? How about under $30!?
Lenovo Chromebook Flex-5
Laptop, tablet, or pyramid. Whatever your student prefers to work on, this Chromebook offers it all for under $350.
USB Thumb Drive
Probably one of the most useful tech gadgets for students to have during the school is also probably one of the cheapest. A standard USB thumb drive makes it easy to move files from one computer to another, allowing students to work on papers and projects at home and at school.
Internet
Last and certainly not least — make sure your Internet is ready for back-to-school! Home Internet has become an essential tool for today's students, and Internet usage increases from grade to grade. So, as you shop for school supplies and new clothes for back to school this year, you may want to think about upgrading your Internet as well. The increased school-related usage, as well as the rest of your family's Internet activities, could put a strain on your Internet connection. All of the connected devices fight for the available bandwidth, which can cause a slow connection for everyone. So don't let slow Internet speeds and buffering get in the way of your student's success and upgrade your speed today.
We hope you found this Tech Talk topic informative and useful. If you have a tech topic you would like to learn more about, just email your ideas, or questions, to TechTalks@ImOn.net and you may see them featured in an upcoming edition of Tech Talks.