Using Smart Home Technology Is A Brilliant Choice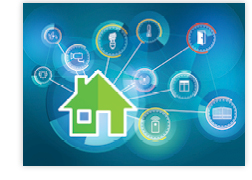 Smart home technology generally refers to any suite of devices, appliances, or systems that connect into a common network and can be remotely controlled. For example, a home's thermostat, lights, audio speakers, TVs, security cameras, locks, and appliances could be controlled from anywhere using a mobile device. What are some top advantages of creating a smart home?

Home security is improved. You can take advantage of motion detectors, surveillance cameras, automated door locks, and other security measures as well as receive security alerts on your devices and monitor activities via real-time video.


It lets you "be in two places at one time." With remote control of home functions, you can take care of things at home when you're not even there. You can also check to see who is at your front door when you're away on a trip.


You'll increase energy efficiency. A programmable smart thermostat allows you to have more precise control over the heating and cooling of your home. It learns your schedule and temperature preferences, and then suggests the best energy-efficient settings throughout the day. Lights and motorized shades can be programmed to switch to an evening mode as the sun sets, or lights can turn on and off automatically when you enter or leave the room.
Hamilton offers security solutions as well as the high-speed internet you'll need to operate a smart home. For details, call 402.694.5101.