Moonstone Monitor | 18 February 2021
IN THIS WEEK'S ISSUE

From the Crow's Nest
Your Practice Made Perfect
Technologically Speaking
Regulatory Examinations
Careers Platform
In Lighter Wyn
"A man is but the product of his thoughts what he thinks, he becomes."
 - MAHATMA GANDHI
ADVERTORIAL

How a fund member retires has changed forever...
Legislated in-fund preservation, default annuities and portfolios has broken the compulsion for a fund member to ever leave
their fund. Talking to these members, whilst giving sensible counselling - and then
professional advice
at
competitive pricing
- requires a financial technology platform of substance.
Benefit consultants, administrators and financial advisors associated with retirement funds will benefit from
Altertude, GTC's integrated end-to-end programme
providing retirement fund members with
all interventions needed in a holistic financial plan
.
Contact our CEO Gary Mockler,
gmockler@gtc.co.za
as to how GTC can assist in growing your business.
Visit our website at
www.gtc.co.za
.
FROM THE CROW'S NEST
ST Ombud clarifies difference between Private, Business and Commercial insurance
Upon entering a contract for a motor insurance policy, it is very important for financial advisers to clarify what the intended use of the vehicle is to determine the correct risk profile and to calculate the appropriate premium. The difference between Private, Business or Commercial cover is not as simple as some seem to think.


YOUR PRACTICE MADE PERFECT
Lockdown has positive impact on car insurance claims
As the pandemic began to spread in March last year, followed by the lockdown, the widespread turn to remote work meant that vehicles were left parked for potentially weeks, if not months. One of the areas that shows a positive trend is the decrease in car insurance claims.



YOUR PRACTICE MADE PERFECT
POPIA regulations – Don't be left in the dark
With POPIA compliance becoming a reality this year, SA organisations need to educate itself and its staff on the provisions of the POPI Act, and how it will affect everyone in the work environment. Training is therefore a key aspect of your POPI Act compliance journey. MBSE's online course provides key information on POPIA, the data protection principles of POPIA and how to apply these principles in daily business activities via an interactive learning experience.



CAREERS PLATFORM
Featured Positions
| | |
| --- | --- |
| • | Administrative Assistant / Relationship Manager: Galilieo Capital (Pty) Ltd, Johannesburg. Galileo Capital is looking for a self-managed, self-motivated, and coachable young individual to join as a personal assistant/relationship manager. The role incumbent will work in a team and assist the financial planner and para planner with all administrative tasks in respect of managing client relationships and be responsible for all service requirements from clients. |

| | |
| --- | --- |
| • | Office Assistant: Moonstone Information Refinery, Stellenbosch. Moonstone requires an Office Assistant. The successful incumbent will be responsible to maintain an effective and accurate administration and support function in relation to all logistical functions within the Regulatory Examination Body and Moonstone Group in order to minimise delays and increase client satisfaction. Minimum requirements include at least 2 years administration and customer service experience. |

| | |
| --- | --- |
| • | Senior Investment Analyst/Senior Para Planner: Global & Local Investment Advisors, Emmarentia, Johannesburg. We are looking for a highly capable person who can grow with the company in the role of a Senior Investment Analyst/Senior Para Planner, which is centred around client servicing and not sales. Minimum 5 years industry experience is required. The successful candidate will have a strong knowledge of investment solutions both locally and globally. |

| | |
| --- | --- |
| • | Financial Planners - Investments & Long-term Risk Benefits: Wealth Preservation Strategies. We are an established Cape Town-based practice which has served clients in SA and abroad for more than 20 years. We have opportunities which are open to all SA citizens. Work from our office or remotely. Minimum requirements include a relevant bachelor's degree; at least 3 years' experience in financial planning and a proven track record of prospecting, new client acquisition and relationship building. |

| | |
| --- | --- |
| • | Loan Officer/ Loan Specialist: MAP Cash Loans, Johannesburg. We are looking for an experienced Loan Officer to act as liaison between customers and our financial institution and to assist qualified applicants in acquiring short term loans in a timely manner. |

IN LIGHTER WYN
Resourceful observations

All our readers who experienced massive downpours over the last few weeks may relate to this: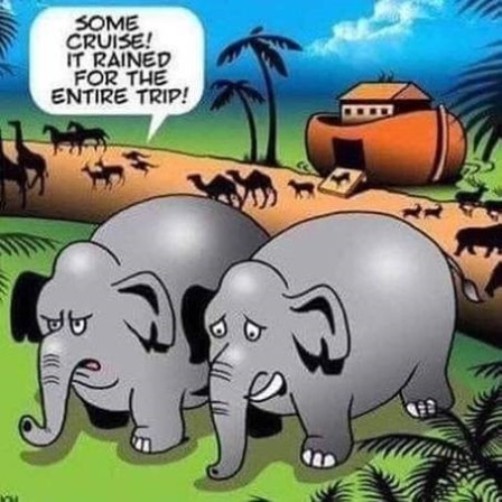 Some Covid tips(ies)

Don't let them take your temperature on your forehead as you enter the supermarket because it erases your memory. I went for health foods and cheese and came home with two cases of beer

It's a five-minute walk from my house to the pub.
It's a 35-minute walk from the pub to my house.
The difference is staggering

(Thanks for sharing, Roche Cowley)