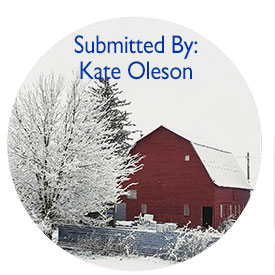 ImOn Customer Calendar

Here is a look at the photo adorning our ImOn Customer Calendar for the month of December. The photo was submitted by Kate Oleson and was taken in Marion. Unfortunately, she says the barn did not survive the Derecho in August.

The 2020-2021 Customer Calendar is now available for customers to pick up in the lobby of ImOn's building at 101 3rd Ave. SW, while supplies last.

ImOn's 10 Days of Christmas is Coming!



ImOn's 10 Days of Christmas is returning December 7th – 18th to help you kick off the holiday season! This year's event will feature great holiday perks, discounts, and giveaways for our loyal customers. Make sure to check out ImOn's Facebook page or www.MyImOn.com for more information as the event draws near.

Winter Weather Website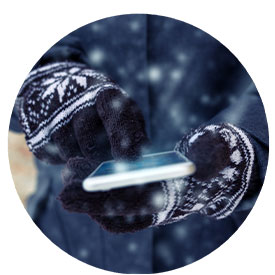 While the weather remains fairly quiet so far this winter, we all know that it can turn at any moment. And the way 2020 is going, who knows what Old Man Winter will have in store for us this year?! Whether it is snow, ice, or dangerous temperatures, it is important to stay informed of winter weather conditions, especially if you are planning to travel. So, your friends at ImOn have compiled a list of useful winter weather websites to help you stay informed all winter long.

Ever Wonder About the Fees That Make Up Your Cable TV Bill?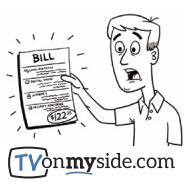 With network programming fees increasing across the country, (which impacts your monthly cable TV bill), we wanted to give you a backstage pass to better understand the economics of the TV business.

There are two cost buckets that make up your monthly cable TV bill.
Programming Costs (80%): TV providers like ImOn pay each network owner a fee for every household that receives their channel(s).

Approximately 80% of the price you pay for your cable TV package goes to pay the network owners for the rights to carry their channels.
Eight media companies control nearly 90% of the TV networks/channels. They continue to use their size and power to demand more and more money. (8 media giants: AMC Networks, A&E Networks, Discovery, Viacom, Fox, Turner, Comcast, and Disney.)
Most programmers require that cable operators carry ALL of their channels if they want to carry any of them, which makes it impossible for operators to offer small bundles of just the most popular channels.
Local broadcast channels (ABC, NBC, CBS) are free over the air with an antenna. However, local stations charge cable operators high fees to provide their channels to you. If the local station's fee demands are not met, they threaten to black out their station.
People love to watch sports and the sports executives know it – so the programming comes at a premium. The price networks pay to air sports has caused your cable TV bills to double over the past decade. The NFL alone makes over $7 billion per year for just broadcast rights to air their games. Combine that with the MLB, NBA, NHL, MLS, college, and other sports and you can quickly see the impact.



Remaining Costs to Provide Service (20%): This includes installation costs, maintaining and upgrading our network infrastructure, and normal business expenses, such as employee salaries, rent, and power. These remaining costs to provide service are less than 20% of your ImOn cable TV bill.
At ImOn, we work hard to deliver the best services for you and your household. To learn more about how we are working hard to keep your costs in check, visit www.TVonMySide.com.



Have a High-Tech Holiday!

'Tis the season to start your holiday shopping and trying to find that perfect gift for everyone on your list. No matter who you are shopping for, here are a few fun and useful tech ideas that anyone would be happy to see under the tree this year.


The PhoneSoap Smartphone Sanitizer
Did you know that your phone is 18x dirtier than a toilet? If that grosses you out as much as it did us, then we have the product for you. The PhoneSoap Smartphone Sanitizer is the official smartphone sanitizer that gets rid of over 99% of all bacteria on your phone using a safe UV light. It'll clean just about any size of phone and you can also clean other things like your keys, pens, and credit cards. PhoneSoap does offer larger versions that can handle iPads/tablets, toys, remote controls, and more.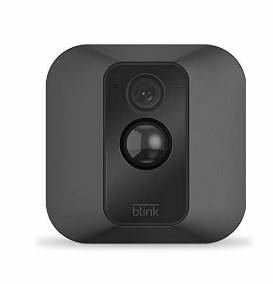 Blink Indoor/Outdoor Security Camera
Blink makes smart home security simple with their wire-free security camera. They allow you to see and hear what's going on at your home by receiving alerts to your smartphone whenever motion is sensed. Not only will it help to keep your family feeling safe at home, it can also help stop package theft and give you peace of mind when you are away. The Blink system is wireless and very easy to install. It features 2-way audio communication and lets you set the motion sensitivity and the exact area you want to monitor.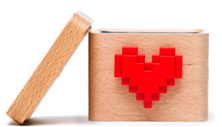 The Lovebox Spinning Heart Messenger
It has been hard for us to stay connected to our loved ones this year due to the COVID-19 pandemic. But the Lovebox Spinning Heart Messenger can help you connect with that special someone and let them know just how much you are thinking of them. The Lovebox Spinning Heart Messenger lets you send messages, pictures, and emojis through the easy-to-use smartphone app. When you send a message, the heart on the outside of the box will spin, alerting the recipient. They just have to open the top of the box to read the message or see the picture you sent. A great gift idea to help keep long distance relatives connected.


Oculus Quest 2 VR Headset
The Oculus Quest 2 VR Headset is an all-in-one Virtual Reality system that makes you feel like you are living in the future. While it is mainly used for entertainment as a game console, it can also be used to watch live events, movies, fitness, and even work. Oculus Quest 2 VR Headset uses virtual reality to give you an "immersive gaming" experience. The system tracks your head and arm movements, making you feel like you are in the game. While this has a higher price point, it is comparable to any other gaming system like Xbox and PlayStation. There are several games and apps available for the Oculus Quest 2, but some do cost.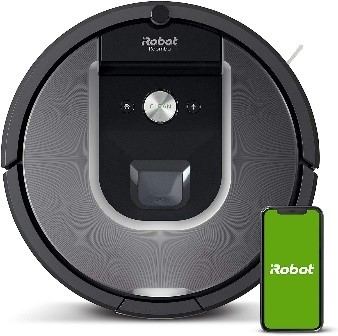 iRobot Roomba
With everyone staying home more these days, it may seem like your house gets a little dirtier. But with an iRobot Roomba, cleaning is as easy as a push of a button. Roomba's 3-stage cleaning system grabs dirt, dust, crumbs, pet hair, and debris from your carpets and hard floors. Plus, its advanced sensors help navigate it under and around your furniture and along edges. There are several different models available depending on what features you are looking for. Most models are Wi-Fi connected and have an app that allows you to set cleaning schedules, start and stop Roomba from anywhere, and see a map showing where Roomba cleaned. It is like giving your loved ones the gift of a housekeeper.



Canon IVY Mobile Mini Photo Printer
Today, most people use their smartphones to snap photos. But smartphones can only give you the digital copy of the photo. Now, with the Cannon IVY mini photo printer, you can print photos straight from your smartphone or social media. This portable printer comes with an app that allows you to customize your photos with filters, stickers, frames, text, and more. The Cannon Ivy Mobile Mini Photo Printer then prints high quality 2"x3" photos with a peel and stick back!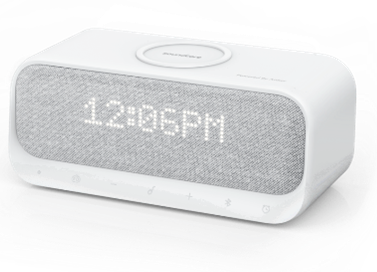 Soundcore Wakey Wireless Speaker with Alarm Clock
The Soundcore Wakey Wireless Speaker is a great way to declutter your nightstand. The Wakey is a combination Bluetooth speaker, digital clock, alarm clock, wireless charging pad, FM radio, and sound machine all in one. You can use an app on your smart phone to set alarms, play music or podcasts from your phone, or turn on the radio and sound machine. Plus, you can rest your phone on top of the speaker at night to wirelessly charge it. Don't worry if your phone is not able to use the wireless charging pad; there are dual USB charging ports on the back panel.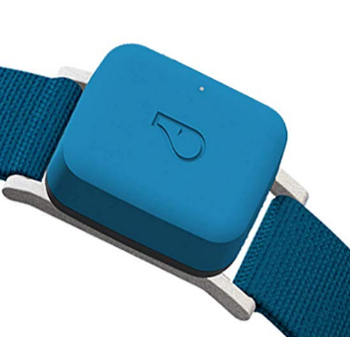 Whistle Go Health & Location Tracker for Pets
For the animal lovers, you can now know where your four-legged family members are and how they are doing with the Whistle Go. Whistle Go monitors your pet's real time location anywhere in the US. Just attach it to your pet's collar and customize the Whistle app to send customized alerts when your pet leaves your yard. If your pet does get out, you can pinpoint its precise location with live tracking. You can also monitor your pet's behavior like licking, scratching, and sleeping, which may be early-warning signs of potential health issues.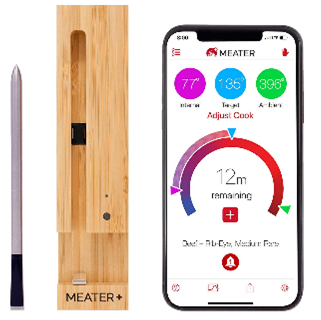 Meater Smart Food Thermometer
The Meater Smart Food Thermometer is the first truly wireless smart meat thermometer that will help take the guess work out of cooking and grilling. Just stick the Wi-Fi connected food thermometer into whatever you are cooking and leave it in there for the duration. Then sit back and relax, and the Meater App will notify you when your food reaches the desired temperature. The Meater App also gives you cooking help by providing estimated cooking times and temperature recommendations for a variety of meats and dishes. Plus, it is dishwasher safe.



NixPlay Smart Digital Photo Frame
This is another great gift to help families stay connected and share memories. Loved ones from around the world can easily upload photos to the frame using the NixPlay App. The NixPlay photo frame then plays an HD photo slideshow of the photos. The frame also features a built-in motion sensor that turns the frame on when you enter a room and turns it off when you leave.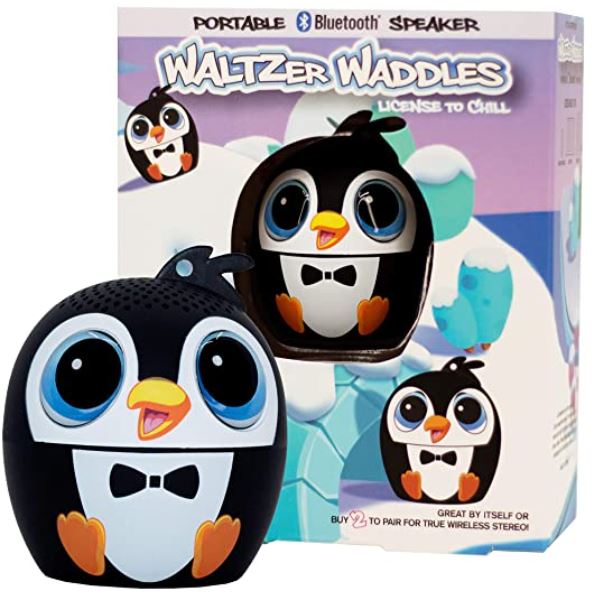 My Audio Pet
My Audio Pet wireless Bluetooth speaker looks like a tiny, adorable animal, but don't let the cute face fool you. The speaker creates powerful, crisp sound in a design about the size of a golf ball. There are a variety of animal designs to choose from and each one also features a wireless selfie remote shutter, built-in mic for phone calls, and fun add-on apps that allow you to play games with your audio pet. You can buy just one or buy several and pair them up to create a surround-sound experience. They are USB rechargeable and the battery lasts up to six hours. Plus, the small size allows you to take them everywhere you go.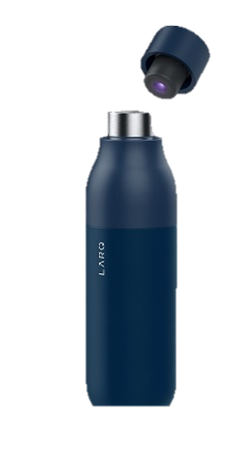 LARQ Self-Cleaning Water Bottle
More and more people are turning to reusable water bottles to help reduce the amount of plastic in our landfills. But, it can be hard to get the inside of your water bottle clean and that can open the door for bacteria, mold, and odors to appear — but not with the LARQ Self-Cleaning Water Bottle. This unique bottle uses UV-C light to neutralize up to 99.9% of harmful bacteria and viruses inside your water bottle and in your water. Besides being self-cleaning, the double-walled, vacuum insulated, stainless steel bottle will keep water cold for 24 hours and hot for 12 hours. It's the smart way to sip!



We hope you found this Tech Talk topic informative and useful. If you have a tech topic you would like to learn more about, just email your ideas, or questions, to TechTalks@ImOn.net and you may see them featured in an upcoming edition of Tech Talks.

*These items are available for sale through their perspective manufacturers and are registered trademarks. ImOn has no affiliation with these brands or products.