February Is National Bird Feeding Month
Mid-winter is a tough time for wild birds, since snow often covers their natural food sources of weed seeds and insects. That's why February was chosen as National Bird Feeding Month. About one third of adults in the U.S. currently feed wild birds. If you're not among them, now's a great time to join the fun. Here are a few tips:

Hang the feeder in a strategic location where you can easily see it from inside your home. That way, the birds provide free entertainment!


Start with a single feeder and fill it with birdseed mix. From there, you can experiment with changing the type of seeds and the location to see which types of birds are attracted.


The best foods for birds include sunflower seeds, thistle, nuts, suet, and millet.


Do not feed birds bread, since it provides very little nourishment.

4 Warning Signs Of Computer Viruses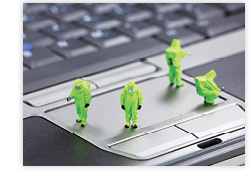 Computer viruses can infect your computer in the blink of an eye, and many can do some serious damage to your system. So watch out for these warning signs:

Strange and frequent pop-ups
If you're getting bombarded by pop-up ads, this may be a sign your computer is infected by a virus. Also beware of unusual alerts and ads that advertise anti-virus products.


Messages you didn't send
If a friend says they received a fishy email, instant message, or social media message from you that you didn't send, you might have a computer virus.


Lockdown warning
This might be the scariest virus symptom you'll ever see: a pop-up message saying you're locked out of your computer. This is commonly called ransomware, since the scammer tells you to send money to unlock your system. Take your computer to a computer repair professional.


Very slow startup
If your computer takes forever to boot up — and you've done all the usual troubleshooting, including reducing the number of programs that launch at startup — this may be a symptom of an infection.
We offer assistance with computer security through our SecureIT Plus service.  Call us at 608-586-4111 for more details.