Football Season is Here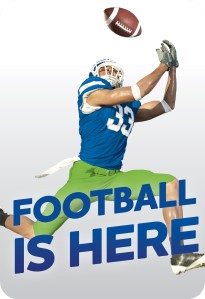 For some, their favorite time of the year arrives in early September, football season! But with so many networks carrying games these days, it can be hard to find the one you're looking for. Well, search no longer! A website called 506sports.com is a great resource to help you quickly find what teams are playing and on what channel. The website lists the time, network, and sometimes the announcers for every FBS (Football Bowl Subdivision) game each week. If the game is only available through streaming, it will provide that information as well.

Make sure you have all the channels you need to watch the teams you want! Many of the top games will be broadcast on ABC, NBC, CBS, FOX, ESPN, ESPN2, Big Ten Network, and Comcast SportsNet. However, some games may get shuffled to other stations like ESPNU, Big Ten Alternate 1 & 2, Comcast SportsNet Plus, SEC Network, ACC Network, and more.

If you are an NFL fan, consider adding NFL RedZone to your cable package. NFL RedZone keeps fans up to date in real-time, with live look-ins, highlights, and fantasy statistics. That way, you don't miss any of the important plays on Sunday afternoons. The NFL RedZone is now available to ImOn residential cable TV customers for just $62.98 for the entire regular NFL season.

We also know that life sometimes gets in the way of your football viewing. So if you aren't home to watch your favorite team, you can use ImOn TV Everywhere to catch all the action. With ImOn TV Everywhere, you can access the games anywhere on your computer, smartphone, tablet, or any other Internet-connected device. And the best thing is that it is free with your ImOn cable TV subscription! It's easy to get started. Just go to www.MyImOn.com/TVEverywhere for registration instructions and a link to the ImOn Watch TV Everywhere page.

Tech Tip

Have you ever made a mistake while doing work on a computer and wished it hadn't happened? Don't worry, there's an easy trick that can help. Just use CTRL+ Z on your computer or Command + Z on a Mac, and it will undo the last thing you did.



Meet the ImOn Team

At ImOn Communications, we believe that the people behind our company are just as important as the company itself. Our team is full of great people working hard to deliver the reliable service you deserve. So we wanted to introduce you to some of the friendly, local faces behind ImOn.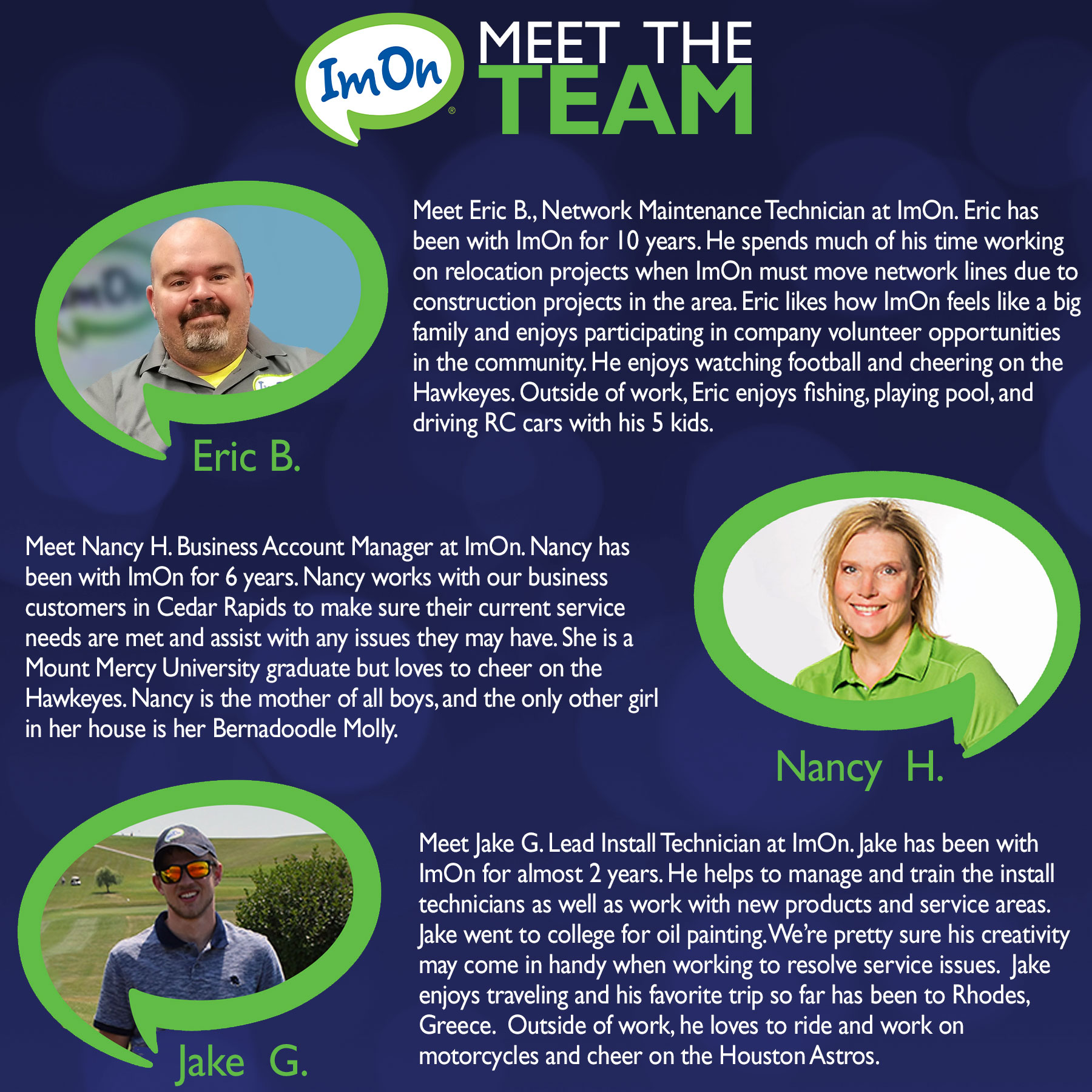 We're Hiring!

Come be a part of the ImOn team! We're growing and have several career opportunities available in the following areas: customer care, construction, sales, technicians, engineering, management, and more. ImOn offers competitive salaries with generous benefits, career growth opportunities, and a fun work environment. Click here to see all available positions and the benefits of joining the ImOn team.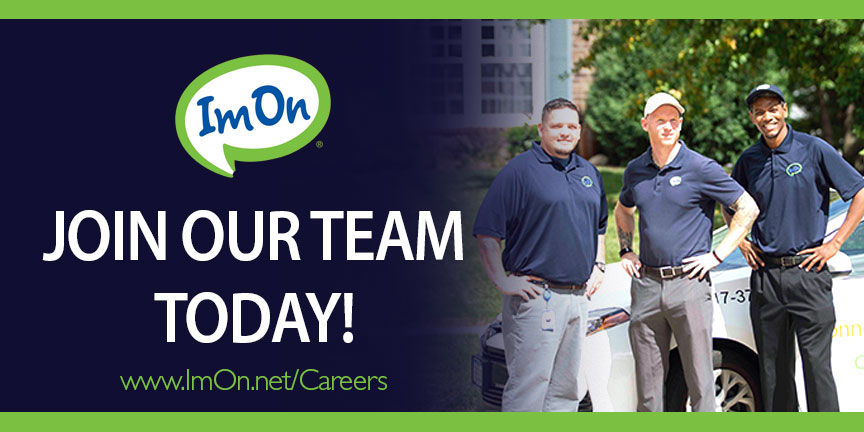 It's A Good Year For National Good Neighbor Day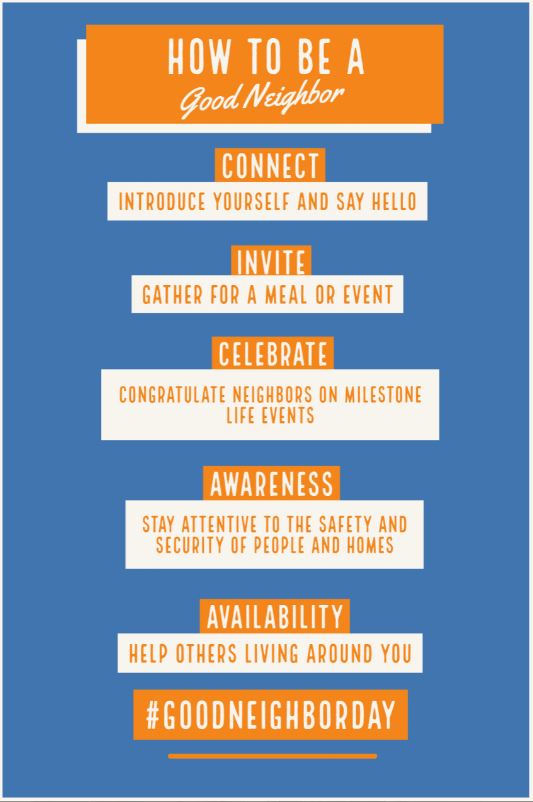 National Good Neighbor Day is celebrated yearly on September 28th. National Good Neighbor Day celebrates the importance of being a good neighbor while contributing to one's community. Because good neighbors make great neighborhoods!

To celebrate, do something nice in your neighborhood — surprise an overwhelmed family by dropping off a home-cooked meal, offer to help an elderly resident do yardwork, bring the trash can in for your neighbor, or simply say "hi" to everyone you meet.

Since ImOn Communications is a local provider, our neighbors are also our customers, employees, and friends. We have lots to celebrate and be thankful for, especially after 2020! So as Mister Rogers would say, "Please, won't you be...my neighbor?"

Tech to Keep Grandparents Connected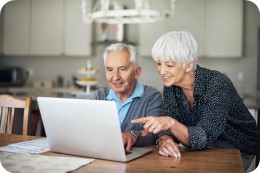 On September 12th, we celebrate Grandparents Day. It is a day to help us remember the people who spoil us and who are our biggest fans. When we think of grandparents, we don't always think of technology, but there are plenty of apps, websites, and devices that can help grandparents stay connected with their grandchildren, regardless of the distance. If your grandparents need a little more help with how to use their technology, consider visiting www.techboomers.com. This website offers a variety of free tutorials and "how-to" courses on a variety of topics, including texting, google searches, social media, apps, online shopping, and more.




Google Search Tips

Long gone are the days of having to look up information in an encyclopedia or going to the library to research something. Now we simply 'Google it'. Google is one of the most used search engines in the world, performing more than three billion searches a day. In a fraction of a second, Google can give you links to hundreds of millions of websites for answers to all of your questions. But did you know there are tricks you can use to help Google narrow down your search to help you find your answer faster? Here are just a few tips to help make your searching more efficient.
Use the tabs.
Across the top of every search page, there are tabs labeled Web, Images, Videos, News, Shopping, etc. While many people already use these search tabs, it is an easy way to help define what kind of search you want to do. You can use the Image tab to search for just image files, or the News tab to look for recent news articles. While these tabs are meant to give you more general search results, they can help reduce your search time.





Use quotation marks to find the exact wording.
When you are trying to search for something specific, try using quotation marks around the phrase you are searching for. By putting your search parameters inside quotation marks, it tells Google to only look for the words you entered in the exact order you entered them. This helps Google know exactly what you are looking for and narrows down your search results for a better match.


Use a minus sign to remove words from a search.
To help narrow down your search results, use the minus sign to tell Google to omit certain words from your search. This trick comes in very handy when you are searching for a word that may have a double meaning or when you are getting a lot of search results that aren't of interest to you. Simply add the "-" symbol in front of the word(s) you don't want your search results to include. For example, if you search "Mustang," Google will give you results for both the Mustang car and the Mustang horse. But you only want results for the Mustang car. Instead, use the minus sign and search for "Mustang – horse." This tells Google to search for mustangs but to remove any results that have the word horse in them. This tip can save you lots of time when doing searches.


Use "OR" to combine similar searches.
By using "OR" between two different search words or phrases allows Google some flexibility in its search. The "OR" means Google will search and show results for one term or the other, or both. This usually comes in handy when you are searching for two similar words or subjects. An example might be searching for "chocolate" OR "White Chocolate".


Use the asterisk wildcard.
Use an asterisk in your search when you are searching for quotes, titles, expressions, or song lyrics and you are unsure of the exact/entire phrase. Google uses the asterisk as a placeholder for an unknown or variable word. It will then search for all variations of that phrase. It is kind of like a wild card!


Use "DEFINE:" to learn the meaning of words.
Forget the dictionary, Google can also provide definitions for words, including slang words. Just type in "DEFINE:" and a word, and Google will give you the definition, pronunciation, and more.
While these are all tricks to help make your Google searches more efficient, there are also some fun things you can do with Google. It has a host of built-in games, including Pac-Man, tic tac toe, Solitaire, Minesweeper, and Snake. There are also tools like a calculator, metronome, breathing exercises, and more. What can't Google do?