Internet Outages
No one likes outages, not you, not us. For over 80 years MVEC has managed electricity outages, always striving to reduce their frequency to a point where we are ranked as one of the most reliable utilities in the State. However, now we are also managing a few internet outages and learning more about our backhaul providers and their impact on our service. While we can't guarantee uninterrupted electric or internet service, or control Mother Nature, we can share ideas to help you if an internet outage does occur.

When the electricity goes out, most likely your internet service does as well, especially if you do not use a battery back-up. Sometimes the internet service does not re-start once electric power is restored so we want to share some helpful tips.

First, know your equipment. Upon taking MVlink service, members receive a modem. The type of modem depends on whether or not a member chooses to use their own router or use the MVlink Gigacenter. The Gigacenter unit is actually a combined modem and router.  Because of this, our fiber team can troubleshoot it. There is a monthly charge of $4.95 for this unit. There is no additional charge if a member uses their own router with our modem, but we are unable to troubleshoot privately-owned routers. Know what you have and how it may impact your service.

Click here to read the rest of the article in The Fiber Download.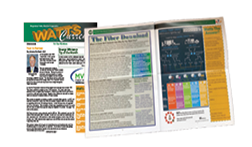 Click here to read issues of
The Fiber Download articles.

Click here to read issues of
the Watts Current Newsletter.