News from Clemson University's Department of Marketing
Winter 2020
Dear Alumni, Friends and Supporters: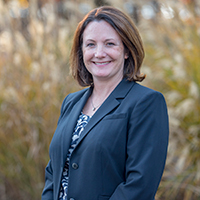 I think we all can agree that 2020 has been a year like no other! We had just settled into the spring semester when Covid-19 changed our world, and higher education as we know it. Faculty and students quickly transitioned to online learning in mid-March and did their very best to wrap up the semester while keeping focused on our educational mission. I am very proud of our 2020 marketing graduates who kept a positive attitude in the face of uncertainty and disappointment, many of them having to reinvent their post-graduation plans.

Despite the chaos of balancing new teaching modalities and homeschooling, our faculty never lost sight of our department's core values: community, integrity, steward leadership, academic rigor, intellectual curiosity and passion for education. Over the summer, they leaned into a new challenge and worked hard to develop the best hybrid and virtual courses possible for our students. Our growing Sales Innovation Program pivoted online for fall 2020, and we temporarily paused our M.S. program enrollment to focus solely on undergraduate education.

But as they say, "All that has come before is prologue," and as 2020 comes to an end, it is time to reflect on where we've been and look toward the future. The challenges of the past year have strengthened us and positioned us to be stronger tomorrow. Supported by the newly-announced $60 million endowment from the Wilbur O. and Ann Powers family, we will enter the new year with optimism and hope for what is to come. Faculty and students are now occupying the gorgeous new state-of-the art Wilbur O. and Ann Powers Hall and Chandler L. Burns Hall, and we look forward to an increase in face-to-face learning in spring 2021.

Your support of the department of Marketing is more important now than ever. We have big plans and invite your support of their implementation. If you are able to provide a financial gift to our Department, please consider donating directly to The Department of Marketing Excellence Fund. These donations go to support student scholarships and engagement activities in the classroom, cutting-edge faculty research and the overall health of the department. We also appreciate you hiring our graduates and interacting with our students. Because of you, our Department and our Clemson Family remain strong, and for that we are grateful. We are excited for the future and thank you for being part of our strong foundation. Go Tigers!
Jennifer Siemens, Ph.D.
Interim Chair for the Department of Marketing
Welcome to the
Department of Marketing Newsletter

Enjoy stories & highlights from this semester.
IN THIS ISSUE
• Transformational Gift
• Going Virtual
• Student Highlights
• Sales Innovation Program
• Faculty Research
• New Faculty
• Alumni Spotlight
• Stay Connected
Although Clemson is not operating fully in-person, our professors have found ways to facilitate meaningful projects in a virtual setting. In Professor Michele Cauley's Promotional Strategy class, students are working with industry partners to craft and pitch promotional strategies to meet the client's business and marketing objectives. Students worked with Clemson business school alumna, Lauren Kennedy, with her brand Joii Barley Waters, and Brandon Blankenbaker, a professional tennis coach and Founder of The Shandana. The project was made possible due to grant from Clemson's Center for Career and Professional Development and funded by industry partner Norfolk Southern.
Meet Sierra Bruni
From Clayton, California, Sierra is a senior marketing major with a travel and tourism minor. Throughout her time at Clemson, Sierra has been a part of the Thomas. F. Chapman Leadership Scholars Program. In her words, "The Thomas F. Chapman Leadership Scholars Program has taught me how to have a strong foundation of leadership characteristics and helped me to grow as both a student and person. I have learned so much through this program and am thankful to have worked with the same group of students for the last three years, as I have also gained lifelong friendships!" Outside of the Thomas F. Chapman Leadership Scholars Program, Sierra works as the Student Event Coordinator for the University. She is also a member of Women in Business, on the Women's club soccer team, a member of the Clemson Event Planning Association and a member of Silver Wings. Learn more about the Thomas F. Chapman Leadership Scholars Program.
Meet Anna Nottonson
Anna is a junior marketing major from Boston, Massachusetts. She is currently in her second year of the UPIC program where she serves as a marketing intern for Creative Inquiry. Additionally, Anna is involved in Greek Life, Clemson Club Gymnastics and is a member of CUMA. After graduation, Anna hopes to pursue a career in advertising and public relations and would love to someday work internationally in Cape Town, South Africa where she studied abroad.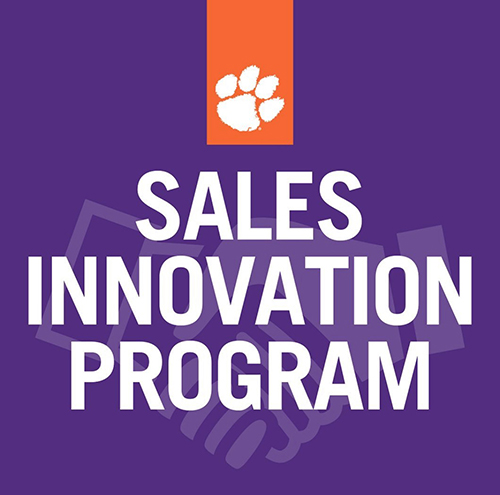 With a growing list of industry partnerships, a commitment to providing students experiential leadership opportunities and a new cutting-edge Sales Lab opening, the Sales Innovation Program is moving forward, unimpeded by the pandemic.
Transformational Gift from The Powers Family Elevates Business at Clemson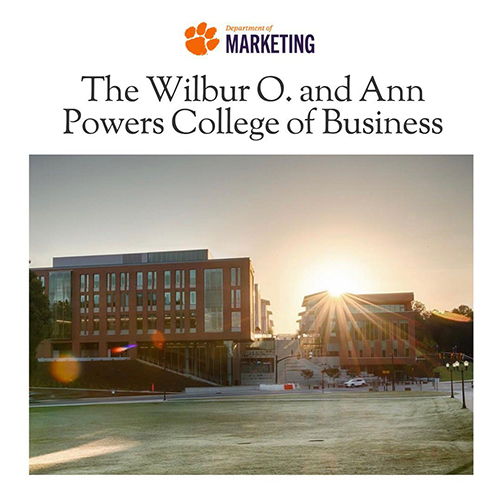 We are so excited to introduce the Wilbur O. and Ann Powers College of Business! Thanks to this transformational $60 million gift — the largest in University history — the Department of Marketing has its new home. The Wilbur O. and Ann Powers College of Business is positioned to make a significant impact for generations of Clemson students and South Carolina industries.
Angeline Close Scheinbaum, Ph.D.
Our very own Angeline Close Scheinbaum was recently recognized by the Advertising Research Foundation as the recipient of one of its 2020 Great Minds Awards! Scheinbaum is an associate professor of marketing and The Dan Duncan Professor of Sports Marketing. Read more about Professor Scheinbaum and her accomplishments.

Congratulations to Ryan Mullins, Ph.D.
Ryan Mullins was recently published in the Journal of the Academy of Marketing Science (JAMS) for his research that highlights the outcomes of value-based selling in sales teams. As both an associate professor of marketing and a leader of the Sales Innovation Program, Mullins has had the opportunity to share this important research with students. Read the publication.
New Faculty
Welcome Cony Ho, Ph.D., and Pravin Nath, Ph.D., to the Marketing Department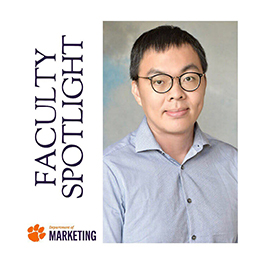 Cony Ho, Ph.D., is a clinical assistant professor of marketing from the Barney College of Business at the University of Hartford. Ho received his Ph.D. from the University of Cincinnati.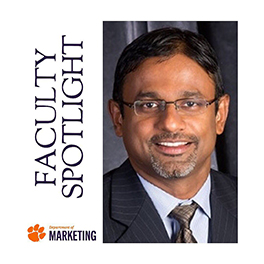 Pravin Nath, Ph.D., is a Marketing assistant professor from the Price College of Business at the University of Oklahoma. He will teach primarily in the MBA program leveraging his research in marketing strategy and organization.
Meet 2011 Clemson graduate Greg Dessources
After graduation, Dessources worked at the Bank of America headquarters in Charlotte for eight years in several capacities. In 2019, Dessources left Bank of America to pursue an MBA full-time at the Tuck School of Business at Dartmouth, where he will graduate in June of 2021. Upon graduation, Dessources is pivoting into consulting at Boston Consulting Group with the aim of helping a broad range of clients define and meet their strategic objectives. Learn more about Dessources and his Clemson experience.