Cybersecurity Awareness Month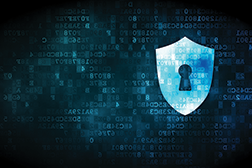 In today's digital world, the internet has become an essential part of our everyday lives as we work, play, learn, shop, bank, and more online. However, as technology evolves, so does cybercrime.

Cybercriminals are always trying new ways to trick you into giving them your sensitive information. In honor of Cybersecurity Awareness Month, we want to provide information that will help you identify three common cyberattacks so you can better protect your personal information online.
Install anti-virus software on your computer and keep it up to date.


Do not click on a link or open an attachment in an email or text unless you are expecting the file and have verified the sender's contact information.


Create strong passwords that include a mix of numbers, symbols, and at least 15 characters, and consider using a password manager to keep them safe.


Be extra cautious about messages urging you to act quickly.


Watch for spelling errors in email addresses, as scammers often use slight variations in spelling during phishing attempts.


Be wary of any electronic requests for payment or transfer of funds.


Scrutinize every correspondence that starts with "we've noticed suspicious activity" or similar message.


Always be mindful that everyone is at risk of cybercrime.
For more resources about cybersecurity and how to keep your information safe online, visit: staysafeonline.org.

Stay safe online!