New York
February 9th, 2016
W
hile many homeowners prefer the natural look of wood, as exterior siding the material requires a lot of maintenance. To enable homeowners to create the same warm look without the hassles of wood,
Trespa North America
introduces
Trespa Pura NFC®
(Natural Fiber Core) exterior sidings, which have a long life and are easy to clean. Trespa Pura NFC® comes in several beautiful, natural colors.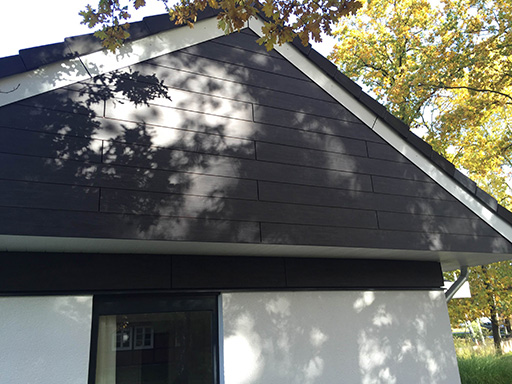 Click for hi-res
Trespa Pura NFC® is a contemporary and sustainable form of exterior cladding made from up to 70% natural fibers, impregnated with thermosetting resins. This combination, together with a non-porous surface, ensures optimum weather resistance. The natural fiber is sourced from sustainable forests, and all Trespa Pura NFC® products are certified by PEFC™ (Programme for the Endorsement of Forest Certification).

Trespa Pura NFC® exterior sidings do not need to be painted or lacquered, and eliminate the worry of scratches, unsightly stains or wood rot. Additionally, Trespa Pura NFC® withstands the daily realities of family life, as parents do not have to continually warn their children to be careful when playing or when kicking a ball around. The innovative material is able to stand rough handling and cleans easily with soap and water.

Trespa Pura NFC® is available in six natural wood tones: Slate Ebony, Royal Mahogany, Aged Ash, Romantic Walnut, White Pine and Classic Oak. Each one has been created to accentuate the shape and style of both modern and traditional family homes and to give them a personal and natural look and feel. Furthermore, the product has excellent colour stability that is covered by Trespa's 10-year warranty.

Trespa Pura NFC® exterior sidings can be applied both horizontally and vertically in either a modern or traditional fitting. The material is easy to handle and cut to size. It also offers maximum design freedom because it can be laid side by side or in lap style. This makes Trespa Pura NFC® the ideal solution for façades and other applications, including dormer windows, or for enhancing and protecting the exterior of garages, sheds or pavilions.

Trespa Pura NFC® is delivered as pre-packed sidings. Matching accessories can be ordered separately. For product availability, contact Trespa North America at (800) 487-3772 or
info.na@trespa.com
.