New Tech Troubleshooting
If Santa brought new devices to your house for Christmas, you likely spent most of the holiday break downloading apps, setting the devices up and getting them connected to your Wi-Fi. Sometimes this process does not go as smoothly as we would like. If you are having issues getting a new tech device to work, explore the following scenarios:

1. My device won't connect to my Wi-Fi
Check and double-check your credentials
Make sure you're in range of the router
Turn your device's Wi-Fi mode on
Make sure the router is online
Turn your device off and on again
2. I can't remember my Wi-Fi password.
This information is often found on the back or underneath your router device.
If you have a Wi-Fi router from MVlink, you can contact MVlink support for help with your password.
3. My device says it's connected but I still can't get online.
Make sure your router is online by checking out the lights on the device — if the one with an antenna symbol is anything but green, the router is likely offline. Turning your router off and on again might solve it.
4. I have dead zones in my home.
Sometimes thick walls, flooring or a weird room layout in your home may cause spotty Wi-Fi. Installing a mesh network might be the ultimate fix for this issue. Mesh Wi-Fi uses a router to transmit the Wi-Fi signal your devices connect to. What's different is that it combines the router with a series of small wireless devices called satellites, which you place in different rooms in your home. These satellites communicate with the router and provide you with a strong Wi-Fi signal everywhere, whether it's your bedroom, your home office, or even your backyard.
5. My internet is too slow.
Make sure you're getting the speed you expect by performing a speed test. We recommend using www.speedtest.net or downloading the speed test app on your smart device. It is best to run multiple tests. Optimally, to test true internet speed, you would test via Ethernet (hard wired) vs. Wi-Fi as that eliminates factors such as traffic, Wi-Fi network quality and location of the router. Whatever results you get, compare them with the internet plan you purchase from MVlink. If the numbers differ a lot, it's time you give us a call. Note that there are factors that affect the speed such as number of devices connected, etc.
If none of the above scenarios are the culprit, it may be necessary to contact the manufacturer of the device for technical support. While MVEC's technical support is happy to help, they are not trained on specific devices and may not be effective in getting your device to work.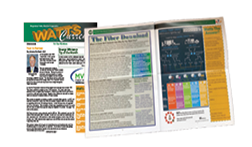 Click here to read issues of
The Fiber Download articles.

Click here to read issues of
the Watts Current Newsletter.




Interesting Statistics About the Use of Connected Devices

Deloitte, the multinational professional services company, released a 2021 survey that indicates the average U.S. household has 25 connected devices. In addition, more than half of U.S. adults have experienced virtual doctor visits, and more than two-thirds of U.S. households have some type of smart home device. How does your household compare?