Four Ways to Boost Your Cyber Hygiene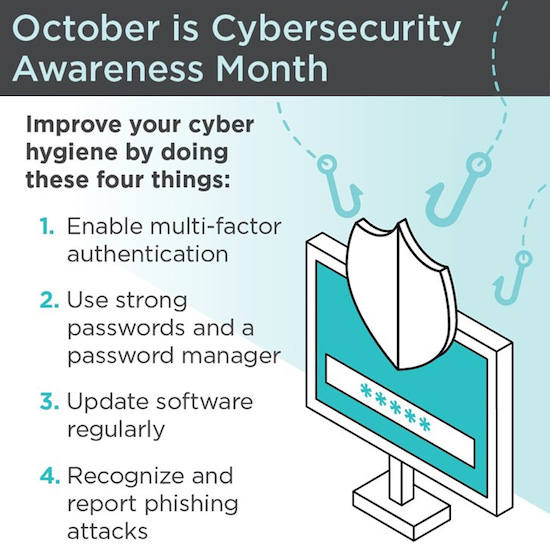 By Abby Berry, NRECA

In today's digital world, cyberattacks are unfortunately nothing new. Cyber criminals can attack on a multitude of levels, from large-scale attacks targeting corporations to smaller phishing attacks aimed to gain an individual's personal information.

October is Cybersecurity Awareness Month, but good cyber hygiene should be practiced year-round. This year's theme is "See Yourself in Cyber" — because we all have a part to play in cybersecurity. When we hear about massive data breaches, it can feel overwhelming and lead us to think we're powerless as individuals to stop cyber criminals.

The truth is, there are several practical steps we can take to safeguard our devices and data. Here are four easy ways to boost your cyber hygiene: Cyber criminals are here to stay, but when we all take a risk-based approach to our cyber behavior, we're creating a safer internet for all. Visit www.staysafeonline.org for additional cybersecurity tips.
Enable multi-factor authentication. Also known as two-step verification, multi-factor authentication adds a second step when logging into an account (to prove you're really you), which greatly increases the security of the account. This second step could include an extra PIN, answering an extra security question, a code received via email or a secure token. Regardless of the type of authentication, this additional step makes it twice as hard for cyber criminals to access your account. Not every account offers multi-factor authentication, but it's becoming increasingly popular and should be utilized when available.
Click here to read more.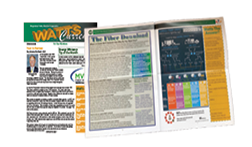 Click here to read issues of
The Fiber Download articles.

Click here to read issues of
the Watts Current Newsletter.




Security Hints & Tips: Top Five Meta Scams

Tips from KnowBe4.com

Facebook, now known as Meta, has over a billion users. That's a lot of people who check their accounts regularly! Cybercriminals take advantage of Meta's popularity to try to trick users every day.

Here are the top five scams that cybercriminals use on Meta:
Who Viewed Your Profile: This scam tricks you by telling you that you can see who has viewed your profile. To start this scam, cybercriminals may send you a message that appears to come from a friend or may create a malicious advertisement that appears in your newsfeed. If you click a button in the message or advertisement, the cybercriminals will have access to your account.
Fake Inappropriate Videos: In this type of scam, cybercriminals upload fake inappropriate videos of celebrities to gain your attention. These scams may appear as an advertisement or a post, and they may contain links to fake YouTube videos. If you click one of these links, you will see a message that claims your Adobe Flash Player is broken and that you need to update it. If you click the link, the cybercriminals will install dangerous malware on your device.
Viral Videos: Viral videos are popular on several social media platforms. If you accidentally click a link for a fake viral video, you may see a message that asks you to update your video player. However, instead of updating your video player, a virus will be downloaded onto your device. To avoid clicking on fake video links, search Google for the video you would like to watch. If the search results don't include a link to a YouTube video or a video from another legitimate website, the viral video may be a scam.
Fake Profile Scam: Cybercriminals can steal names and pictures from a person's real social media profiles and send connection requests to the person's friends. Then, the cybercriminals scam the person's friends by faking an emergency. Don't fall for this trick! Be careful when you accept connection requests from someone you're already friends with.
Romance Scams: In romance scams, cybercriminals create a fake profile using a real person's photos and stories. Then, the cybercriminals try to develop relationships with other social media users by sending the users posts, photos, and messages. The cybercriminals typically use romantic language, promise happiness, and eventually trick you into sharing personal information or money. To stay safe from these scams, don't accept connection requests from people you don't know in real life.