Your Home Network

The previous Fiber Download articles focused on bandwidth and connections, however your personal in home network is equally important to successful internet communications. Network performance between your computer/device and your router is up to you.

Pre-pandemic, many home networks were simple: a computer, and maybe a TV, connected directly to the router and then to the ISP connection. Very quickly those networks have evolved into a complex system similar to this diagram. Your home may now have multiple computers and wireless devices connected to a switch, before it heads off to your router. And the growing number of household WiFi enabled devices also requires the need for something known as a Mesh Repeater.




Optimizing your home network often starts with a speed test that measures performance from your machine to the test server that rests between your ISP and the world. There are several sites that can run this test for you such as fast.com or speedtest.net. Keep in mind that your most accurate result will come from a computer that is direct-wired to your router. Testing from a wireless device, or a computer that is competing with other devices in the home that may be downloading updates or backing up data to the cloud can impact the results. If you need to optimize your home's internet productivity, consider running wires from your router to your desk(s). To start, look for gigabit Ethernet devices, and that includes your router. MVlink's routers are designed to manage the bandwidth options we provide, and our team is ready to help you troubleshoot if problems arise. Purchasing your own router limits the amount of help we can provide simply due to all the variables in each home/business. Normally, a router that is already a few years old should be upgraded simply because older routers can't handle much video through output.

As you optimize your home's system, don't forget about WiFi performance. As your ISP, we are focused on the connection from your home to the internet. It is your responsibility to set up the WiFi throughout your house, and it can be tricky. WiFi is essentially a radio signal so appliances or several walls can interfere with a signal. MVlink offers something called a Mesh unit that will help you reach the areas in your home that are the farthest from your router. The concept with a Mesh unit is that rather than WiFi radiating from one point, a mesh of router access points creates a blanket of WiFi throughout your home.

As we end this series there are a few key starting points as you build the system that works best for you. Begin by determining the bandwidth you need and compare it against the package you purchase. It's easy to upgrade to MVlink's next greater bandwidth if necessary. If cost is an issue, these tips may help:
Think of your WiFi router as the hub of your personal network. If you aren't getting good signals in some rooms of your home, set up desks or work areas near your router.


Set allowable times for streaming TV, gaming or using YouTube for recreation. If streaming media isn't allowed, except for school or work, you'll instantly increase your available bandwidth.


Whether you are using MVlink's router, or your own, you might consider purchasing an Ethernet cable. Most computers and routers have an available Ethernet port where you can connect the cable between the two devices


Turn off all automatic back-ups/updates and schedule them to run after work/learn hours.


Set YouTube to a lower resolution default setting.
As a member-owned cooperative, we are always putting our energy to work for you. While we can't troubleshoot every computer every day, we hope these Fiber Download features provide you some understanding and assistance as you adapt to the 'new normal' of working and learning from home.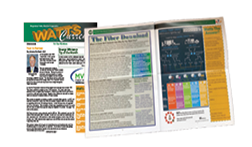 Click here to read issues of
The Fiber Download articles.

Click here to read issues of
the Watts Current Newsletter.




New Year's Resolution to Keep Your Computer Healthy

We always make New Year's resolutions to lose weight or to quit something. Why not make a New Year's resolution you can stick to and keep your computer healthy?

Here are some tips to help you do that:
Back It Up — You should do regular backups of your system to make sure you don't lose important information or photos.


Dump It — Delete the programs you don't really need, like files, apps and emails, to free up valuable hard drive space.


Clean It — Wipe down your computer and remove clutter around it to help maintain good air flow and keep the internal components as cool as possible.  


Secure It — Use complex passwords including a mix of characters, numbers and symbols. Change your passwords often.


Shut Down/Restart — Weekly shut downs or restarts will help with software updates and performance.


Up To Date — Your security software should always be up-to-date to protect you against viruses and other online threats.