Mark Your Calendars for World Back Up Day
While backing up your computer and its data regularly is always a good idea, we often get so busy we forget to take the time to do it. Join in on March 31, 2023 for World Back Up Day where you are encouraged to take some time to back up your computer so that, in the event of a computer or hardware crash, you can get back to using your documents in no time.

Two Recommended Ways to Back Up Your Data:

Copy your data to an external hard drive. External hard drives can be purchased at any major technology or computer store and are a great way to have your entire computer physically backed up. In the event you need to access it, you simply plug the hard drive into your computer and access your files.


Utilize Cloud Storage. If you prefer to have your data digitally backed up and stored online, there are several options and companies that provide that service as well. Be sure to research to find a company that you trust and has credible reviews.
Whether you back up your computer and devices regularly or need a reminder here and there, make sure you take the time to do it. Set a reminder at the beginning of each month to make it a regular habit and be sure to join us on March 31st in backing up your data!

Watch Out for Tech Support Scams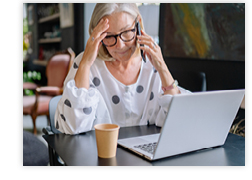 Tech support is supposed to help you solve computer problems, not create them! Yet, that's exactly what scammers pretending to be tech support personnel are doing. For example, they may call and claim to be on the tech support team at Microsoft or another well-known technology company. They'll try to gain remote access to your computer and ask for your credit card number to purchase so-called "solutions" to a nonexistent problem.

Never give remote access to your computer to someone who calls you out of the blue and never provide credit card information, passwords, or other sensitive data to someone claiming to be a tech support representative.

If you are unsure if a tech support message is legitimate, contact Hamilton directly to verify.