ImOn Drop Buries Starting Again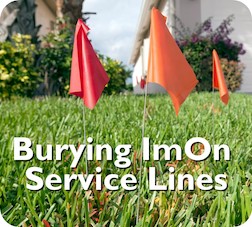 Now that Spring is upon us, we wanted to let you know that our crew is ready to start burying any ImOn service lines that were installed over the winter months. Please note that we have a long backlog of homes that need their lines buried and we will work to get them done as quickly as possible, but we may be slowed by any rainy weather.

Shortly before our crew comes to bury your service line, you will see small colored flags and paint markings throughout your yard indicating where other underground utility lines are buried (water, gas, electric). It will be up to you to mark your private utility lines so that our crews do not accidentally damage them. Private utility lines include any of the following — sprinkler systems, underground dog fences, buried sump pump lines, propane lines for outdoor fire pits/BBQs, septic pipes, gas for heated pools, power or gas lines to a detached garage, etc.

The ImOn drop bury crew will call you one day before your ImOn service line is buried in your yard, serving as a reminder. You do not need to be home for the drop bury to occur, since only access to the outside of your home is needed. Crews may need to access your front, side, and back yard. If you have a fence in your yard, please leave the gate unlocked and pets inside so that our crew can access the area safely. We will work to bury the cable in a way that causes the least amount of disturbance to your yard.

We appreciate your time and your patience while we work to get your ImOn service line buried.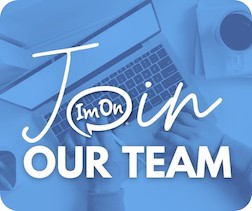 We're Hiring!

Come join the ImOn Team! We're growing and have several career opportunities available in our Cedar Rapids, Iowa City, and Dubuque offices. ImOn offers competitive salaries with generous benefits, career growth opportunities, and a fun work environment. Plus, you get an extra discount on your ImOn services! Click here to see all our available positions.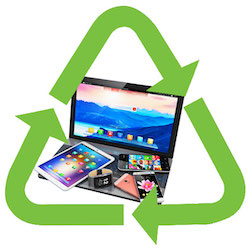 Recycle Your Devices for Earth Day

Earth Day is April 22nd, and what better way to help the Earth than to recycle or donate your old electronics that are just sitting in your closet gathering dust? Old, unused electronics make up one of the fastest-growing kinds of trash in America. By recycling your old electronics you can help reduce the amount of raw materials mined and the energy used to produce and ship new ones. In fact, for every million cell phones recycled, 35 thousand pounds of copper, 772 pounds of silver, 75 pounds of gold, and 33 pounds of palladium can be recovered. Here are a few helpful links to learn more about donating or recycling your old electronic devices.

National Telephone Day — April 25th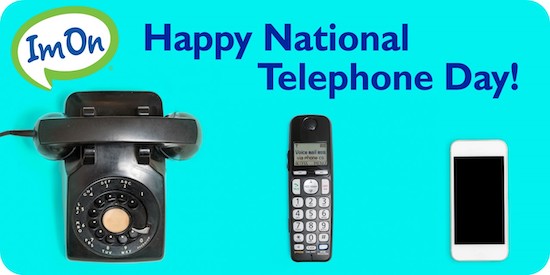 April 25th is National Telephone Day, celebrating that fateful day in 1876 when Alexander Graham Bell introduced the first version of the telephone, which he called the "electric speech machine."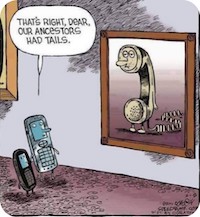 While the phone emerged as one of the most successful products ever invented and has fostered a slew of other innovations, it has changed through the years. Some of you may remember when actual human switchboard operators would put the call through. Then came the rotary dial phones with their wheel of numbers you had to rotate to enter a phone number. The rotary phone was replaced in the 1980s with the introduction of the push-button telephone. Then came the development of the World Wide Web and the innovation of VoIP (Voice Over Internet Protocol). And finally, in the 2000s, smartphones were released and people now had a phone, camera, computer, and music player all in one handheld device. Astonishingly, one man's invention has led to all of this.

So, celebrate National Telephone Day by picking up the phone and calling someone you care about — just because you can. If you would like to learn more about ImOn phone services, click here.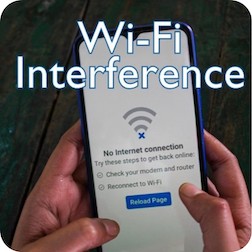 Tech Tip — Wi-Fi Interference

Every home has some degree of wireless interference typically caused by electromagnetic interference (EMI) or radio frequency interference. This interference can sometimes affect your Wi-Fi connectivity, causing your Wi-Fi signal to run slow or disconnect frequently. To help eliminate this interference, keep your router away from other electronic devices in your home, especially home theater equipment, appliances, microwaves, baby monitors, cordless phones, wireless headphones, garage door openers, and key fobs. Also, make sure these devices are not between your router and the device you are using; because when they are in use (turned on) it will interfere with the Wi-Fi signal reaching your device and causing the Wi-Fi signal to drop temporarily. To read more about the things that can affect your Wi-Fi signal, click here.