Email Tips as you Convert to MVlink Service

Once we convert your internet service to MVlink, your existing email account may not work, especially if you are using one associated with your current internet provider (Example, @netins.net or @yousq). Prior to our arrival, you may want to set up a new email account and transfer your contacts so your email isn't interrupted. Gmail and Outlook appear to be the most widely used, free email services, and are user friendly; however you may find Yahoo, or another service are best for you. Below are steps to set up either a Gmail or Outlook account.

Note, MVlink installation technicians are not trained in setting up/transferring email service.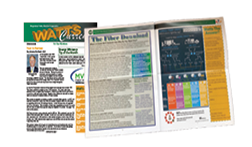 Click here to read issues of
The Fiber Download articles.

Click here to read issues of
the Watts Current Newsletter.




Tax Scams to Watch Out for in 2023
Courtesy of Trend Micro Blog

With the tax filing season well underway, it'll come as no surprise that copycat versions of the IRS website are aplenty, and scammers are looking to lure would-be victims into parting with their personal and/or financial data through other tax-related scams, too. Read on to watch out for tax scams in 2023.
Fake IRS websites
We've recently detected lots of copycat versions of the IRS website looking to trick people into inputting their valuable personal and financial information. Although these fake websites often look the part, they're all scammer controlled, and any information entered onto them will be sent directly to the scammers. Click here for examples and other IRS/tax-related scams to avoid.