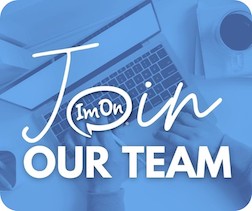 We're Hiring!

Come join the ImOn Team! We're growing and have several career opportunities available in our Cedar Rapids, Iowa City, and Dubuque offices. ImOn offers competitive salaries with generous benefits, career growth opportunities, and a fun work environment. Plus, you get an extra discount on your ImOn services! Click here to see all of our available positions.

Check Out These Recommendations From Our Staff!

On Valentine's Day, there is no better time to curl up on the couch with the ones you love to watch a romantic movie. Of course, not everyone enjoys a sappy love story, so instead opt for some of our staff's favorite romantic comedies!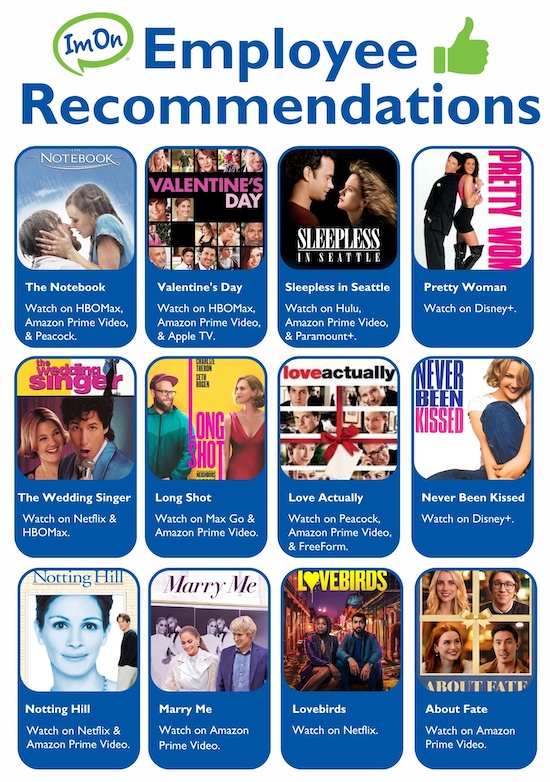 Netflix Sharing Crackdown Coming

In a recent letter to shareholders, Netflix announced that they would be cracking down on users sharing passwords for free with people outside their homes early this year. They estimate over 100 million households share their Netflix accounts with others, not in their home. They will be rolling out a paid "sharing" membership option that allows users to pay an extra fee to share their Netflix with people they don't live with. The price for the sharing fee has not been announced yet, but when rolled out in other countries it ran around an additional $3 per month. So, warn your mom, uncle, brother, and anyone else you may be sharing your account with.

If you're interested in signing up for a different streaming service due to Netflix's crackdown on sharing, here is a breakdown of some of the most popular streaming services. Note that most streaming services recommend at least 25Mbps Internet to stream their content. But that may require you to disconnect some of your other devices using the connection. We recommend at least 50Mbps, which should allow you to stream shows while also using other Internet connected devices at the same time.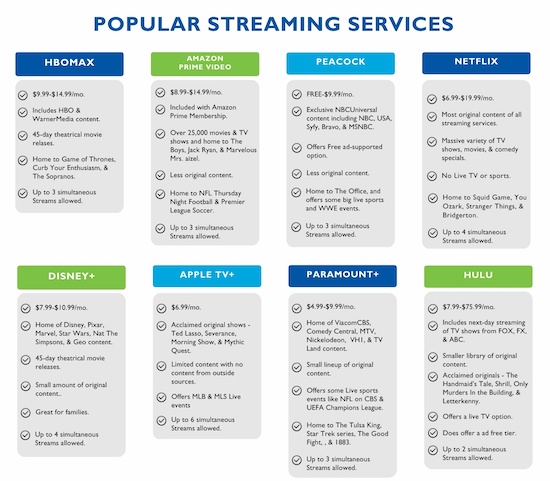 Tech Tip: Level Up With Your Smartphone!

Trying to hang a picture or need to make sure something is straight? Well, no need for a level, just grab your smartphone. Most iPhones and Android phones have a bubble level feature that can help you see if something is straight. The level feature on your phone uses the accelerometer — the thing that helps to rotate your screen when you turn your phone — to test how level a surface is. While this feature is quick and easy to use, there may be some things that can prevent it from getting an accurate reading. For example, if your phone case, camera lens, or pop socket prevents your phone from laying flat, your reading will be off.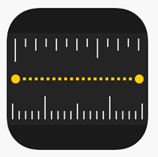 On an iPhone:
Open the "Measure App." This may be listed in your phone's Utilities Folder.
Once the Measure App is open, tap Level on the bottom right.
The level will appear on the screen and is ready to use.
Place your phone on a service to see how level it is.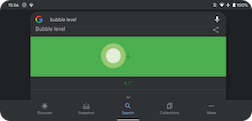 On an Android:
Open the Google App or your web browser and search for "bubble level."
This will bring up a simple level in a little box at the top of the search results.
Place your phone vertically or horizontally on a surface to see how level it is.

ImOn was "On" For the Big Game!

Did you catch ImOn's commercial during the Super Bowl this past weekend? This was the first time ImOn has had a commercial during the big game, so we were very excited. To celebrate, we held a giveaway for a chance to win $500. All you had to do was count the number of times you heard "ImOn" in our commercial and then submit your guess on our Facebook page. Well, for those of you who submitted a guess, the correct answer was 11. Everyone who submitted a correct guess was entered into a drawing for the $500, and the winner is Lauren Suntken. Congratulations! We will reach out to you through Facebook with details on how to claim your prize. Thanks to everyone who participated, and in case you missed it, here is ImOn's Big Game commercial!